New joint network by ABC and Univision News will be in English, not Espanol
05/07/12 01:41 PM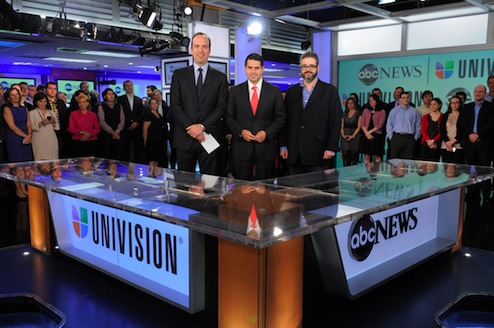 ABC News pres. Ben Sherwood (left) with Univision Networks pres. Cesar Conde (center) and Univision News pres. Isaac Lee. ABC photo
By ED BARK
@unclebarkycom
An "uncompromising" current events and lifestyle network aimed at Hispanics -- but in English -- is set for a 2013 launch, ABC and Univision jointly announced Monday.
The 24-hour network, yet to be named, is aimed at tapping the burgeoning U.S. Hispanic population, which currently makes up 16 percent of the country's population and is expected to almost double by 2050, according to an ABC News publicity release.
"Our mission is clear," ABC News president Ben Sherwood said in a statement. "To offer culturally relevant news, information and lifestyle programming to the large and thriving Latino audience in the United States. In these times of rapid change, we are very excited about this opportunity."
The joint venture would mark the inaugural channel for English-dominant and bilingual Hispanics, with journalists from both ABC News and Univision News anchoring and reporting. A first-step website is due sometime this summer, when a management team also is expected to be announced.
Bureaus will be set up in major cities throughout the U.S., which almost certainly means that the network will offices in the Dallas-Fort Worth area, one of the country's largest Hispanic population centers.