I Love Dick takes Amazon Prime into a thoroughly adult book store
05/10/17 01:10 PM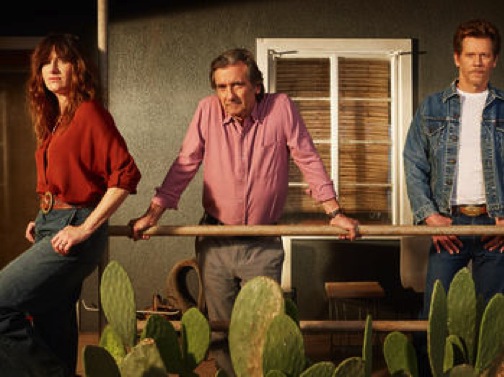 Twisted triangle: Kathryn Hahn, Griffin Dunne and Kevin Bacon are united and divided by lusty letters in I Love Dick. Amazon photo
Premiering:
All eight Season 1 episodes begin streaming Friday, May 12th on Amazon Prime
Starring:
Kathryn Hahn, Kevin Bacon, Griffin Dunne, Roberta Colindrez, India Menuez, Lily Mojekwu
Produced by:
Jill Soloway, Andrea Sperling, Victor Hsu, Sarah Gubbins, Kevin Bacon, Heidi Schreck
By ED BARK
@unclebarkycom on Twitter
Basically twisted, but very daringly so, Amazon Prime's
I Love Dick
has a title that in fact fits like a customized condom.
The eight-part, seriously dark comedy uses a play on words. But it's very much about explicit sex and the thorny sexual politics therein. Author Chris Kraus, whose same-named book came out 20 years ago, has described it as her "lonely girl phenomenology." And most women likely won't want to have what she's having.
The uncommon venue for all of this hot-blooded angst is little Marfa, Texas, where
I Love Dick
also was filmed. Kathryn Hahn plays Chris, a frustrated, two-bit filmmaker whose husband, Sylvere (Griffin Dunne), intends to reexamine the Holocaust as part of a fellowship bankrolled by Dick Jarrett (capable Kevin Bacon), a wealthy artist who hasn't done anything new for the past decade. The character is somewhat modeled after the late minimalist artist
Donald Judd
, who made his marks on Marfa after relocating from New York City in 1971.
In
I Love Dick
, the plan at first is for Chris and Sylvere to drive from New York to Marfa before she flies off to a Venice festival where her film has been accepted. But she's more or less stranded in Marfa, and dubbed "the Holocaust wife" after her film is abruptly dumped over an issue of music rights. It takes scant time for Chris to become obsessively infatuated with Dick, even after he tells her, "Unfortunately, most films made by women -- Aren't. That. Good." Chris retreats to a restroom to narrate, "Dear Dick. Game on."
It's the first of many "Dear Dick" passages, some of them displayed in white block letters on a red backdrop. Chris amasses page upon page of them, stating her desires to have Dick and plenty of him. The letters also end up being a sexual turn-on for Chris and Sylvere, whose couplings have been infrequent and unsatisfying until a third party enters the picture via her dramatic readings. But then things get increasingly public, much to Dick's dislike.
I Love Dick
very much shows as well as tells. Jill Soloway, the principal executive producer who also provides
Transparent
for Amazon, does not shy away from full frontal nudity and occasional scenes from pornographic films. Episode 6 (the entire first season was made available for review) includes a very stark public "conceptual art piece" on the part of Toby (India Menuez), a young redhead who was introduced to porno at an early age by her cousin.
Toby, who appears completely in the altogether for a good part of this half-hour episode, might remind some of Vladimir Nabokov's Lolita. Particularly when the middle-aged Solvere tells her in Episode 2, "You're so beautiful. So achingly beautiful." The mood is immediately broken when she retorts, "You're awful."
Another supporting character, the androgynous Devon (Roberta Colindrez), is a handyman/woman who lives in a trailer home near Chris and Solvere. Devon otherwise helms a little
avant garde
theater group that comes to the fore in the concluding episode. Not all that convincingly, however, unless one believes that even Marfa's roughnecks are happily part of the act.
The long under appreciated Hahn, who also has a recurring role in
Transparent
, boldly throws herself into this neurotic, psychotic, soul-and-skin-baring role. As her tormented husband notes in Episode 6, she's objectifying Dick the way that men have been objectifying women for centuries. But many potential viewers of both sexes may well be put off by the oft-graphic "messaging" of
I Love Dick
, which sheds its darkly comedic touch in later episodes and risks becoming a polemic -- without quite becoming so.
Oddly, the famed and mysterious "Marfa Lights" never figure into these proceedings, either visually or referentially. But the Hotel Paisano and Lost Horse Saloon get some face time, as do the beautiful stretches of basically nothing.
I Love Dick
ends with a certain degree of closure, but not enough to close the door for a Season 2. Amazon -- or its rival streaming services for that matter -- have never come close to anything quite like this. Your appetite may vary, as did mine. But we live in dramatically changing times, with more than enough viewing venues to accommodate a series that is completely willing to offend sensibilities while also engaging them.
GRADE:
B+
Email comments or questions to:
unclebarky@verizon.net