It's game on with The CW's Oh Sit!
08/14/12 12:12 PM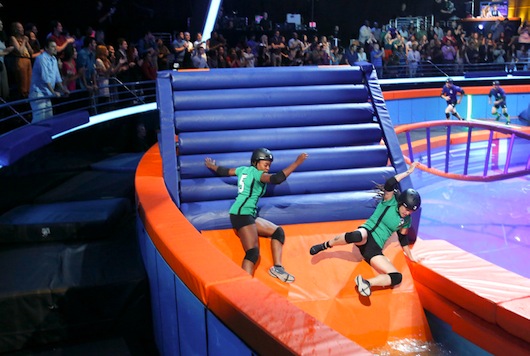 Racers slip/slide their way to the "Sit List" on Oh Sit! CW photo
Premiering:
Wednesday, Aug. 15th at 7 p.m. (central) on The CW
Hosted by:
Jamie Kennedy, Jessi Cruickshank
Produced by:
Phil Gurin, Richard Joel, Deena Dill
By ED BARK
@unclebarkycom
Networks in full-blown desperation mode perhaps are entitled to present
Oh Sit!
, whose competitors race around a slippery, body-banging course in hopes of remaining on the show's "Sit List."
Or as co-host Jamie Kennedy tells viewers up-top: "Twelve weekend warriors who are in shape and out of their minds will put their asses to the test."
Yes, we're talking about summer programming on The CW, a network whose fortunes continue to sink a dink a do. Still,
Oh Sit!
more or less qualifies as a perfectly acceptable answer to the likes of ABC's
Wipeout
or NBC's recent summertime flop,
American Ninja Warrior
. Constants fall down, go boom while commentators either make sport of them or commend their grit.
On
Oh Sit!
, the once promising Kennedy shares a desk with Jessi Cruickshank, who initially comes off as the WORST HOST EVER but eventually settles in with lines such as, "You have a very lucky cornfed bum."
This is in reference to a competitor who keeps sitting in the "Chair Island" chair with the most monetary value. To explain further would be fruitless.
Each hopeful is given a nickname, the most riotous being McPushy Pants. There's also Jenni From the Block ("I can be a bitch') and The Beard, who has a big black one modeled after San Francisco Giants reliever Brian Wilson. Correspondent Tanika Ray, who interviews him, is credited by Cruickshank with "some spectacular, beard-related journalism."
The show may be a joke, but the various obstacle courses look legitimately grueling. Even an Olympic decathlete might get pretty gassed after a while. In Wednesday's premiere outing, one competitor almost immediately gives up while another gives his ankle a serious twist. After each elimination round, a host is usually inclined to say, "Let's take a look at the Sit List."
The races are accompanied by live band music and even a performance from
"multi-platinum artist" Kevin Rudolf
. When the music stops, competitors scramble to cross various bridges for a coveted seat on "Chair Island." Those who don't make it to the next round are fated to dive into one of the show's many pools of water for a brief "Swim of Shame."
The winner-takes-all grand prize adds up to a not-so-shabby $32,250 on Episode 1. "This is the best thing that's ever happened to me," says the recipient.
That's good for a laugh. And although its title is needlessly sub-juvenile,
Oh Sit!
does manage to be stupidly entertaining during its small handful of best moments. The CW will take that, particularly when one of its other hot weather attractions,
Remodeled
, was seen by a ridiculously paltry 392,000 viewers nationally Monday night.
Oh Sit!
certainly has a fighting chance to beat that mark. It had better, lest it truly be in a world of s*it.
GRADE:
C
PROGRAMMING NOTE
-- Lifetime's five-part series
The Week The Women Went
premieres Tuesday, Aug. 14th at 9 p.m. (central) after originally being scheduled for a June 6th launch. Silly me, that's when my review was posted. So if you'd like to take a look -- or another look -- you can
find it right here
.