Reviewing Netflix's Grace and Frankie after viewing all 13 episodes
05/11/15 02:44 PM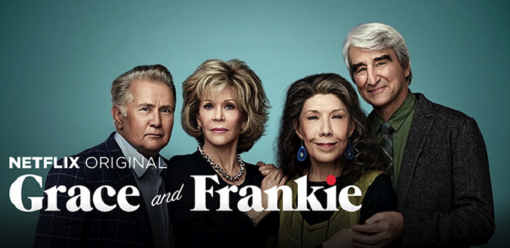 The golden girls/guys of a new age-old comedy series. Netflix photo
Premiering:
Currently streaming all 13 episodes on Netflix
Starring:
Jane Fonda, Lily Tomlin, Sam Waterston, Martin Sheen, June Diane Raphael, Ethan Embry, Baron Vaughn, Brooklyn Decker
Produced by:
Marta Kauffman, Howard J. Morris, Jane Fonda, Lily Tomlin
By ED BARK
@unclebarkycom on Twitter
Here's a serio-comic series that significantly improves with age, which is fitting given the collective mileage on its four principals -- Jane Fonda, Lily Tomlin, Sam Waterston and Martin Sheen.
Netflix's
Grace and Frankie
, which began streaming all 13 episodes on Friday, May 8th, affords another reason to go the distance before rendering a verdict. This can be taxing to say the least. But early reviews, which were decidedly mixed, are based on six episodes made available in advance to TV critics. That's a pretty good sampling, but in this case not really enough. Early episodes are shaky and tend to be too sitcom-y. And some reviewers very likely watched fewer than six before making up their minds.
It would be a nigh impossible task if every TV series had full seasons ready to show. But we're not nearly there yet. And in the case of Netflix, what's the hurry? Posting a review within a week or less of its online launch allows one to avoid the initial rush to judgment and see where things are going. In
Grace and Frankie
, they turn out to be going just fine, with the series really hitting its stride during Episodes 5 through 9 before Season 1 eventually wraps on a poignant, open-ended note.
Early reviews also didn't take into account the arrival of Craig T. Nelson as an adventurer beau named Guy. Nelson is agreeably loose and relaxed in an important arc that introduces his character in Episode 7 and takes him to the Episode 13 finish line.
Episode 1 begins at lunch, with Grace Hanson (Fonda) and Frankie Bergstein (Tomlin) awaiting the arrival of their husbands Robert and Sol (Sheen, Waterston). There's something they need to say. Namely that they've long been in love with one another and finally are acting on this by divorcing their wives and remarrying each other.
This doesn't sit well. Grace impulsively begins pelting Robert with food. Later, Frankie barks that Sol should have been willing to "ride out the clock" and "stay miserable" at this point in their lives.
Absent a laugh track,
Grace and Frankie
is never riotously funny and obviously doesn't intend to be. Scenes can be searing as well as comical. After a while, the tonal changes settle in and become part of the fabric.
Tomlin not surprisingly gets the hippie-ish, often daft role while Fonda plays an uptight founder of a cosmetics company who constantly worries about her appearance and is seldom without a vodka martini in hand. Robert and Sol have long been law partners, forcing Grace and Frankie to see more of each other than they'd like. Now they're thrust together in a beach house while Robert and Sol plan a wedding, lightly smooch one another and use terms of endearment such as "sweetheart" and "honey."
Sol is easily exasperated and hurt while Robert is sterner but generally in tune with his lover's temperament. Waterston and Sheen pull this relationship off without any undue awkwardness, although viewers might need a few episodes to get used to these decidedly different TV personas. Sheen, after all, used to be president of the United States in
The West Wing
while Waterston aggressively prosecuted a lot of bad guys during his long tenure on
Law & Order
.
Initially aghast adult children also are involved. Grace and Robert have two daughters. Brianna is now the self-absorbed CEO of her mother's company while younger sister Mallory is married with two kids.
Frankie and Sol have racially mixed adopted sons. Uganda-born "Bud" (Baron Vaughn) helps out at the law firm and Coyote is a recovering drug addict who used to date Mallory.
Brianna turns out to be the most interesting sub-character in a series that gives Craig T. Nelson the meatiest guest star role but also provides Ernie Hudson with a chance to shine in multi-episodes as Frankie's "yam man," Jacob, who'd like to make her his sweet potato. Familiar TV faces such as Christine Lahti, Michael Gross, Joe Morton, Brian Benben and Barry Bostwick are sprinkled lightly in one-shot guest shots.
Whatever its fate,
Grace and Frankie
outdoes
The Golden Girls
in terms of casting the oldest ensemble in TV -- or streaming -- history. Fonda is 77, Tomlin is 75 and Waterston and Sheen are both 74. None looks the least bit feeble, with Fonda's timing still mostly razor sharp while Tomlin and Waterston share some genuinely affecting scenes together.
Tomlin's character also gets to throw some deft jabs at Fonda's expense, telling her in Episode 1 that she's "making the sand angry" and squirting a blast of whipped cream into her mouth at the start of Episode 6 before adding, "Now you can't eat until Monday."
The series also deals with getting older, feeling unwanted, insecurities and abandonment issues. In this respect, Grace and Frankie's Lucy-and-Ehtel-ish "Say Yes" night on the town in Episode 12 can be a little painful to watch at times. But their Episodes 8 and 9 discourses on vaginal dryness are juicy through and through.
Viewers are advised to stay with
Grace and Frankie
and watch it both blossom and bear fruit. It's not a great, game-changing series by any means. At least not yet. But principal veteran producers Marta Kauffman and Howard J. Morris know how to work the room while giving their four very accomplished stars ample room to work, stretch and excel. In that sense, Season 2 -- if there is one -- could easily go under the expanded title of
Grace and Frankie and Sol and Robert
. They're all in this together despite that signature crumbling wedding cake in the show's opening credits.
GRADE:
B
Email comments or questions to:
unclebarky@verizon.net