NBC's Superstore somehow opens for business
11/30/15 11:33 AM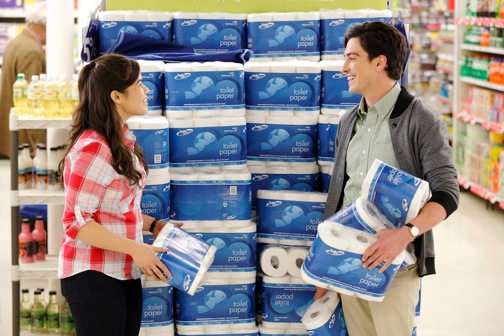 America Ferrera, Ben Feldman strive to survive Superstore. NBC photo
Premiering:
Monday, Nov. 30th at 9 p.m. (central) with back-to-back episodes sneak-previewing on NBC before show returns on Jan. 4th
Starring:
America Ferrera, Ben Feldman, Mark McKinney, Lauren Ash, Colton Dunn, Nico Santos, Nichole Bloom, Johnny Pemberton
Produced by:
Justin Spitzer, Ruben Fleischer, David Bernad, Gabe Miller, Jonathan Green
By ED BARK
@unclebarkycom on Twitter
Buyers beware. NBC is sneaking
Superstore
upon you following Monday's sure to be heavily-watched two-hour edition of
The Voice
.
For the most part it's about as much fun as camping out overnight in a freezing ice storm to snare a Black Friday discount on a Darth Vader toaster. Although some people really do seem to get into that.
Superstore
won't return until Jan. 4th after the Nov. 30th jump start of back-to-back episodes. NBC sent four of them for review and the overall quality seldom rises above excruciating. Perhaps I'm being too kind.
America Ferrera (
Ugly Betty
) and Ben Feldman (last season's failed
A to Z
) head the cast, with former Kids in the Hall standout Mark McKinney adding a hopelessly broad and goofy characterization as store manager Glenn. The big, sprawling place is called Cloud 9, although Living Hell would better describe the overall experience for actors and viewers alike.
Virtually every joke lands with a resounding thud, never more so than when a moronic white rapper named Bo (Johnny Pemberton) is striving to be "street." He's also responsible for impregnating a rather dense teenage employee named Cheyenne (Nichole Bloom), who should be running at WARP speed from this guy. Worse TV characters surely have popped up over these many years. But Bo (middle name Derek) seems determined to achieve new vistas in off-putting. And although not listed in NBC publicity materials as a regular character, he very much infects each of these four episodes.
Ferrera, who should know better, has signed on as true-blue employee Amy, although she always wears name tags that identify her otherwise. Feldman is new worker Jonah, an easy target for ridicule. He'd like to make a little time with Amy, who's married (unhappily, apparently) and also has a child. Neither are shown.
Superstore
ham-handedly touches nearly every base in terms of ethnicity, sexual orientation, physical challenges and body shapes.
Amy and Cheyenne are Latina. Garrett (Colton Dunn), who's black, gets around in a motorized wheelchair. Mateo is Asian and gay. Officious assistant store manager Dina (Lauren Ash) is decidedly plus-sized. Glenn is the buffoonish Christian, with McKinney using a super-shrill voice to ward off even a faint hint of subtlety. There's no attendant laugh track, which would be living a lie anyway.
Viewers also are presented with recurring, brief sight gags of customers caught in the acts of being their base-level selves. Two of them joust with shopping carts in a narrow aisle. Another one lowers his pants and takes a dump in a display toilet. A little boy does the same in a kiddie potty for sale. All of the featured employees spend enough time in the break room to let the store be looted as well. Somehow it isn't.
Episode 2 finds dimwit Glenn priming himself for a visit from a woman reporter doing a story on Cloud Nine for the corporate magazine. Her journalism degree, which she mentions, doesn't stop her from coming on to a willing Jonah in the stockroom. It's all captured on security cameras. But Dina, who has the hots for Jonah, decides that in fact he's been "sexually assaulted."
"Now listen up, Connie Chung," Dina barks after calling the reporter "a journalist and a rapist." Call your lawyers, Connie. There's still a little time.
Superstore
eventually will be paired on Mondays with Eva Longoria's new
Telenovela
comedy series, which will be getting a Dec. 7th, post-
Voice
sneak preview. The latter series surely will be better than this. Won't it? For now, though, cleanup on Aisle 5. NBC has left a very big mess.
GRADE:
D-minus
Email comments or questions to:
unclebarky@verizon.net