ABC's Rookie Blue clunks into view
06/23/10 10:25 AM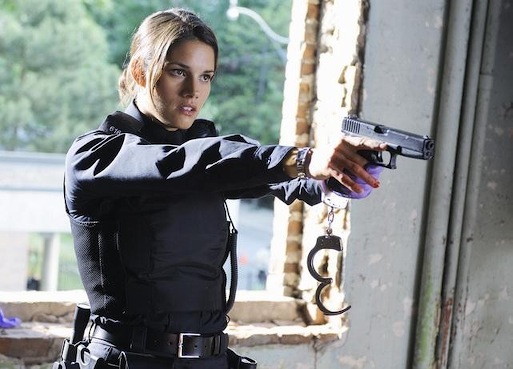 Rookie Blue takes aim, fires blanks. ABC photo
Premiering:
Thursday, June 24th at 8 p.m. (central) on ABC
Starring:
Missy Peregrym, Gregory Smith, Enuka Okuma, Charlotte Sullivan, Travis Milne, Eric Johnson
Produced by:
Tassie Cameron, Ilana Frank, David Wellington, Noreen Halpern, John Morayniss
By ED BARK
Impossibly good looking and uniformly unfit for duty, the five young guns of
Rookie Blue
cry out for citizens' arrests.
Instead they'll probably just get canceled.
ABC's third new scripted series of the summer is by far the weakest, dumbest and clumsiest. That includes the network's official character descriptions, which are straight from the
Starsky and Hutch
era.
Blonde, buxom Gail Peck (Charlotte Sullivan) is "the self-serving politico from cop royalty, whose ambition is so blind that she'll trample anyone who gets in her way."
There's also Dov Epstein (Gregory Smith), billed as "the archetypal thrill-seeker whose attitude stems from being raised by hippie parents."
The titular lead rookie, however, is jittery Andy McNally (Missy Peregrym), whose pop was a less than stellar cop. Her early narration is straight out of the
Grey's Anatomy
playbook: "We've learned how to shoot and fight and drive a police car really fast."
Actually, they don't seem to have learned much of anything -- Andy especially. Her veteran, semi-gruff partner warns that "people can smell new cops like they can smell fresh paint."
Viewers are soon smelling a bad show, with Andy nervously and breathlessly navigating a first day that includes lethal gunfire from a drug den and her eventual blowing of an undercover cop's cover. Alternately near tears and hyperventilating, Andy ends up confronting an equally nervous kid with a pistol. "Don't make me shoot you. This is my first day," she pleads.
Andy also has a few brief encounters with a suitably hunky plainclothes homicide detective named Luke Callaghan (Eric Johnson). It's clear that they'll inevitably be spending some off-duty time together. For now, though,
Rookie Blue
begins and ends in a bar, where the five newcomers happily get sloshed without any attention paid as to how they'll all get home without hurting themselves or others.
Not that you'll care.
GRADE:
D