Quality to burn: The Americans returns to FX
03/15/16 10:31 AM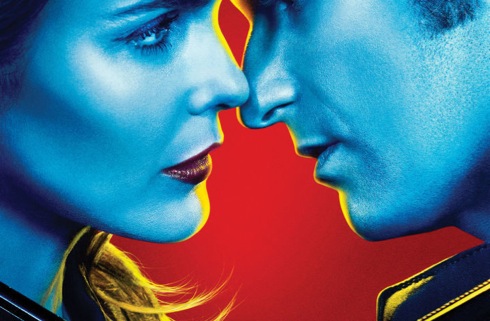 Domestic disturbances mount in Season 4 of The Americans. FX photo
By ED BARK
@unclebarkycom on Twitter
Lavishly praised by TV critics but still ludicrously ignored by major awards bodies, FX's
The Americans
if anything is better than ever in the early stages of Season 4.
Wednesday, March 16th at 9 p.m. (central)
is the latest due date, with Soviet spies Philip and Elizabeth Jennings (Matthew Rhys, Keri Russell) now facing ramped-up troubles at home after their daughter, Paige (Holly Taylor), discovered their secret identities and also confided in "Pastor Tim" (Kelly AuCoin). Spying is a "way to make the world safe," although not everyone agrees, Paige has been told by her mother.
The four episodes made available for review are tightly woven marvels, with a new bio-weapons threat further complicating the double lives of the two principals. There's also the carryover death of FBI computer specialist Gene Craft (Luke Robertson) at the end of Season 3. Philip did the deed and then made it seem like suicide in order to frame Gene as a mole within the agency's Washington D.C. offices. But dogged agent Stan Beeman (Noah Emmerich) remains suspicious of office secretary Martha Hanson (Alison Wright), who's been Philip's duped right-hand informant and clandestine wife.
A few words about Wright as Martha. She comes fully to the fore in these first four episodes, giving
The Americans
another character in full measure. Martha has been important in earlier seasons. But she's now of more import than ever. Her devastated reaction to Philip's confession about Gene gives Wednesday's opening hour an emotional lift-off that underscores the very human ramifications of cutthroat counter-espionage. Even Philip is still leaning on EST classes in hopes of somehow cleansing himself while Elizabeth remains the more coldly efficient and pragmatic assassin.
Frank Langella, as the Jennings' Washington-based KGB handler Gabriel, is also a key player in Season 4's stage-setting episodes. He has tried to keep Philip and Elizabeth out of harm's way regarding the super-lethal biological weapons now being made by both the U.S. and the Soviet Union. But now they must deal with a go-between spy named William (new cast addition Dylan Baker), a rogue American scientist who hands over small vials of biological death while warning, "This is to meningitis what bubonic plague is to a runny nose."
Meanwhile, back in the USSR, beauteous and exposed double agent Nina Sergeevna (Annet Mahendru) is still trying to work her way back into the good graces of her Soviet captors. Margo Martindale,
The Americans'
sole Emmy winner for her guest starring stint as KGB supervisor Claudia, returns to briefly reprise that role in a scene with Langella's Gabriel.
The Americans
also mixes in a planned family trip to Disney's Epcot Center and Elizabeth's disguised gambit as a Mary Kay Cosmetics representative. This enables her to meet an Asian woman named Young Hee (terrifically played by veteran stage actress Ruthie Ann Miles). Their rapport is instant and refreshing. It serves to chase away the overall blues -- for several minutes at least -- during their "girl talk" scenes together in Episode 3 of the new season.
Paramount, though, is what to do about the shared knowledge of Paige and Pastor Tim. Must he be liquidated? Or better yet,
can
he be liquidated without Paige being forever alienated from her parents despite all efforts to cover their tracks? These struggles are palpable from all angles.
The Americans
perhaps is fated to join the likes of NBC's
Homicide: Life on the Streets
and HBO's
The Wire
as great drama series that never received even a single Emmy nomination in that category. In continued boom times for high-quality drama series, Emmy voters have a tougher time than ever.
But as of this particular writing,
The Americans
in my view is the best TV drama of this season. It excels to even greater degrees on levels large and small, with the intimate details of human interaction mixing with the humanity-at-stake, cloak and dagger goings-on that keep Philip and Elizabeth tenuously on point.
Oh, and by the way, Episode 4 ends with a big jolt.
GRADE:
A
Email comments or questions to;
unclebarky@verizon.net