Showtime's Nurse Jackie takes its meds for Season 2
03/22/10 01:34 PM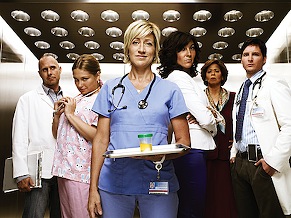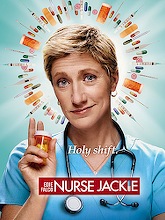 Season 2 premiere:
Monday, March 22nd at 9 p.m. (central) on Showtime
Starring:
Edie Falco, Merrit Wever, Eve Best, Peter Facinelli, Anna Deavere Smith, Dominic Fumusa, Paul Schulze, Ruby Jerins, Mackenzie Aladjem, Stephen Wallem, Arjun Gupta
Created by:
Evan Dunsky, Liz Brixius, Linda Wallem
By ED BARK
A bit lighter in tone but with ample darkness looming,
Nurse Jackie's
Season 2 begins in a relative Eden.
Last seen flat on her back after imbibing a bigger pill cocktail than usual, Jackie Peyton (Edie Falco) returns to assume the same position -- but on a blanket at the beach.
Her true-blue bar & grill-owning husband Kevin (Dominc Fumusa) is by her side and soon making out with her. Their two daughters, troubled Grace and precocious Fiona (Ruby Jerins, Mackenzie Aladjem), play contentedly by the sandy shore.
This obviously can't last too long, and doesn't. Returning to her All Saints Hospital workplace in midtown Manhattan, Jackie is nearly hit by a gunshot that instead grazes the shoulder of the venerable Virgin Mary statue. ER ER oh.
Watching the new season's first four episodes renews an appreciation for what a nicely meshed cast this is. Falco is still the star player, cursing, snorting and continuing to live various lies on the job and at home while also dispensing tender mercies to patients in dire need. But
Nurse Jackie
's supporting characters are if anything better than ever.
Young nurse Zoe Barkow is fun, occasionally forlorn and still brilliantly played by Merrit Wever. Supervisor Gloria Akalitus (Anna Deavere Smith) has more to do in these early episodes, hitting her stride in a series of nicely flavored scenes with her always balky staff.
Egotistical Dr. Fitch "Coop" Cooper (Peter Facinelli) has an even more contentious relationship with Jackie. Plus he's tweeting -- beginning in Episode 2 -- as part of a new gambit that will play out weekly in real time on the show's newly minted "@DoctorCoop" twitter account.
Facinelli is something of a
Twitter addict
in real-life, with over
1.5 million followers
and counting.
"Don't you dare twitter about me," Jackie barks at him next Monday. Not a chance -- that he'll listen to her.
Coop also is flush, in Episode 3, with a magazine cover story that anoints him No. 23 among Manhattan's top 25 doctors. This enrages Jackie's always colorful best friend, Dr. Eleanor O'Hara (Eve Best), who considers him infinitely inferior to her. But Coop has a publicist paving his way; O'Hara doesn't.
"Do you really care what a group of magazine editors that dole out stars for the best street burritos and eyeliner think about health care providers?" Akalitus finally asks her. Well, no, but they're still a
big annual moneymaker for D
and other city magazines.
The aforementioned looming darkness is Jackie's clandestine, once blooming sexual relationship with pharmacist/pill provider Eddie Walzer (Paul Schulze). It was was short-circuited last season when Eddie got jettisoned in favor of a dose-dispensing machine and also learned that Jackie is married.
Season 2 finds Eddie calculatingly cementing his new barfly-to-bartender friendship with an in-the-dark Kevin Peyton while Jackie continues to distance herself. Things start coming to a head in Episode 4, when Eddie sabotages her "date night" with Kevin by taking him to a Mets game.
Random patients remain a key element of
Nurse Jackie
. In early episodes they include a young deaf woman who's had three fingers severed and a child being tested for cystic fibrosis. This is when you feel Jackie's humanity, an important consideration in light of her addiction and ongoing duplicity.
The humor remains razor-sharp, as when diabetic nurse Thor tells Zoe in Episode 3, "God, these (surgical) gloves are so tight I feel like O.J."
"That's the third time you've said that today," she retorts.
"Like your material's fresh," he fires back.
Nurse Jackie
, which will have 12 episodes in Season 2, is still freshly half-baked and only occasionally a little overdone. It also gives Falco the best second act to date among the many prominent alums of HBO's
The Sopranos
.
Add an asterisk for Paul Schulze, the actor who plays Eddie. On
The Sopranos
, he had the recurring role of Carmela Soprano's (Falco) doting parish priest, Father Phil Intintola. Nothing sexual ever developed between the two of them, but a slow simmer sometimes seemed to be building. Now, on
Nurse Jackie
, it all clearly is destined to boil over. And no amount of medication will help.
GRADE:
A-minus