Hulu's Harlots bares 18th century England
03/23/17 01:34 PM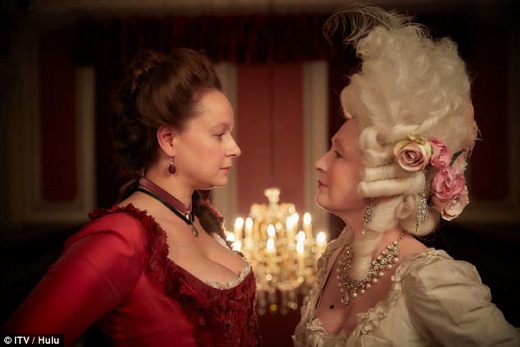 Squaring off: Samantha Morton, Lesley Manville in Harlots. Hulu photo
Premiering:
begins streaming Wednesday, March 29th on Hulu
Starring:
Samantha Morton, Lesley Manville, Jessica Brown Findlay, Eloise Smith, Holli Dempsey, Douggie McMeekin, Hugh Skinner, Daniel Sapani
Produced by:
Moira Buffini, Alison Newman, Alison Owen, Alison Carpenter, Debra Hayward
By ED BARK
@unclebarkycom on Twitter
Created, executive produced, written and directed entirely by women, Hulu's
Harlots
is an equal opportunity flesh-barer with a not so underlying message.
The fleeting glimpses of women's exposed breasts and men's unadorned buttocks are doled out evenly. But in 1763 England, it's otherwise very much a man's world, with the rampant "objectification" of women a running thread of this cheeky eight-hour drama series. (Just as a reminder, Hulu doles out just one episode per week rather than taking the whole-season-at-once tacts of Netflix and Amazon Prime.)
Harlots
begins by noting that one of every five women made their livings selling sex in these times. So there's an overriding empathy in play, even if the competition between Madams Margaret Wells (Samantha Morton) and Lydia Quigley (Lesley Manville) is decidedly fierce.
Lydia is the more boo hiss-able. She haughtily runs an upscale brothel with help from her only son, Charles (Dougie McKeekin), a flabby test-driver of new applicants.
Margaret presides over a more ramshackle "boarding house for young ladies" in her words. She has two daughters, seasoned Charlotte (Jessica Brown Findlay) and the still virginal Lucy (Eloise Smith), whose un-flowering could attract some of the big money Margaret needs to relocate to nicer digs. "I'm worth at least 50 pounds, ma," Lucy is convinced.
Charlotte meanwhile is both stringing along -- and being strung along -- by Sir George Howard (Hugh Skinner), a married, self-absorbed cad of means.
"I've ridden hard to be with you," he tells her before expecting to be satisfied.
"I must ride even harder," she replies before seeing he's only brought her a pineapple from his latest travels.
The dialogue occasionally strays into contemporary times. As when ambitious and top-earning Emily Lacey (Eloise Smith) gets dressed down by a fellow prostitute after expressing her disdain for Margaret's "clucking."
"Sweet Emily, why don't you just cluck off?" she's told. So she does, joining Lydia's establishment as a further slap at her former boss.
Lydia and Margaret have long despised one another. Their verbal shots can be the stuff of Alexis vs. Krystle from the old ABC serial soap
Dynasty
.
"I'd like to see Margaret publicly flayed until her back resembles a latticed tart," Lydia sneers. Margaret returns serve a bit later, getting in Lydia's face to bellow, "Damn you for a kidnapping pimp!"
Hulu made the first two episodes available for review. They're beautifully shot, and the costuming also can be sumptuous. Virtually every woman, save for a prototypically tightly wound religious fanatic and her daughter, is preceded by her very accentuated cleavage. The wealthy men of
Harlots
in turn wear wigs and full makeup while talking dirty and taking what they want. But Margaret's African-American doorman and enforcer, William North (Daniel Sapani), is a man of decorum who's also long been her lover. Their 10-year-old son is a "pageboy" at the brothel.
In the early going at least, Charlotte also seems fated to fall for a working class chap who turns the tables and charges her for his so far platonic camaraderie. But the principal character dynamic is the escalating feud between Margaret and Lydia, which heats to a big boil at the end of Episode 2.
Harlots
tends to teeter between being a lark and a social tract. The flesh is willing throughout, but the structure can be a little weak. Still, this is a decidedly different and bracing look at ye olde England, with power struggles aplenty as women strive to assert themselves while men mostly just want to insert themselves.
"I'm soft as a rotted fruit," Sir George protests angrily when his latest coupling goes awry. Story-wise,
Harlots
sometimes has that problem as well. But more often, it's a pretty firm carrot.
GRADE:
B
Email comments or questions to:
unclebarky@verizon.net