Gotta move on: Nashville Star winner Melissa Lawson not much longer for Texas
08/05/08 02:43 PM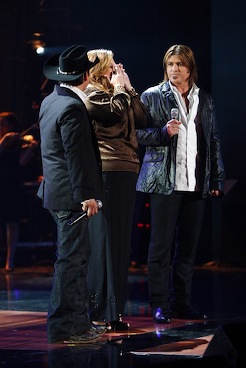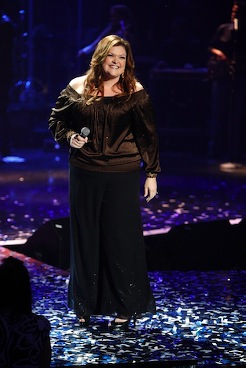 Night of nights: Arlington's Melissa Lawson is newest Nashville Star.
By ED BARK
Some people go to Disneyland after winning big.
Arlington, TX mom-of-five Melissa Lawson instead will be in Beijing a week from today. Next she'll be forsaking her native Texas for Nashville.
Both moves are tied to her Monday night victory on NBC's
Nashville Star
, where she outlasted fellow Texan Gabe Garcia of Lytle during a live finale at Nashville's Roy Acuff Theatre.
"I almost get tired of myself saying 'surreal,' Lawson says during a teleconference on the morning after a mostly sleepless night. "It's kind of crazy. I've never been out of the country."
She amends that, remembering her honeymoon in Cancun 11 years ago with husband Rick. They've since had five sons together, ranging from Maverick, 8, to Ryker, 11 months. Lawson will be flying solo to Beijing, though, for a scheduled August 12th
Today
show performance at the site of the Summer Olympics.
Rick is "going to be taking care of the boys" while his wife becomes a world traveler for the first time.
"We call it 'team parenting,' because it takes two to raise them," Lawson says. "He's used to that. The only difference this time is it's on a much more magnified scale."
The Lawsons soon will be packing together for what's intended to be a long-term stay in Nashville. They put their Arlington home on the market and "just kind of left it in God's hands" when Melissa made the NBC competition's final 12.
"Now that I've won the show, there's really no choice but to move," she says.
Lawson's debut single, "What If It All Goes Right," already is in rotation on country music stations after she performed it for the first time at the close of Monday's
Nashville Star
finale. Spoils also include a red Toyota Tundra pickup and a Warner Bros. Records contract, with one of the show's judges, John Rich, producing Lawson's first CD.
"There's gonna have to be a lot of changes," she says. "There's no question in my mind about that . . . But I'm a pretty grounded person and I always want to stay that way. I know where I came from, and I'll never forget."
Her father is from Brookfield, Wis., a suburb of Milwaukee. He moved to Texas at age 22 before Melissa was born. Her parents played The Oak Ridge Boys and Barry Manilow a lot, she recalls. But as an early teen, Melissa pretty much went all country, with Lori Morgan, Pam Tillis and Mary Chapin Carpenter among her favorites.
"Obviously I love those powerhouse ballads," Lawson says. Her ideal first CD would be a mesh of Trish Yearwood, Martina McBride and Faith Hill, she adds.
She previously tried out for
American Idol
, but that went nowhere. Later in life she finally grew tired of carrying her own weight, which topped out at 298.5 pounds.
"I saw that 300 mark coming up and I freaked out," says Lawson, who's made a resultant "weight loss journey" part of her official
Nashville Star
biography. She's lost close to 50 pounds after "a lot of years yo-yo dieting." Another warning signal was the day she threw her back out "just bending down."
"It's quite selfish of me to choose food and non-movement over playing with my kids," Lawson says. "I was teaching my children terrible eating habits. We were eating fast food three times a day."
She now eats whatever appeals to her, but in moderation. A cheeseburger and fries is still a creature comfort, but fast food eateries are off the menu.
"It physically makes me sick now to go to a McDonald's or Burger King," Lawson says. "I just can't do it."
The impending move to Nashville will mark the first time she's lived outside of Texas. Her husband and their five boys are on board, she says. Not that there's a whole lot of choice in the matter.
"I love the fact that even with the cameras being around, they've been so casual and so accepting of it," Lawson says of her sons, who joined her onstage during Monday night's triumphant moment.
The oldest two "just so wanted to see the truck that we won. It's got fingerprints all over it."