Fox takes minimalist approach with three fall newcomers
05/14/12 07:47 AM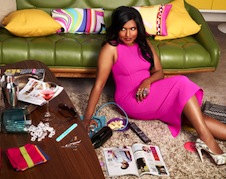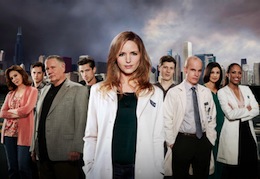 The Mindy Project and The Mob Doctor make fall cut. Fox photos
By ED BARK
@unclebarkycom
A still struggling NBC laid waste to its prime-time schedule on Mothers' Day with the announcement of 16 new series for fall or midseason.
A far more prosperous Fox in contrast unveiled just five newcomers Monday morning, three of them due this fall.
A larger number of this season's shows were canceled. Besides the previously announced
Terra Nova, Allen Gregory
and
House
(which has its season finale on Monday, May 21st), the evictees are
Alcatraz, Napoleon Dynamite, The Finder
and
I Hate My Teenager Daughter
. As previously posted,
Fringe
is getting a 13-episode farewell season.
Fox will finish this season as the No. 1 network for the eighth straight year among advertiser-prized 18-to-49-year-olds while placing a distant second to CBS in total viewers. Three of last season's newcomers --
New Girl, The X Factor
and
Touch
-- will be back for sophomore years while
American Idol
returns for a 12th time in the face of shrinking ratings and some likely new judges.
Here are Fox's three new fall series:
The Mob Doctor
(drama) -- Jordana Spiro from TBS'
My Boys
stars as a Chicago sawbones who agrees to work "off book" for the mob in order to pay off her brother's gambling debts. This includes, according to Fox's description, "helping an aging mobster with his erectile dysfunction." 'Cause if she doesn't, her number's up instead.
The Mindy Project
(comedy) -- This one's also about a doctor, with Mindy Kaling of
The Office
playing a vexed OB/GYN striving to "break bad habits in her personal life."
Ben and Kate
(comedy) -- Dakota Johnson (
The Social Network
) and Nat Faxon (
Bad Teacher
) are "odd-couple siblings. She has an unplanned five-year-old daughter and he's a dedicated screwup.
Here is Fox's night-by-night fall schedule:
Monday
Bones
The Mob Doctor
Tuesday
Raising Hope
Ben and Kate
New Girl
The Mindy Project
Wednesday
The X Factor (with American Idol in midseason)
Thursday
The X Factor results show (with American Idol in midseason)
Glee
Friday
Touch
Fringe
Saturday
Fox Sports Saturday
Sunday
NFL runovers (with "Animation Domination" repeats in midseason)
The OT (with The Cleveland Show in midseason)
The Simpsons
Bob's Burgers
Family Guy
American Dad
These are Fox's new midseason series:
The Following
(drama) -- What if 300 "active serial killers" banded together to form an alliance, sort of like the League of Injustice? And what if Kevin Bacon as a former FBI agent is redeployed to track their leader after he escapes from death row? But what if Bacon's character is now "wounded both physically and mentally" from his time as a G man? It sounds like
Alcatraz
all over again, but unfortunately this is supposed to be Fox's better idea.
The Goodwin Games
(comedy) -- Three grown siblings (two guys and a girl) have a shot at inheriting $20 million if they follow the rules laid down by their dead dad. Scott Foley (
Felicity, Grey's Anatomy
) is the best known cast member.