It's a star player for Starz with Torchwood: Miracle Day
07/07/11 03:40 PM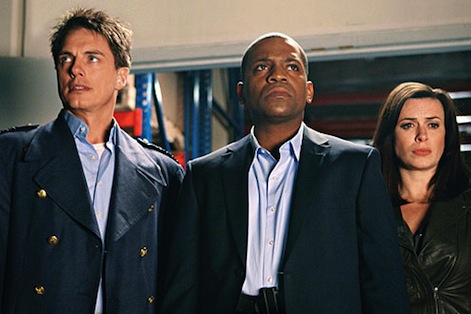 Torchwood's John Barrowman, Mekhi Phifer, Eve Myles. Starz photo
Premiering:
Friday, July 8th at 9 p.m. (central) on Starz
Starring:
John Barrowman, Eve Myles, Mekhi Phifer, Kai Owen, Alexa Havins, Bill Pullman, Lauren Ambrose, Arlene Tur
Produced by:
Russell T. Davies, Jane Trantner, Julie Gardner
By ED BARK
Crackling good in its best moments but always suitably crisp,
Torchwood: Miracle Day
gives the durable sci-fi series its fourth go-around on as many different networks.
Its latest home base is cable's extra pay Starz, which someday in the not terribly distant future hopes to be a formidable rival to longstanding "premium" networks HBO and Showtime.
Series such as the 10-episode
Miracle Day
(
premiering Friday, July 8th at 9 p.m. central
) might well accelerate this quest for parity. These tales of a secret British organization founded in 1879 to defend humankind against extraterrestrial threats are avidly anticipated by a growing fan base that followed the first three installments from BBC Three to BBC Two to BBC One.
The Americanized fourth series, largely set in the U.S., retains three original cast members -- John Barrowman, Eve Myles, Kai Owen --- while making some strong additions. Its premise is instantly intriguing. A day dawns when nobody dies -- anywhere in the world. And then this keeps happening -- day after day after day. At such rates, 300,000 earthlings would be reprieved on a daily basis in what adds up to the ultimate population explosion.
One of the spared is Oswald Danes, played in thoroughly creepy fashion by Bill Pullman. Convicted of raping and murdering a 12-year-old girl, Danes is on the receiving end of a lethal injection during the first so-called "Miracle Day." He survives and then is freed on what he calls "the most beautiful technicality." Namely that he's already received his punishment -- and nothing went wrong in the process. I'm not entirely buying this. But Pullman plays this character so vividly that a suspension of disbelief seems like an acceptable trade-off.
Phifer's character, CIA agent Rex Matheson, likewise is among the living after suffering a hellish hole in his chest during a car accident. Still in serious pain, he's determined to exposes whatever forces are behind Miracle Day. His CIA pal is dogged young Esther Drummond (Alexa Havins). Both end up being teamed with Torchwood veterans Jack Harkness (Barrowman) and Gwen Cooper (Eve Myles).
The jaunty Harkness is both bisexual and immortal, but not a vampire. Cooper, new mother of a baby girl, is married to truck driver and ad hoc Torchwood insider Rhys Williams (Kai Owen). They've been in hiding in order to be free and clear of all things Torchwood. But when duty calls, Cooper is jetted to the U.S. while her husband is left holding the baby back home in Wales. Meanwhile, Harkness finds that he's suddenly a mortal amid immortals.
Also in this mix is Lauren Ambrose, who played the ever-troubled Claire Fisher on
Six Feet Under
. She re-emerges as a very aggressive public relations mastermind named Jilly Kitzinger. Ambrose looks luminous in this role, with her bright red lipstick and house afire hair mixing perfectly with an all-in attitude. As do Pullman and Phifer, she makes a strong first impression -- and then keeps delivering in scene after scene.
One bit of guest casting doesn't work, though. Wayne Knight, who came to fame as the scheming "Newman" on
Seinfeld
, simply isn't believable for a second as a co-opted CIA chieftain. Thankfully his scenes are minimal.
The first three episodes sent for review move along briskly if sometimes a bit too preposterously, even for
Touchwood
. Harkness and Drummond survive a multi-story leap into a shallow outdoor fountain without so much as a broken bone between them. Kitzinger seems to be everywhere, popping into scenes out of nowhere. Danes sustains a severe below-the-neck beating from two cops before he's good as new in just a few hours time. And remember, pain is still part of the equation, even if death isn't.
Still, this is all very invigorating and enjoyable, with some spiked social commentary also in play. In Episode 2, for instance, Danes has just finished a television interview in which he tearfully and repeatedly says he's sorry for his crimes.
He then runs into Kitzinger, who praises his "performance" after noting that "I'm something of a talent-spotter."
He claims it wasn't a performance, prompting her to ask incredulously, "You didn't get paid for that?"
"It was a news show. They don't pay," Danes says.
Kitzinger understandably finds this hysterically funny, as should we all in light of what ABC's
Chris Cuomo recently had to say
on the current state of pay-for-play journalism at the network level.
Miracle Day
also sets up a scenario for universal health care in light of the increasing number of living dead crying out for pain relief. But a sinister pharmaceutical company named Phicorp puts forth its own better idea -- prescription-free drug dispensing that would bypass doctors. Hmm, did Phicorp have advanced knowledge of Miracle Day -- and ratchet up its drug stockpile accordingly?
Starz is without advertiser constraints on content, as the ultra-graphic sex, language and violence on
Spartacus: Blood and Sand
demonstrated in full measure. But
Miracle Day
is basically chaste so far, with no dicey language and a pair of intertwined sex scenes that likely also would make the cut on advertiser-supported cable networks such as FX or TNT.
This certainly doesn't make the series any less watchable or entertaining. In fact, it might be considered noble restraint on the part of Starz, which has a summertime winner here on the strength of strong acting, engaging writing and an immediately gripping premise. So life goes on for the
Torchwood
franchise. And this time they really mean it.
GRADE:
A-minus