Fox joins NBC in skimping on new fall series
05/16/16 08:49 AM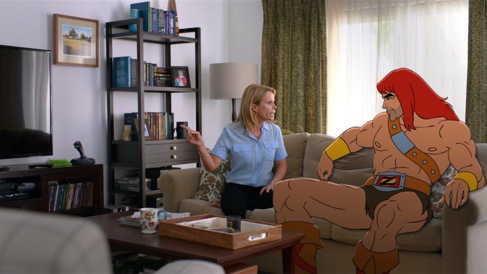 Cheryl Hines dickers with Zorn in new live action/animated comedy.
Fox photo
By ED BARK
@unclebarkycom on Twitter
Fox is also taking the minimalist approach, launching just three new series in the fall, including two adapted from hit feature film franchises.
NBC was first at bat Sunday with its
new plans
. They also include just a trio of newcomers for the fall but a truckload of replacements down the road in an effort to avoid reruns. In its Monday morning announcement, Fox said that 90 percent of its programming will be first-run throughout the season, which is the "most ever in network history."
"Our audience is not interested in repeats," Fox Television Group co-chairman and CEO Dana Walden said in a teleconference with TV writers. Nor is anyone else's audience.
Fox has renewed the first-year series
Scream Queens, Rosewood
and
Lucifer
while sacking freshmen
Grandfathered, The Grinder, Minority Report, Second Chance, Bordertown, Cooper Barrett's Guide to Surviving Life
and apparently
Houdini & Doyle
, which was given just two episodes to prove itself after premiering on May 2nd. The series is not listed among the network's returnees.
The X-Files
, which had a six-episode limited run this season, may return but not until fall 2017 at the very earliest.
"I believe everyone is on board to do another installment of the show," Walden said. But conflicting schedules prohibit stars David Duchovny and Gillian Anderson from resuming their
X-Files
roles anytime soon.
This season's return was no ratings blockbuster, but
X-Files
performed appreciably better than returnees such as
Scream Queens, Rosewood
and
Sleepy Hollow
, which somehow will be back for a fourth season. Fox also announced that its post-Super Bowl 51 attraction will be
24: Legacy
, a continuation of the franchise without Kiefer Sutherland or the Jack Bauer character.
Here are Fox's three fall newcomers:
Lethal Weapon
(drama) -- Clayne Crawford and Damon Wayans, Sr. pick up the roles played by Mel Gibson and Danny Glover.
The Exorcist
(drama) -- Geena Davis is in it this time, as a mother beset by recurring nightmares. She turns to "the new face of the Catholic church," Father Tomas Ortega (Alfonso Herrera) for help and guidance. But he ends up clashing with traditional devil battler Marcus Brennan (Ben Daniels), a Templar Knight groomed by the Vatican to evict evil spirits.
Son of Zorn
(comedy) -- The cartoon title character (voiced by Jason Sudekis) returns from his faraway Pacific Island home in hopes of winning back his human ex-wife and teen son (Cheryl Hines, Johnny Pemberton), who now live in Orange County. But the former Mrs. Zorn is now engaged to a character played by the ubiquitous Tim Meadows.
Here is Fox's night-by-night fall lineup:
Monday
Gotham
Lucifer
Tuesday
Brooklyn Nine-Nine
New Girl
Scream Queens
Wednesday
Lethal Weapon
Empire
Thursday
Rosewood
Bones
Friday
Hell's Kitchen
The Exorcist
Saturday
Fox Sports Saturday
Sunday
NFL On Fox
The OT/Bob's Burgers
The Simpsons
Son of Zorn
Family Guy
The Last Man On Earth
A cavalcade of new midseason series is also coming. And here they come:
24: Legacy
(drama) -- Again there's no smiling allowed as a new team battles an old foe -- terrorism. The cast includes Jimmy Smits as a senator campaigning for the presidency while his wife, Rebecca (Miranda Ott), former head of CTU, is torn between wanting to be First Lady and saving the world. Otherwise the new man of action is Corey Hawkins as U.S. Army Ranger Eric Carter.
Star
(drama) -- From
Empire
creator Lee Daniels, here's the saga of three young women singers who yearn to be -- stars. Queen Latifah is cast as their surrogate mother while Benjamin Bratt is a talent agent looking to jump-start his stalled career. Newcomers Jude Demorest, Ryan Destiny and Brittany O'Grady play the three up-and-comers hoping to "navigate the cut-throat music business."
Pitch
(drama) -- Kylie Bunberry (
Under the Dome
) stars as Ginny Baker, who's called up by the San Diego Padres to become major league baseball's first woman pitcher. She'll have to throw strikes to the team's "ruggedly handsome star catcher," played by the now inevitable Mark-Paul Gosselaar.
APB
(drama) -- It's a new cop show with a "high-tech twist" -- as if that's anything new. The cast includes Justin Kirk, Natalie Martinez and Ernie Hudson.
Prison Break
(drama) -- Michael Scofield (Wentworth Miller) will have to pull a modern-day Jon Snow after being killed in the final episode of the previous incarnation. Dominic Purcell also is back as his brother, Lincoln Burrows, along with other previous co-stars Robert Knepper, Rockmond Dunbar, Sarah Wayne Callies and Amaury Nolasco.
Shots Fired
(drama) -- This 10-hour "event series" explores the "why done it?" and "who done it?" in the aftermath of racially charged shootings in a small Southern town. It all sounds very much like ABC's
American Crime
, and can only hope to be half as good. But there's a solid chance of that with a cast that includes Oscar/Emmy-winner Helen Hunt as a North Carolina governor in a re-election campaign. Richard Dreyfuss and Stephen Moyer (
True Blood
) are also part of the ensemble.
The Mick
(comedy) -- Presenting another highly dysfunctional family. Kaitlin Olson heads the cast as a "brash, two-bit hustler" who winds up with guardianship of three "high-maintenance and ill-parented" children after her estranged sister and billionaire husband free the country to escape federal fraud charges.
Making History
(comedy) -- A nerdy computer science professor learns how to time-travel and falls in love with Paul Revere's daughter. But might this "alter the outcome of the entire American Revolution?" The best known name in the cast is Leighton Meester (
Gossip Girl
) as Deborah Revere.
Kicking & Screaming
(reality) -- Ten survivalists and their "pampered partners" are going to "face the toughest challenges of their lives." The grand prize is $500,000.
My Kitchen Rules
(reality) -- Celebrity duos try to out-cook one another in this Americanized import from Australia. So far the celebs include Andrew Dice Clay, Lance Bass and Naomi Judd, who will be judged by Curtis Stone and Cat Cora.
Email comments or questions to:
unclebarky@verizon.net