A disgraced Ailes is out after 20 years of ruling a news network as no one ever had or likely ever will again
07/21/16 04:31 PM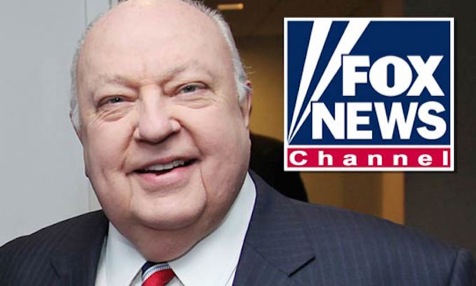 By ED BARK
@unclebarkycom on Twitter
Roger Ailes, chairman and CEO of Fox News Channel since its launch nearly 20 years ago, resigned in disgrace Thursday, although the official 21st Century Fox announcement makes no mention of the sexual harassment scandal that brought him down.
Ailes, 76, will be replaced for now by 85-year-old Rupert Murdoch, executive chairman of 21st Century Fox. Murdoch remains frisky, though, having recently married Mick Jagger's ex-wife, Jerry Hall. The couple were vacationing in the French Riviera when Murdoch cut the trip short to attend to the Ailes situation.
"I am personally committed to ensuring that Fox News remains a distinctive, powerful voice," Murdoch said in a statement. "Our nation needs a robust Fox News to resonate from every corner of the country."
Ailes, who coined the slogan "Fair and Balanced" and led FNC to ratings dominance over cable news rivals CNN and MSNBC, was
sued earlier this month
by former anchor Gretchen Carlson, who accused him of repeated sexual harassment and advances.
A number of women currently employed by FNC rallied to Ailes' defense while an internal corporate investigation got underway. But his fate was sealed when the network's star woman player, Megyn Kelly, reportedly told investigators that she also had been sexually harassed by Ailes. Several other women reportedly also came forward. His forced resignation comes on the same day that Republican presidential nominee Donald Trump is scheduled to make his acceptance speech at the party's national convention in Cleveland. Ailes had been directing FNC's convention coverage this week.
Notable for being both prickly and outspoken in his defense of FNC's conservative leanings, "Roger shared my vision of a great and independent television organization and executed it brilliantly over 20 great years," Murdoch said in his statement. "It is always difficult to create a channel or a publication from the ground up and against seemingly entrenched monopolies . . . Roger has defied the odds. His grasp of policy and his ability to make profoundly important issues accessible to a broader audience stand in stark contrast to the self-serving elitism that characterizes far too much of the media."
FNC debuted on Oct. 7, 1996 and initially was thought to be a long shot to survive against MSNBC, a marriage of NBC and Bill Gates' Microsoft company that launched on July 15th of the same year with about twice as many subscribers. Ailes, formerly a key media consultant in the presidential campaigns of Richard Nixon, Ronald Reagan and George H. W. Bush, had a taste for the jugular and how to get there.
In a telephone interview with this reporter several days before FNC's birth, he assailed Time Warner Inc. and its chairman, Gerald Levin, for allegedly reneging on an agreement to put FNC on half of the 11.2 million cable homes it served at the time. Time Warner instead went with MSNBC.
"Yeah, Gerry Levin lied to Rupert Murdoch, apparently," Ailes said. ""Many Time Warner shareholders perceive Gerry to have one foot in the grave and the other on a banana peel. I'm sure he took orders from Ted (Turner Broadcasting chairman Ted Turner) to keep us off. I don't know that Gerry has the guts to do it on his own. In any case, it is a betrayal." He added that both Time Warner and Turner both were "dragging around debt like a dead body. It's like
Weekend at Bernie's
."
Ailes said he wasn't particularly concerned with "liberal or conservative bias" in mapping out his game plan for FNC. "The issue is fundamental fairness," he said while competing with the pings of hammers pounding his New York offices into shape. "It's not unlike affirmative action in my mind. You give other people an opportunity to get into the mainstream. What I'm trying to get my journalists to understand is that when they do a story, they shouldn't 'spin' it in a way they think is correct. A lot of print journalists get this. For some reason, electronic journalists are having a much harder time with it."
Ailes' charter hires at FNC included Bill O'Reilly and Sean Hannity, both of whom remain with the network and host prime-time shows. He also initially found a slot for former Dallas judge Catherine Crier, who left ABC News to get in on the FNC ground floor.
"I've always respected Roger tremendously," she said at the time. "And when he came on board, I knew there was tremendous opportunity to really create something different."
Ailes also contended back then that he wanted to diminish the face time of both anchors and reporters.
"We're going to provide people with more straight information so they can make up their own minds," he said. "Electronic journalism has gotten a little arrogant. Some of the anchors and reporters are spending more time on camera than the people they're covering. We're going to try to change that."
It didn't happen, with O'Reilly, Hannity and Kelly all at the forefront of their shows while newsmakers and various analysts are strictly supporting players if that.
Ailes' big crash Thursday leaves FNC both wobbly and without the maestro who called all the shots since Day One. Rupert Murdoch's two sons, Lachlan and James, who also issued statements in praise of Ailes Thursday, will someday be running the 21st Century Fox ship. In his glory years, Ailes branded FNC as no network head ever has. Whether anyone can measure up to him is very much hanging in the air.
In the end, though, Ailes hung himself. Like many an aging giant, he stayed too long at the party, increasingly drank in his power and then soiled himself.
Email comments or questions to:
unclebarky@verizon.net