NEW SEASON: Spies win on style points in NBC's Undercovers
09/21/10 11:46 AM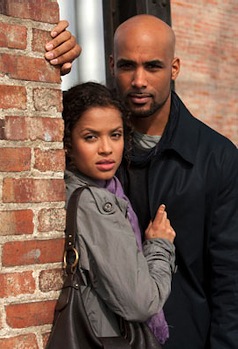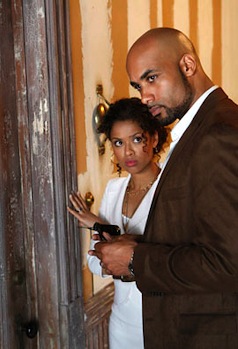 It's spying anew for Steven and Samantha Bloom NBC photos
Premiering:
Wednesday, Sept. 22nd at 7 p.m. (central) on NBC
Starring:
Boris Kodjoe, Gugu Mbatha-Raw, Gerald McRaney, Ben Schwartz, Mekia Cox, Carter MacIntyre
Produced by:
J.J. Abrams, Josh Reims, Bryan Burk
By ED BARK
The leads are so appealing -- and the ambience so intoxicating -- that it matters little if the plot flies north of far-fetched.
NBC's
Undercovers
spy caper series, leading off the networks' revamped Wednesday night lineup, has a
Hart to Hart
-ish nougat accompanied by ample action and wardrobe changes. Its two stars -- Boris Kodjoe and Gugu Mbatha-Raw as Steven and Samantha Bloom -- are both stunningly good looking and steadfastly faithful to one another. This is a marriage beyond compare in the current prime-time landscape, where idyllically happy couples are rarer than steak tartare.
Creator/producer J.J. Abrams, whose credits include
Lost, Fringe
and
Alias
, directs the opening episode with an eye toward crisp action scenes, sleek looks, slick quips and globe-trotting exploits sparked by various computer downloads. The Blooms' sequential trips to Spain, France and Russia -- all within the first hour -- are patently absurd on the face of it. But in reality who really cares? It's too much fun getting there.
We're also supposed to believe that the Blooms fell in love as CIA agents before quitting the agency five years ago and opening a lately struggling L.A. catering company. That's supposedly because because Samantha pays the hard-working help too much, which in these days also stretches plausibility.
Luckily for the Blooms, a close friend who's still with the agency turns up missing while trying to close the deal on a super-sinister arms dealer. This prompts career agent Carlton Shaw (Gerald McRaney) to not-so-gently ask whether they'd like to help out. McRaney, in fine steely form, is all chomp and circumstance. So yes, the Blooms had better get with his program while viewers learn that undisclosed ulterior agency motives also are at work.
The mission at hand is sauteed with the Blooms' sexual banter ("You look incredible"/"You look pretty hot yourself") and sweetened by a field agent who greatly admires Steven's previous accomplishments and never misses a chance to tell him so. Ben Schwartz as the toadying Bill Hoyt steals several scenes during the course of these verbal genuflections. It's nice having him around.
Through it all there's never a doubt that the Blooms remain madly in love and ever-willing to steal a smooch or even a dance with one another during the course of doing business. Their race refreshingly is never an issue, and it's hoped the series will keep it that way.
Samantha also finds time to periodically instruct her frazzled sister, Lizzie (Mekia Cox), who's left to cater a big wedding back home while the Blooms globe-trot in search of missing agent Leo Nash (Carter MacIntyre) and his captors. The one-liners, particularly from Leo, get stacked a little too high during the episode's action-filled grand finale. A little sack time is then in order, and neither Bloom is going to be copping out with a headache.
The producers of
Undercovers
have made it clear that the Blooms will have eyes only for each other, albeit with occasional forays into "sexpionage" in the line of duty. It's nice to see two spies -- let alone two TV leads in any profession -- without traumatic back stories or wayward love lives. The Blooms are very much in bloom in a series that wouldn't work at all if they ever went on the rocks.
GRADE:
B+