The Hasselhoffs of Hollywood and small town Texas work out an agreeable merger in CBS' Same Name
07/20/11 01:06 PM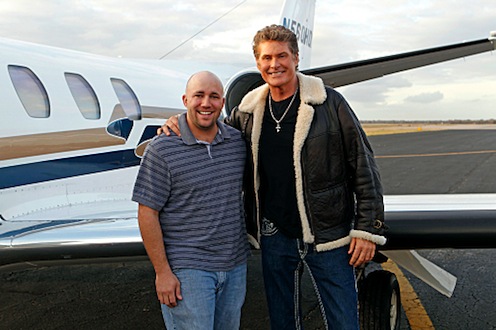 Here a Hoff, there a Hoff, everywhere a . . . CBS photo
Premiering:
Sunday, July 24th at 8 p.m. (central) on CBS
Starring:
Commoners and celebs sharing the same name, with David Hasselhoff of Lake Jackson, Texas the first out of the chute
Produced by:
Cris Abrego, Ben Samek, Christian Sarabia, Fax Bahr, Eugene Young
By ED BARK
A little cynicism on the part of viewers is all well and good here. And a basic condescension towards commoners also comes into play during the course of CBS'
Same Name
.
That said, this is a pretty good, almost alarmingly simple idea that had somehow sailed right past Hollywood's "reality show" merchandisers. Have a Joe Dokes from Kerplunk, Kansas trade places with a celeb who has the same moniker. And for Sunday's premiere, it's a matchup of the David Hasselhoff who needs no further introduction with technician/landscaper David Hasselhoff of Lake Jackson, Texas, population 27,614.
Through the miracle of deft editing, this first hour of
Same Name
has enough feel-good moments to make the sale. It's also far less contentious than ABC's
Wife Swap
, which was based on a similar idea but had no Hasselhoffs. Or Kathy Griffins, Mike Tysons or Reggie Bushes, who've been lined up for future editions.
But no, don't realistically expect Jennifer Lopez to touch down in D-FW to swap jobs and lifestyles with NBC5 early morning meteorologist Jennifer Lopez. Although it would be fun to see J Lo crawl out of a car at 4 a.m. in a skimpy sequined outfit before standing in front of a weather map to proclaim, "I'm hot, hot, hot . . . I mean, it's going to be hot, hot, hot out there again today."
The 59-year-old Hasselhoff, whose fame initially came from
Knight Rider
and
Baywatch
, makes a good show of being very happy to meet his 27-year-old namesake and assorted kin. He lands in Lake Jackson on a private jet, brandishing autographed pictures of himself for the other David, his wife, Corey, and more excited Brand X Hasselhoffs.
"I've got four days of heaven, or, I don't know, four days of hell," the Hollywood Hasselhoff says while the Lake Jackson version flies off to the good life in the company of cheese, crackers, sausage and white wine. The duration of each stay is four days.
The African room in King David's high-priced spread includes a 40-foot replica of a surfin' Hasselhoff. "That is creepy real," says serf Hasselhoff, who's warmly greeted by the star's housekeeper, personal assistant and his daughter, Taylor.
Meanwhile, back in the sticks, The Hoff eats an artery-clogging "Ranch Special" on a TV tray in the Hasselhoffs' living room. Then it's coffee and two Pop Tarts for breakfast after he tells the folks that "in L.A., you don't really know who your neighbors are. Nor do you want to know."
He's about to get religion, of course. Because the Hasselhoffs of Lake Jackson are a sprawling, hard-workin', fun-lovin', neighborly brood. This is underscored during a family reunion at the local Legion Hall, where the imported Hasselhoff is "genuinely blown away by how many Hasselhoffs came out of the woods."
In Hollywood, regular guy Hasselhoff meets the star's dad and sister, gets his nose hairs trimmed and is on the receiving end of a heavy-duty workout by the actor's hard-charging personal trainer.
"This is what The Hoff has to do to stay in shape, to be on camera," says the proprietor of Barry's Bootcamp. Durn, the Texas Hoff says he never knew how tough it is to be a star who "doesn't have a free hour to himself," according to The Hoff's agent.
None of this is quite as tough as mowing a dozen lawns or cleaning out an oily cylindrical "breaker," though. A 3 a.m. bottle feeding of baby Braxton is thrown in, too.
Hollywood Hasselhoff also has to endure a cramped shower "for midgets," as he puts it. And just when he's ready to collapse into a long slumber in his uncomfortable bed, Hasselhoff is rushed off to a country music bar called Kicks. It's time for dancin', prancin' and more autograph signing before he at last proclaims from the stage, "I feel like I am home here in Texas."
We also learn that some of the Hasselhoffs' work equipment is pretty busted up -- and that the family livelihood is therefore at risk. Which means you'll instantly know where this is goin' before the closing credits roll. Still, it's quite a touching moment. And it's not the end of the surprise parting gifts.
The lessons to live by are that everyone needs a nurturing family unit and that celebrities are people, too, even if Lake Jackson's David Hasselhoff in the end says he has no desire to be one.
"Ya'll earn what ya'll have, I promise you," Hasselhoff tells Hasselhoff upon returning to Texas.
It all comes out pretty well in the wash.
Same Name
gets fairly close to sealing the deal on the idea that celebs can learn something from just plain folk -- and vice versa. Paris Hilton's inaugural starmaker,
The Simple Life
, had its nose in the air throughout her slumming with an Altus, Arkansas farm family. This show, in its first episode at least, knows much better than that.
GRADE:
B-minus