Fox's Weird Loners likely will struggle to get any long-term viewer commitment
03/25/15 12:12 PM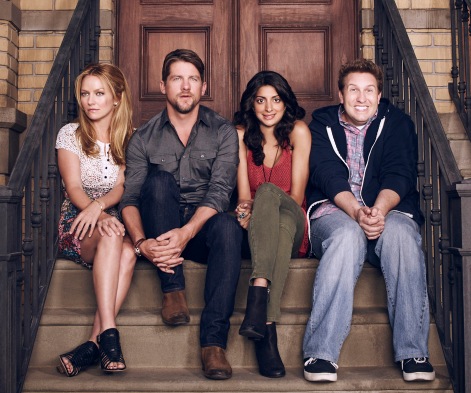 Presenting the four thirtysomethings of Weird Loners. Fox photo
Premiering:
Tuesday, March 31st at 8:30 p.m. (central) on Fox
Starring:
Becki Newton, Zachary Knighton, Nate Torrence, Meera Rohit Kumbhani
Produced by:
Michael J. Weithorn, Jake Kasdan, Melvin Mar
By ED BARK
@unclebarkycom on Twitter
TV is anything but strongly opposed to commitment-phobic or unlucky in love characters. On the contrary they continue to heavily populate the prime-time landscape in shows ranging from CBS' rebirth of
The Odd Couple
to FX's
Louie
to Fox's
New Girl
to NBC's
Undateable
. To name a few.
The latest manifestation is four-fold. Fox's
Weird Loners
, getting a spring tryout in
The Mindy Project
's Tuesday slot, bunches together a quartet of disparate singles in their 30's. Only one of them has ever married, but that was just for a week-and-a-half. Let's go over the lineup.
Caryn Goldfarb (Becki Newton) is a 37-year-old dental hygienist who just can't bring herself to make her meddling mother happy by marrying a plain-faced, rather boring dentist named Howard.
Stosh Lewandoski (Zachary Knighton), the previously married guy, is a 36-year-old hot shot sales rep who's nevertheless just been fired for "banging" his boss's daughter. His redeeming qualities are in virtual eclipse.
Zara Sandhu (Meera Rohit Kumbhani), 33, scrapes out a living as an artist and is newly homeless after moving out on her boyfriend.
Eric Lewandoski (Nate Torrence), who's Stosh's 34-year-old cousin, is a tubby, goofy toll booth attendant (but without the beard!). He lives with his dad until dad quietly dies while they're bantering through a Mets game. So much for Eric's social skills.
Fox made the first three episodes available for review. They're neither terrible nor terribly funny during the course of setting up the Lewandoskis in Eric's place while Zara becomes Caryn's roommate in an adjoining Queens, NY townhouse. Everyone's soon interacting like crazy, with Zara declaring in Tuesday's premiere, "Passion is such a fleeting thing. That's why I'm a big fan of masturbation."
"Me, too!" says Eric, who's hopelessly ill-equipped to do nearly anything else.
Meanwhile, cousin Stosh bilks, connives and comes on to Caryn in an uncomfortably aggressive manner that suggests he'd bed her against her will if something didn't always interrupt him. There's next to nothing to like about Stosh, who's always on the run from someone. But by Episode 3, the writers are laboring to inject a little empathy via a traumatic childhood back story.
On the other hand, Zara is likable enough, particularly when she comes to Eric's emotional rescue in Episode 2. Meanwhile, Caryn remains ever vexed and incomplete.
Episode 1 ends with a fairly amusing segment in which the four of them fake lip-read wedding vows at an outdoor wedding before of course crashing the reception. So maybe there's a chance that
Weird Loners
could grow on a viewer or two.
It's not going to bust out of the box, though. Unlike Fox's
The Last Man On Earth
, there's no thrill of discovery here.
Weird Loners
instead re-shuffles the aimless singles deck before falling well short of coming up aces.
GRADE:
C
Email comments or questions to:
unclebarky@verizon.net