39th annual Kennedy Center Honors not all that special this time, but the CBS partnership still is
12/22/16 02:19 PM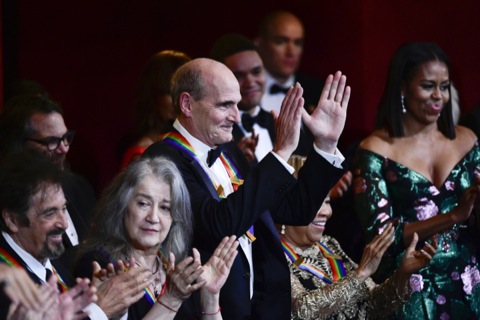 James Taylor stands out among Kennedy Center honorees. CBS photo
By ED BARK
@unclebarkycom on Twitter
The lifelong partnership between CBS and the Kennedy Center honors, newly extended through 2025, is hardly an unholy one.
On the contrary, it should be applauded as one of those rare instances in which a broadcast network bows to class rather than big ratings. Even though the ratings have improved in recent years.
That said, the 39th annual edition, airing as usual between Christmas and New Year's Day (
Tuesday, Dec. 27th at 8 p.m. central
), is not one of the stronger ones. It probably falls somewhere in the middle of the pack on a continuum that stretches all the way back to 1978, when CBS and the Kennedy Center got together for the debut ceremony honoring Fred Astaire, Richard Rodgers, Marian Anderson, George Balanchine and Arthur Rubinstein.
The host that year was Leonard Bernstein, who was one and done along with Eric Sevareid in 1979 and Beverly Sills in 1980. Then came the Bob Hope of this event -- in the person of Walter Cronkite. He hosted from 1981 to 2002 before yielding to Caroline Kennedy (2003-2012). Glenn Close presided in 2013 and Stephen Colbert has for the past three years.
Taped on Dec. 4th, this year's ceremony honors James Taylor, Mavis Staples, Al Pacino, The Eagles and pianist Martha Argerich. It also marks the last time around for President Obama and First Lady Michelle Obama, who again sit with the medal-wearing winners in what amounts to a sky box.
The performances and tributes on behalf of the honorees are fine without being particularly memorable. In fact, the standout turn of the night is tied to the standard deification of John F. Kennedy, with Cynthia Erivo belting out an outstanding version of "The Impossible Dream."
Colbert opens with a few jokes, a couple of them well-played. He welcomes the assembled dignitaries, including all the "endangered swamp dwellers." And he notes that "Fire and Rain," one of Taylor's signature songs, "will soon be the only global weather patterns left." An all too typical joke at President Obama's expense perhaps should have been saved for a rainy day -- if at all.
Taylor is the first to be feted, with Bill Clinton taking the stage to salute "my friend of many years" with the "sweet and steady voice of our better angels." Hillary Clinton is nowhere to be seen. The performances are from Darius Rucker, Sheryl Crow and Garth Brooks. "You've Got A Friend" is left out of the mix, perhaps because it was performed last year on behalf of its writer, honoree Carole King.
Gospel singer extraordinaire and civil rights activist Staples is lauded by Bonnie Raitt, Don Cheadle and Elle King while pianist Argerich gets to bask in the praise of Jeff Goldblum, Ihtzak Perlman, Placido Domingo and current-day concert keyboard whiz Yuja Wang.
Pacino's primary trumpeter is Chris O'Donnell, who co-starred with him in
Scent of a Woman
and also happens to co-star in CBS longrunning
NCIS: Los Angeles
. Sean Penn likewise offers an obviously heartfelt tribute but Kevin Spacey steals this portion of the festivities with "how to do the perfect Al Pacino impression in three easy steps." Pacino actually seems highly amused. He's loosened up considerably over the years. Meryl Streep narrates the biographical film, but does not attend in person.
The Eagles were set to be honored last year, but postponed their induction due to the illness of Glenn Frey, who died on Jan. 18th at the age of 67. His widow joins Don Henley, Joe Walsh and Timothy B. Schmidt in the winners' box. Some fans of the group also lobbied for original Eagles Randy Meisner and Bernie Leadon to be included. Latter day member Don Felder also went uninvited after he got fired from The Eagles in 2001.
Performing Eagles songs onstage are Bob Seger, Vince Gill, Kings of Leon and Steven Vai after Ringo Starr pops in to extoll the group -- and Walsh, his brother-in-law. Linda Ronstadt, who continues to battle Parkinson's Disease, narrates the biographical film. During her days at L.A.'s famed Troubadour club, members of the future Eagles were her backup band.
No CBS awards show or major sports event would be complete without an obligatory reaction shot from CBS Corporation chairman/CEO Les Moonves, who gets not one, but two of them. No matter. The vast majority of viewers continue to ask themselves, "Who's that guy?"
Nothing in this year's ceremony comes close to last year's performance of "(You Make Me Feel Like a) Natural Woman" by Aretha Franklin, who's merely in the audience this time. Honoree King, who co-wrote the song with her late ex-husband Gerry Goffin, could hardly contain herself -- and didn't.
This year's somewhat lackluster Kennedy Center ceremony also begs the question of who should be honored -- and still hasn't been. I'll again harp on the omission of Jerry Lewis, who's been a bridge-burner over the years but still is a singular major omission. You have to be among the living to be honored, so the clock is ticking like a time bomb for the likes of Lewis, Mary Tyler Moore, Bob Newhart, Dick Van Dyke and Norman Lear, all of whom have yet to get the Kennedy Center call. Add Neil Young, Liza Minnelli, The Smothers Brothers, Francis Ford Coppola and Woody Allen to the snub list. And really, if Led Zeppelin, Sting, Paul McCartney and the surviving members of The Who were deemed worthy of a Kennedy Center honor, then why haven't fellow Brits Mike Jagger and The Rolling Stones been anointed?
We'll see what turns up next year. All in all, this year's show turned out to be so-so.
GRADE:
B
Email comments or questions to:
unclebarky@verizon.net