GMA tabs Stephanopoulos, Chang to replace re-assigned Sawyer, Cuomo
12/10/09 02:14 PM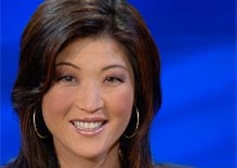 GMA anchor George Stephanopoulos and news reader Juju Chang.
By ED BARK
He'll have to act a whole lot goofier, for one, particularly during those cooking segments.
His surname is no piece of cake, though. George Stephanopoulos, a lot tougher to type correctly than Diane Sawyer, officially was named to replace her Thursday as
Good Morning America
's new co-anchor.
As previously announced by the network, Sawyer will become the new anchor of
World News
, succeeding Charles Gibson on Dec. 21st.
Stephanopoulos' first day at the sometimes slap-happy
GMA
will be on Monday, Dec. 14th. He'll also remain in charge of Sunday morning's
This Week With George Stephanopoulos
"until a replacement is named," ABC News president David Westin said in a news release. Perhaps Gibson might be interested? That would be a nice fit, although he seems more interested at present in getting on with his retirement.
GMA
also is adding Juju Chang, 44, as the program's news reader, with Chris Cuomo becoming co-anchor of
20/20
with Elizabeth Vargas and also serving as the network's chief justice and law correspondent. Chang has been a correspondent for
GMA, 20/20
and
Nightline
. She also has a blog called
Juju Juggles
.
Robin Roberts and weatherman Sam Champion remain in place at
GMA
, which long has been No. 2 in the early morning ratings race to NBC's
Today
.
Stephanopoulos, 48, said he "can't wait to join
Good Morning America
's amazing team, and serve its loyal viewers. No one can replace Diane Sawyer (who spent nearly 11 years with the program), but I'll do everything I can to match her unquenchable curiosity and intense commitment to informing the country every morning. What an adventure."
Westin temed Stephanopoulos and Roberts "the right pair to lead our effort . . . Robin brings a warmth and intelligence to the morning that no one can match. George complements Robin's strengths with a deep knowledge of and commitment to news about the nation and the world."
Both Stephanopoulos and Sawyer worked for U.S. presidents. Sawyer served in the administration of Richard Nixon and also helped him to compile his memoirs after his resignation from office.
Stephanopoulos was a key campaign advisor to Bill Clinton and then served as the White House senior advisor on policy and strategy. After leaving the administration, he wrote the bestselling book
All Too Human
, in which he said the president had let many of his people down by dallying with Monica Lewinsky.
Sawyer's elevation to
World News
will leave NBC's Brian Williams as the only male anchor of a broadcast network dinner hour newscast. Unlike with
CBS Evening News
anchor Katie Couric, though, there will be no big buildup before she takes the reins.