Fox's Mindy Project an uneven work in progress
09/20/12 10:22 AM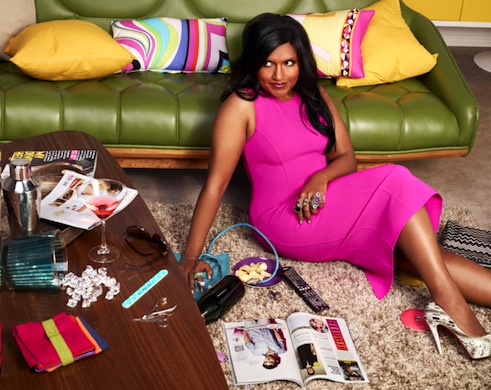 Mindy Kaling plays dress-up after leaving The Office. Fox photo
Premiering:
Tuesday, Sept. 25th at 8:30 p.m. (central)
Starring:
Mindy Kaling, Chris Messina, Ed Weeks, Anna Camp, Zoe Jarman, Amanda Setton, Stephen Tobolowsky, Ike Barinholtz
Produced by:
Mindy Kaling, Matt Warburton, Howard Klein, Michael Spiller
By ED BARK
@unclebarkycom
Having left
The Office
behind after eight years as Kelly Kapoor, here's Mindy Kaling in her very own show.
First impression:
The Mindy Project
, taking up residence on Fox's new all-comedy Tuesday nights, is a minor disappointment in light of all the accomplished guest stars populating its opening half-hour.
There's Ed Helms, who's matriculated from
The Office
to the hit
Hangover
movies.
Saturday Night Live's
current funniest male cast member, Bill Hader, also drops in. As does Richard Schiff of
West Wing
fame.
Another naturally amusing guy, Dallas native Stephen Tobolowsky (
Groundhog Day
), will have a piece of the
Mindy
pie as a cast regular. He's seen for only a smidge in the series premiere, though. Gotta make room for all those guest stars. And we're not even including the film clip glimpses of Meg Ryan, Tom Hanks and Billy Crystal. The star of the show also drops Sandra Bullock's name.
Kaling, whose birth name was Vera Chokalingham, plays an unlucky-in-love OB/GYN named Mindy Lahiri. Much of her adolescent and adult life has been spent yearning for a happy ending from one of the big-screen romantic comedies she watches incessantly. But in the early narrative-driven minutes of
Mindy
, she loses her guy (played by Hader) to a Serbian "bagel girl" with notably bad teeth. Which he fixes before marrying her.
Mindy ends up making a scene at their wedding reception, a comedy device also used in the first episode of Fox's other new Tuesday nighter,
Ben and Kate
. Then she steals a bike, proclaims "I'm Sandra Bullock," crashes into a pool and sees a Barbie doll at the bottom telling her to get her life together. Next you know she's in handcuffs. It's a lot to swallow.
Back at the doctor's office, Mindy is mostly plagued by cocksure Dr. Danny Castellano (Chris Messina), who playfully and sometimes not so playfully insults her whenever the opportunity arises. The
Scrubs
-like assortment of co-workers also includes Dr. Jeremy Reed (Ed Weeks), a supportive occasional bedmate during those times when Mindy is falling off her gotta-change-my-life wagon.
None of this meshes all that well, but Tuesday's premiere episode is buoyed down the stretch by Mindy's blind date with Dennis (Helms), whom she prays has "the penis of
Michael Fassbender
."
Helms plays a sweet guy in the face of Mindy's free-form riffs, which are cut short when she's called back to the hospital. Even so, their brief time together is pretty savory.
Kaling and her co-writers may figure all of this out in time -- provided they get enough time. For starters, though,
The Mindy Project
is the weakest entry in a revamped Fox Tuesday lineup that also includes the aforementioned
Ben and Kate
plus returnees
New Girl
and
Raising Hope
. That combination raises the bar, which Kaling is capable of reaching with more focus and less scattershooting.
GRADE:
C+