NBC's prime-time Olympics ratings still on a high while blogosphere detractors continue to tar/feather the evil Peacock
08/01/12 03:50 PM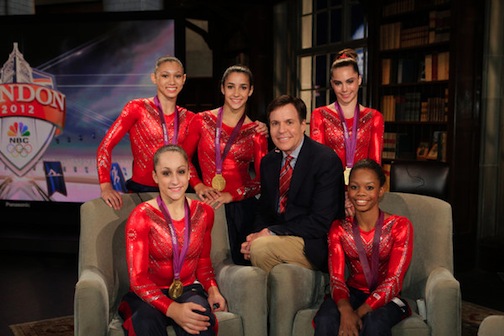 Summer Games prime-time host Bob Costas and the "Fab Five" of Gold Medal winning U.S. women's gymnastics team. NBC photo
By ED BARK
@unclebarkycom
Continuing to exceed its lowered expectations for the 2012 Summer Games, NBC Universal chieftains say they now are on track to possibly break even on the network's $1.18 billion investment.
Absent any live events in prime-time, the Peacock had projected a 20 percent ratings decline from the 2008 Olympics in Beijing, where a 12-hour time difference enabled NBC to air some marquee events live, including swimmer Michael Phelps' chase of a record eight gold medals.
The five-hour difference between New York and London basically makes that impossible, unless the International Olympic Committee consented to create an uproar by starting some events after 1 a.m. in merrie olde England.
Still, through five nights of entirely taped prime-time coverage, NBC is averaging 35.6 million viewers per night, up from both Beijing (34 million at this point in the competition) and the 2004 Athens-based Olympics (30.1 million).
NBC is running a bit behind the paces set by the 1996 Atlanta games and the 1976 Montreal Olympics, both of which had a wealth of live prime-time coverage due to identical time zones in terms of U.S. viewership.
NBC's gains have come despite a full-blown uproar from those who believe the network has sinned grievously by not televising some of the showcase events live during daytime hours. Such wall-to-wall coverage is available in unprecedented fashion on NBCOlympics.com, but one has to have a cable or satellite subscription in order to sign up and gain admission. Events such as Tuesday night's main audience lures -- the women's team gymnastics final and Phelps' two swims for a record number of overall Olympic medals -- in fact were available in their entirety on
NBCOlympics.com
.
I signed up at the outset, via my Verizon Fios user name and password, and so far have not encountered any technical difficulties despite the relatively geriatic age of my computer, a 2006 iMac desktop running on a backup hard drive after the original one died.
But others say they've had problems while still more seem to think NBC should simply provide live streaming free to everyone whether or not they pay for home delivery of the "Networks of NBC Universal." Save for NBC, they're available only via cable or satellite. Roll call, please: CNBC, MSNBC, Bravo, Telemundo and the NBC Sports Network, which until recently was Versus. All are providing Olympics coverage, much of it live during daytime and wee hours. The NBC broadcast network likewise offers live Olympics competition during mornings and afternoons before its prime-time Big Tent skims the cream.
None are more vociferous in their demands than the so-called "Cord-Cutters," who use their computers as TV sets and seem to want free access to everything without paying any monthly cable or satellite bills. They're outraged that NBCOlympics.com isn't letting them on board. Many have vented in no uncertain terms on the twitter page
#NBCFail
.
Your friendly content provider also took a flogging after daring to defend NBC's overall Olympic strategy in a requested
guest column for cnn.com
. It's drawn 1,281 comments to date, with a clear majority of them saying either that NBC's coverage stinks in any form or that the revolution is now and that the Peacock is a money-grubbing vulture for not allowing every last second of the Olympics to be a shared free experience.
Said one of the aggrieved: "Ed, you can live in the dark ages if you want. Companies will have to eventually give in to everything viewers want, period. There is no compromise."
He or she kind of reminds me of myself -- back in the 1960s and early '70s. But as a somewhat more moderate old coot, let me make just a few basic points:
***
When you cut the cord, you fend for yourself -- unless you're a baby (or a cry baby). Those carping about
not
being able to watch live events on NBCOlympics.com without a cable or dish subscription would likewise be shit out of luck if it the site didn't exist. Because they wouldn't have
any
of NBC Universal's cable networks on their TV -- if they even have a TV. So stop whining.
Those who pay monthly cable or satellite bills would justifiably cry foul if NBC Universal let everyone watch msnbc, Bravo, NBC Sports Network, etc. for free during the entire 2012 Olympics. Cut your cord if you want. But don't expect to be rewarded for it while others still foot the bill. It's akin to telling a friend, "Hey, I'm coming over to dinner for the next two weeks so I can eat your food and drink your beer without paying you a cent. Hey, c'mon, we're all part of the human race. What's your problem?"
***
There are in fact a number of live Olympic events every day on NBC and its cable cousins. Most of them, because of their length, just wouldn't work in prime-time. But they're not all duds. On Wednesday alone, TV viewers could pick and choose among the following live events:
-- The U.S. women's basketball team's game against Turkey in addition to five other games matching other countries.
-- The U.S. vs. Spain women's water polo match.
-- Three soccer games in their entirety, including defending champ Brazil against New Zealand.
-- The U.S. women's indoor volleyball team vs. China.
-- Men's beach volleyball, featuring the U.S. team of Gibb/Rosenthal.
-- Various boxing elimination bouts.
***
Other critics of NBC's coverage complain that it's too U.S.-centric. Seriously? One can argue with the caliber of the commentary, but why is it still surprising to some that NBC would focus on athletes from this country? How many of these carpers would really rather watch Kazakhstan battle Bulgaria in prime-time coverage of the women's weightlifting competition? (But you in fact could do that earlier in the day Tuesday on MSNBC. So there.)
***
NBC's Olympics coverage isn't perfect. Far from it. Nor is it as all-encompassing "horrible" as its non-stop detractors proclaim. So far the network is doing more than just fine in the ratings with its decision to withhold some of the more popular events from TV screens in order to serve a prime-time audience. That decision will continue to fuel #NBCFail until the (TAPED!!!) Closing Ceremonies finally bring an end to it all on Sunday, August 12th.
Take it from Lizabeth S. Tucker, who as of this writing has a whopping 200 followers but has tweeted 22,955 times. Her latest: "Since @NBC has decided to ignore the people who help keep them on the air, I guess my #NBCFail rants are useless. Like the network, I guess."
Believe what you will. Because this sure as hell is still a free country.