Letterman announces his departure -- on a date to be named later
04/03/14 05:46 PM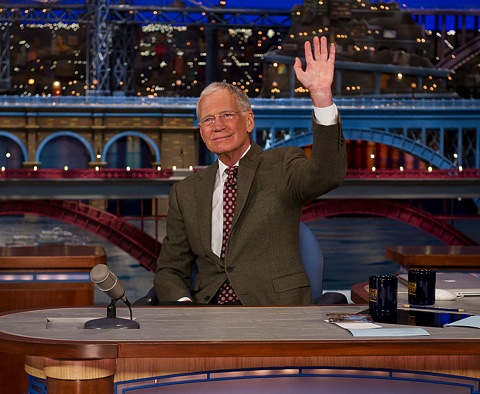 An already wistful looking David Letterman waves goodbye after announcing his retirement during taping of Thursday, April 3rd Late Show. But he won't be leaving until sometime in 2015. CBS photo
By ED BARK
@unclebarkycom on Twitter
Well, it had to happen.
But David Letterman has never been one to telegraph his intentions. So his retirement announcement, during taping of the Thursday, April 3rd edition of CBS'
Late Show
, came as a complete surprise.
Letterman told his audience that he had phoned CBS Corporation chairman and CEO Leslie Moonves "just before the program. And I said, 'Leslie, it's been great, you've been great, and the network has been great. But I'm retiring.' "
"We have had this conversation in the past," Letterman said. "And we agreed that we would work together on this circumstance and the timing of this circumstance."
Letterman, who will turn 67 on April 12th, signed a new contract in October of last year that CBS said would take him "through 2015." But he apparently won't finish out the entire year.
"We don't have the timetable for this precisely down," Letterman told his audience. "I think it will be at least a year or so, but sometime in the not too distant future, 2015 for the love of God, in fact, Paul (bandleader Paul Schaffer) and I will be wrapping things up and taking a hike."
It's hard to tell who actually instigated this. In an interview with Oprah Winfrey in January of 2013, Letterman said, "When it's time to go, somebody else tell me. Because I don't know when it's time to go."
Letterman made his announcement shortly after NBC issued a publicity release touting Jimmy Fallon's continued dominance in the late night wars, both over Letterman and ABC's Jimmy Kimmel.
In the latest ratings week (March 24-28), Fallon's
Tonight Show
averaged 4.306 million viewers to Letterman's 2.856 million and Kimmel's 2.694 million. More crucially, among advertiser-prized 18-to-49-year-olds, Fallon had 1.689 million to Kimmel's 825,000 and Letterman's 673,000.
Fallon's predecessor, Jay Leno, also had been beating Letterman and Kimmel in both ratings measurements until his forced retirement. This led to an extended exchange between Moonves and this reporter during a press conference at the summer 2013 Television Critics Association "press tour."
It began with Moonves being asked to contrast NBC's treatment of Leno with CBS' "steadfast loyalty" to Letterman despite the longtime ratings gulf between them.
"Look, I consider David Letterman the best guy in late night," Moonves said before praising Leno, Kimmel and Fallon as likewise "great."
"We love having David Letterman," he added. "He's the dean. He's the best there is. Other than Johnny Carson, he's probably the best that ever was. We like the stability. We like the relationship we have with Dave. He's our guy. And despite what people think, we don't like drama at 11:30 (10:30 central)."
In answer to a followup question on CBS' willingness to cancel other shows that were failing in the ratings, Moonves said bluntly, "I don't consider David Letterman a failure in any way, shape or form . . . Dave is still making money for us. He still does the best show, and we're very happy to have him."
Letterman first entered the late night realm in 1982 as host of NBC's
Late Night
. After being bypassed in favor of Leno as Carson's
Tonight Show
successor, he launched CBS'
Late Show with David Letterman
in 1993. For a while he pounded Leno in the Nielsen ratings. But then along came that game-changing Hugh Grant interview on July 10, 1995.
There will be ample time to speculate on who might replace Letterman. And a full appreciation of his long career also will come later. For now, it's news enough that he'll be leaving the late night arena sooner rather than later. And one can probably safely bet that during his last week, or even month, on the air. he'll again be No. 1 in the late night ratings he could never quite master.
Email comments or questions to:
unclebarky@verizon.net