Acorn TV's Mystery Road is not quite on track, despite the estimable presence of Judy Davis
08/17/18 11:02 AM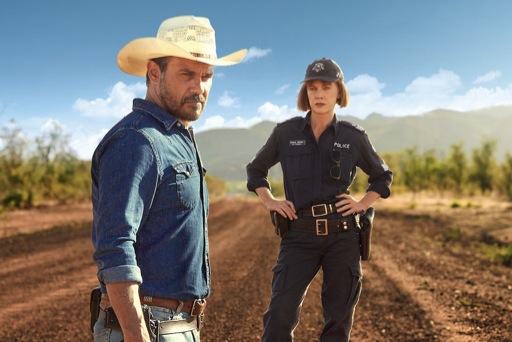 Aaron Pedersen, Judy Davis clash/collaborate in Mystery Road.
Australian Broadcasting Corp. photo
Premiering:
All six episodes begin streaming Monday, Aug. 20th on Acorn TV
Starring:
Judy Davis, Aaron Pedersen, Tasia Zalar, Madeleine Madden, Wayne Blair, Aaron McGrath, Colin Friels, John Waters, Tasma Walton, Aaron McGrath, Ernie Dingo, Connor Van Vuuren
Produced by:
Ivan Sen, Sally Riley, Kym Goldsworthy, with all six episodes directed by Rachel Perkins
By ED BARK
@unclebarkycom on Twitter
Judy Davis' Emmy Award-winning performance as Judy Garland in a 2001 ABC miniseries remains one of television's greatest ever.
So where she goes next, I try to follow. And Davis was the main impetus for watching
Mystery Road
, an Australian Broadcasting Corporation whodunit that begins streaming
Monday, Aug. 20th
on
Acorn TV
. All six episodes will be offered at once, which is a departure from the outlet's usual weekly rollouts.
Davis gets ample screen time as uniformed Sgt. Emma James, whose jurisdiction is the Australian outback town of Patterson. But Aaron Pedersen, as rough hewn detective Jay Swan, ends up being the series' driving force after being called in to help investigate the disappearance of two young "jackaroos" employed by a cattle and sheep emporium known as Ballantyne Station. The place happens to be run by Emma's brother, Tony (Colin Friels), who's ready to sell for a princely price. Both Tony and Emma grew up there.
Some Australian critics have favorably compared
Mystery Road
to HBO's
True Detective
(the first season, presumably) and FX's
Fargo
. It would be pretty to think so. But this drama's two investigators lack the punch and power of Matthew McConaughey and Woody Harrelson while also falling well short of the David Tennant/Olivia Colman duo in the BBC's
Broadchurch
. Nor is
Mystery Road
nearly as eccentric or volatile as
Fargo
, although its sprawling, hard-baked vistas win on points over frozen tundras.
The racial dynamics of Patterson were more volatile in the past than in present-day. But there are still some simmering resentments between the towns whites and darker-skinned residents. Swan is perceived as "black," although visually speaking, he looks far closer to nicely tanned. He's been estranged from both his embittered wife, Mary (Tasma Walton), and their drug-abusing daughter, Crystal (Madeleine Madden). But both eventually arrive in Patterson to give Jay more headaches than the case at hand.
Mystery Road
gets off to a promising start, as do the early stages of the Jay-Emma combo. "Can you ride a horse? That hat's gotta be good for somethin'," she jabs in Episode One.
As the story goes on, though, their relationship never quite comes together. He has better scenes with his ex-wife, particularly in Episode 4. And she has better dialogues with her brother after some secrets are uncovered about Ballantyne Station's history and current state.
Mystery Road
's other important characters are ex-con Larry Dime (Wayne Blair) and bartender Shevorne Shields (Tasia Zalar). He spent 10 years in prison after being convicted of raping her when she was 13 years old. But Larry has long claimed to be innocent, which opens the door to a second whodunit beyond what happened to those two missing jackaroos, Marley Thompson (Aaron McGrath) and Reece Dale (Connor Van Vuuren).
In the end, Pedersen's Jay Swan gets to do most of the dirty work, sleuthing and raging while Davis' Emma James just doesn't get to do enough. This is an actress who can emote with the best of them, as Davis proved beyond a doubt in
Life with Judy Garland: Me and My Shadows
. But in
Mystery Road
, she's not allowed to even get out of her cop suit, let alone really let loose with what might be boiling inside.
The eventual uncovering of the culprits isn't as satisfying or surprising as it might have been while the demons that drive Jay and prompted him to leave his wife and daughter are passingly referenced without enough detail. So is
Mystery Road
worth your investment? More or less, yes. Just don't expect to come away with any thoughts of just seeing a masterpiece or a signature performance from a proven master thespian. Davis comports herself well, and that's pretty much the best that can be said.
GRADE:
B-minus
Email comments or questions to:
unclebarky@verizon.net