New series review -- Crowned: The Mother of All Pageants (The CW)
12/11/07 04:12 PM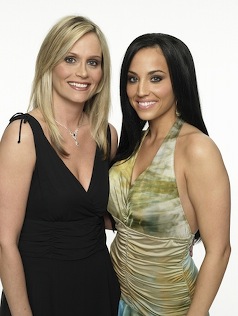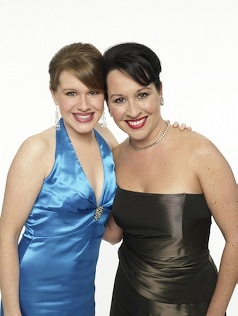 Texas pageant pairs: Ada & Christan vs. Hollis & Gina.
Premiering:
Wednesday, Dec. 12th at 8 p.m. (central) on The CW
Hosted by:
Shanna Moakler
Starring:
11 mother-daughter combos
Created by:
Laurie Girion
By ED BARK
Imagine the heartbreak of being judged deficient at your very first "de-sashing ceremony."
Not only that, but you'll have to cut your own sash. With a scissors. On national television.
In that case, be happy you're only on The CW, where ratings smashes are not applicable. Unfortunately, though,
Crowned: The Mother of All Pageants
is a harbinger of what's coming in a strike-damaged season that soon will be pimpled with an array of reruns and cheaply produced reality hours.
Crowned
, which CW is promoting with the slogan "Competition's a bitch," pairs up 11 mother-daughter combos in pursuit of a $100,000 grand prize. One of them is dumb enough to come up with the name "Silent But Deadly" for their team. Judge Carson Kressley, segueing from
Queer Eye For the Straight Guy
, is quick to point out the obvious. What a gas, gas, gas this is going to be.
Two of the teams are Texas-connected. Mother Ada and daughter Christan are from Dallas. They're also instantly unlikable after the punk kid declares, "I'm gonna get what I want, and if you don't like it, don't bother me."
They later dub themselves "Hot & Not," a not so subtle slap at ol' momma.
Making a far better first impression, both with judges and viewers, are Fort Worth's Gina and her daughter, Hollis, who's now living in New York City. They're the self-titled "Dream Gals," and they sing a halfway cute little ditty together.
"God bless Texas," says Kressley.
Your host, who's also a judge, is former 1995 Miss USA Shanna Moakler. She most recently washed out in Week 2 of last year's third edition of
Dancing with the Stars
.
"We're celebrating what it means to be a modern beauty, where spirit, intelligence and heart are as meaningful as a pretty face," she tells the excited contestants before they burst into the show's "Pageant House" to eat, drink and gush.
Catty-catty, snipe-snipe quickly kicks in, though. Vying with Ada and Christan for the most despicable duo are New Mexico's Andrea and Amanda, a k a "The Reigning A's."
Add a hyphen and a "hole" after the "A" and you've got somethin', ladies.
The 11 couples eventually gather at a small, nondescript theater to make first impressions before judges Kressley, Moakler and Cynthia Garrett, described as a "TV personality."
Kressley clearly will have to carry the ball here. But the best he can muster in the early going is a patently obvious riff after the "Tomboy Queens" strut their stuff.
"I identify with that name -- at least the Queen part," he says.
The first "de-sashing" proceeds limply, with judges repeating "You're safe" until a preview DVD sent to TV critics ends with two couples still hanging in the balance. They just don't trust us vermin.
Crowned
is supposed to continue for seven more weeks beyond Wednesday's premiere. Then a Jan. 30th finale will leave one triumphant couple with sashes still proudly in place. Hang in there, "Silent But Deadly."
Grade:
D