Alice holes up anew in ABC's Once Upon A Time In Wonderland
10/09/13 12:25 PM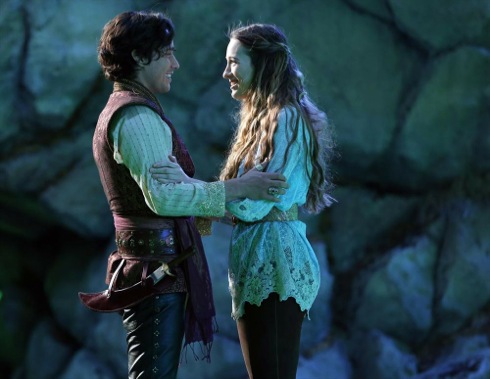 Ask Alice about her new honey, a genie named Cyrus. ABC photo
Premiering:
Thursday, Oct. 10th at 7 p.m. (central) on ABC
Starring:
Sophie Lowe, Michael Socha, Peter Gadiot, Emma Rigby, Naveen Andrews, John Lithgow
Produced by:
Edward Kitsis, Adam Horowitz, Steve Pearlman, Zack Estrin
By ED BARK
@unclebarkycom on Twitter
Disney-owned ABC remains determined to be the phantasmic network.
Its last new fall series of the season,
Once Upon A Time In Wonderland
, spins its fairytales as a spin-off of
Once Upon A Time
(which has traveled to Neverland this season).
Alas, the newcomer does not deploy The Jefferson Airplane's "White Rabbit" to add an extra edge. It's beautifully appointed, though, and will look great on big-screen high definition TV sets. Otherwise let the "re-imagining" begin.
This time around, an adult Alice (Sophie Lowe) initially is locked up in London's Bethlem Asylum, where the bald, badgering Dr. Lydgate (guest star Jonny Coyne) is determined to make her recant all those nonsensical stories about falling in love with a genie named Cyrus (Peter Gadiot) after repeatedly falling through the time-honored rabbit hole.
Hey, it's OK to have fantasies as a child, he tells her. But grown-ups must stop dreaming and bear hug the ho-hum. Otherwise life's just not worth living.
Alice, who fears her lover is dead after he plunged into a boiling sea, has just about given up and consented to some form of lobotomy before one of her Wonderland acquaintances, the Knave of Hearts (Michael Socha), pops into her cell to say that Cyrus still lives. The ever-impatient White Rabbit (voiced by John Lithgow) is also in tow to create another hole. So Alice and the Knave fight their way out, with our heroine proving to be a formidable puncher and kicker.
The idea of Alice being quick with her fists is not a new one. In
Syfy channel's 2009 Alice miniseries
, she was a Manhattanite with a black belt in martial arts. This enabled Alice to lead "The Resistance" in oppressed Wonderland, where Tweedledum and Tweedledee were re-positioned as torturers Dr. Dum and Dr. Dee.
Poor Lewis Carroll, long in the grave, is in no position to collect royalties from any of these TV offshoots, which also have included NBC's 1999
Alice In Wonderland
and a two-part 1985 CBS musical version for which Steve Allen wrote all the songs. "Master of Disaster" Irwin Allen (
The Towering Inferno, The Poseidon Adventure
) produced it and Telly Savalas soloed on a ditty titled "There's No Way Home." No, we are not making this up.
The Syfy version at least had Kathy Bates in fine demonic form as the Red Queen.
Once Upon A Time in Wonderland
has Emma Rigby. And charitably speaking, she's pretty laughable in her first big boo-hiss scene opposite evil Jafar the magic carpet rider (Naveen Andrews from
Lost
).
Thursday's premiere episode toggles back and forth in the early going between Alice's experiences in Wonderland and her grilling at the hands of Dr. Lydgate. We learn that Alice and Cyrus were together long enough for him to propose marriage and for her to accept.
"I've never met a human quite like you," says he.
"I've never met a genie quite like you," says she.
Hmm, maybe it's just as well that they're apart after Cyrus seemingly dies via that aforementioned big plunge. But Alice has been tipped that he's still alive and residing at the "Mad Hatter's old place." Even though he doesn't turn up, Alice continues to believe. Because, as she tells the Knave, "When you really love someone, you don't need proof. You can feel it."
Otherwise enjoy the special effects. Lithgow is fun as the miniature White Rabbit and veteran Ken Burns film narrator Keith David is nicely sinister as an enlarged black Cheshire cat yearning to dine on Alice after being informed she's the "sweetest meat I've ever tasted." In future episodes, Iggy Pop presumably will get more to do as the voice of the Caterpillar.
The opening episode ends with a revelation while Alice, the Knave and the White Rabbit continue their search for Cyrus. I'll give it 3.5 Tweedledees on a scale of 5 Tweedledums.
Once Upon A Time In Wonderland
is very nice to look at, particularly in homes that have upgraded from rabbit ears. Its speaking parts, though, are sometimes better heard at low volume.
GRADE:
B-minus
Email comments or questions to:
unclebarky@verizon.net