Lifetime's Witches of East End: bibbity bobbity and mostly boo
10/03/13 04:51 PM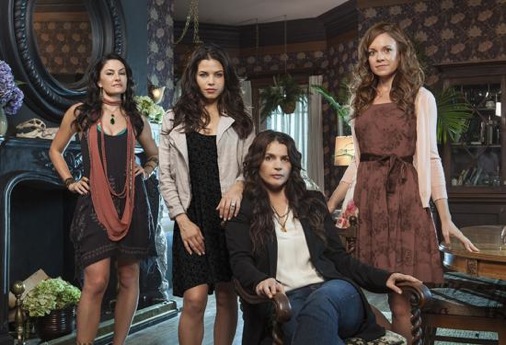 Julia Ormond (seated) for some reason is in Witches of East End.
Lifetime photo
Premiering:
Sunday, Oct. 6th at 9 p.m. (central) on Lifetime
Starring:
Julia Ormond, Madchen Amick, Virginia Madsen, Jenna Dwan Tatum, Rachel Boston, Eric Winter, Daniel DiTomasso, Jason George
Produced by:
Maggie Friedman, Jonathan Kaplan, Erwin Stoff, Josh Reims
By ED BARK
@unclebarkycom on Twitter
One of life's and Lifetime's little mysteries is how the esteemed Julia Ormond wound up in this trifle.
Her recent work includes an Emmy win for the HBO movie
Temple Grandin
and an Emmy nomination for her recurring role in AMC's
Mad Men
. So it seems way too soon to succumb to
Witches of East End
, an adaptation of the Melissa de la Cruz bestseller that begins not working its magic on Sunday, Oct. 6th.
Ormond, who also has co-starred in the feature films
Sabrina, Legends of the Fall
and
The Curious Case of Benjamin Button
, is woefully under-achieving as head witch Joanna Beauchamp. Her eyes glow demonically whenever she witches out during a one-hour premiere that never amounts to much more than quite a mess.
Former
Twin Peaks
girl Madchen Amick and the now weathered Virginia Madsen are also part of the regular cast. Relative newcomers Jenna Dewan Tatum and Rachel Boston respectively play Ormond's disparate daughters, Freya and Ingrid, neither of whom have been told they're witches.
Freya, otherwise a bartender, is engaged to dashing playboy Dash Gardiner (Eric Winter). He of course has a bad seed brother he hasn't seen for a while until he pops in to screw things up. His name is Killian (Daniel DiTomasso), the object of Freya's lustful dreams until things start escalating in real life. Madsen, only scantly seen in the opening episode, plays the two young men's willful mother, Penelope.
Ingrid, a comparative goody two shoes, initially discounts her sister's strange premonitions by telling her, "You only have one superpower, and it is your breasts." But it becomes harder and harder to explain away Freya's ability to, for instance, make the haughty Penelope "choke -- with my mind."
East End
's token minority is a handsome nice guy detective named Adam (Jason George), who'd like to date Ingrid and wasn't joking when he asked her out to dinner a while back. Apprised of this, she now has eyes for him, too. But a pesky murder investigation intervenes when an old coot is found mutilated and his wife badly hurt.
Amick plays Joanna's mischievous sister, Wendy, who's been out of touch for, oh, the past 100 years or so. She's supposedly returned to save sis's life while also cajoling Joanna to tell her daughters the truth about their powers. But that's never been a good idea with her previous kids, all of whom have wound up prematurely dead as a result. And so on.
The first episode of
Witches of East End
keeps bouncing around rather than settling in. Ormond is never challenged by a paint-by-numbers script. But a sunburned guy does emerge out of a painting after 80 years. Seemingly confused about whom he's supposed to blame for this, he settles on Freya, who's already got a full plate of new cares and woes. A double cliffhanger ensues. But by then, caring one way or the other already seems like an insurmountable challenge.
Better to power-watch multiple reruns of
Charmed
, which at least offered some simple pleasures.
Witches of East End
is just not worth a viewer's toils and troubles.
GRADE:
D
Email comments or questions to:
unclebarky@verizon.net