Jackman-led Oscars end up long on ceremony
02/23/09 07:58 AM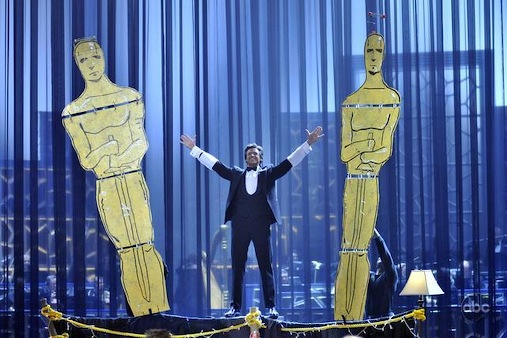 Host Hugh Jackman impresses early in the game. ABC photos
By ED BARK
Sunday's largely suspense-less ABC Oscar-cast perhaps could have used a jokester host or at least Jerry Lewis acting up.
Neither materialized on a night when the 81st annual ceremony mostly took itself very seriously in an effort to be "classier" than previous affairs hosted by lowly TV types like David Letterman and, last year, Jon Stewart.
Hugh Jackman filled the bill at first, looking leading man dashing in a classic black tux and traditional matching bow tie. His opening musical number, adorned with recession-appropriate downscale props, deservedly was a big crowd-pleaser. Jackman also got off a decent one-liner or two, telling 15-time nominee Meryl Streep, "I hate to say it, but when someone puts up numbers like that, it's hard not to think -- steroids."
The jokes would have kept coming throughout the three-and-a-half-hour night had Jackman been a trained comedian. But he made little impact during the rest of the evening, save for a halfway-through-the-show song-and-dance extravaganza with Beyonce. "The musical is back!" Jackman declared, putting on his top hat. Yeah, so? It was all-too-easy to imagine millions of male viewers heading to the fridge, the restroom, etc.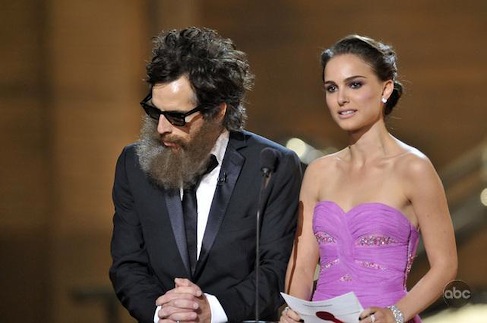 Ben Stiller as Joaquin Phoenix, with Natalie Portman playing along.
The night's most memorable comedy instead came from Ben Stiller in the guise of Joaquin Phoenix. All it took was a pasted-on scruffy beard and a pair of shades to achieve instant comedy gold. Stiller/Phoenix and co-presenter Natalie Portman, who played her part reasonably well, then presented a cinematography Oscar to the night's anticipated big winner,
Slumdog Millionaire
.
Oscar's producers had another good idea -- gathering five previous recipients to present each of the night's four acting awards. It took a while to unfold, but added a little extra heft and sheen to the honor. The climactic lineup of earlier best actors was led by Robert De Niro, with Michael Douglas, Anthony Hopkins, Ben Kingsley and Adrien Brody also in tow.
"How, for so many years, did Sean Penn get all those straight roles?" De Niro joked of Penn's Oscar-winning portrayal of gay activist Harvey Milk in
Milk
.
Penn then delivered the acceptance speech line of the night -- "You Commie, homo-loving sons a guns."
ABC's cameramen as usual were on top of all the audience reaction shots, even finding best actress winner Kate Winslet's dad in the cheap seats after she asked him to whistle -- which he did -- to show her where he was seated.
The cameras also caught nominee Philip Seymour Hoffman's vigorous applause for Lewis, who received the annual Jean Hersholt Humanitarian Award from presenter Eddie Murphy. But vigilant viewers also could see nominee Frank Langella just as determinedly not applauding as Lewis left the stage after his uncommonly brief and decorous remarks. The age-old comic's use of a derogatory term for gays, most recently in 2007, made him a controversial choice, especially on a night when Penn's portrayal of a slain gay rights activist won Oscar gold.
The elongated evening otherwise held little drama -- or merriment. Instead there were lots of clips and ample solemnity as Oscar strove to take itself more seriously than most previous hosts would have. Jackman didn't necessarily do anything wrong. But this is a show that still cries out for more than an impeccably dressed, drop-dead handsome maitre d'.