What About Brian? Is hosting Saturday Night Live a gravitas offense?
10/29/07 10:42 AM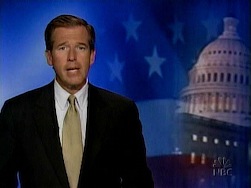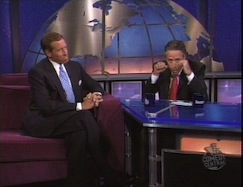 Brian Williams knows how to be a good talk show guest, but is hosting Saturday Night Live going more than a little too far?
By ED BARK
Blurring the line between news and entertainment hasn't been much of a story for a while.
Just about everybody seems to be doing it. So what's it to us that
NBC Nightly News
anchor Brian Williams has agreed to host
Saturday Night Live
? Pish-tush.
It seems quaint to note that pundits once argued over the propriety of
CBS Evening News
anchor Walter Cronkite playing himself on a February 1974 episode of
The Mary Tyler Moore Show
. We now live in times when TV newsies regularly cross over and back with with both impunity and apparent immunity.
CNN's Anderson Cooper is a periodic guest host on
Live with Regis and Kelly
. MSNBC's Tucker Carlson competed on
Dancing with the Stars
. Dan Rather, who still anchors a weekly news magazine program on HDNet, played himself on the first episode of ABC's new
Dirty Sexy Money
. And just about everyone of any import has hit the couches of
The Tonight Show with Jay Leno, Late Show with David Letterman, The Daily Show with Jon Stewart
, etc. etc.
Williams does seem to be pushing it, though. He'll be guest-hosting the Nov. 3rd edition of
SNL
, a gig that takes him where no one of his stature has gone before. Maybe this is finally what Katie Couric needs. Because seriously folks, how can anyone question her
gravitas
or hard news acumen after Williams submits to
SNL
and becomes the first incumbent news anchor to host it?
"I've watched
SNL
for 32 years, and first wrote to NBC for tickets after seeing the very first show on the air as a student in high school," Williams says in an NBC publicity release. "While I didn't quite believe it when Lorne (creator and executive producer Lorne Michaels) first asked, I'm beyond thrilled to accept the invitation. It will be a chance to have some fun on my night off, and risk making a complete fool of myself. In the meantime I'm going to concentrate on my day job."
Actually this isn't the first time he's been asked. Nearly a decade ago, during an interview with this reporter, Williams said he had declined previous invitations to host
SNL
because that would be "crossing a line" as he put it. Then at MSNBC and still the "heir apparent" to Tom Brokaw on
Nightly News
, Williams said he otherwise was comfortable dropping in on late night talk shows.
He'd already proved to be a glib and nimble guest, notably on the night when Cher observed during a 1996
Tonight Show
that Williams was undeniably handsome but looked "too Republican" in his usual suit and tie.
He immediately nailed her to the floor, telling Cher that she should try being a little nicer to one of the few people who'd bought her
Half Breed
album.
"I use the same set of skills I use every night on the news," Williams said at the time. "You think on your feet whether you're interviewing a head of state or Cher is serving up some line. It's like a high slider and you may have an eighth-of-a-second turnaround time on that stuff. And you try to kill it."
Williams, formerly NBC's chief White House correspondent, described himself as a "comedy dilettante" whose late mother was an actress. So the ham in him has finally yielded, with
SNL
no longer deemed out of bounds for the latter day standardbearer of NBC News.
It seems beside the point to also concede that Williams is likely to be very good in both his opening monologue and whatever
SNL
sketches the show devises for him. He knows how to throw a punch line. Or as NBC colleague Matt Lauer once put it to yours truly, "Brian's hysterical. The guy could be a standup comic."
Instead he's the anchor of the
NBC Nightly News
during these very serious times. Continuing to resist
SNL
would have been a wiser choice in this view. Some lines should remain uncrossed, but Williams' network no doubt sees this as a great chance for him to reach a wider, younger audience.
Meanwhile, imagine the reaction if Couric instead were taking the
SNL
plunge. Funny how that works.