Lopez Tonight canned, Conan goes on
08/10/11 04:11 PM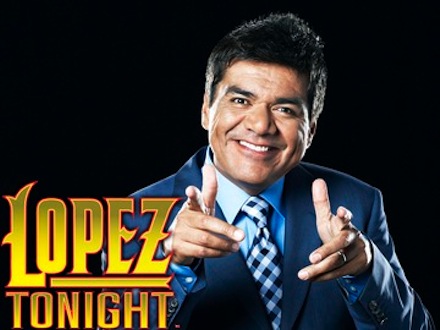 By ED BARK
George Lopez played the good soldier. Now he's paying the price.
TBS abruptly canceled the veteran comic's
Lopez Tonight
Wednesday, with his final hour airing Thursday. In a statement, the network said it had "reached the difficult decision not to order a third season" of the show, which premiered on Nov. 9, 2009 at 10 p.m. (central) before the arrival of Conan O'Brien's
Conan
pushed Lopez back to 11 p.m. in November of last year.
"We are proud to have partnered with George Lopez, who is an immensely talented comedian and entertainer," TBS said.
Lopez publicly supported both the hiring of O'Brien and the loss of his earlier time slot to the red-headed former
Tonight Show
host. But as O'Brien's ratings began slipping from their initial highs, so did Lopez's.
In this year's May "sweeps" Nielsen ratings,
Lopez Tonight
ranked 10th in the key 18-to-49 ratings for late night broadcast and cable programming, averaging 295,000 per show in this age range while
Conan
placed 8th with 701,000. Both were distant also-rans to Jon Stewart's
The Daily Show
on Comedy Central, which finished No. 1 in this category with an average of 1.344 million viewers.
In January,
Conan
was riding higher with an average of 811,000 viewers in the 18-to-49 age range while
Lopez Tonight
also fared better with 382,000.
Both shows also have been dropping off in total viewers.
Conan
averaged 1.123 million in January, doubling
Lopez Tonight
's 556,000. In May those numbers respectively fell to 975,000 and 451,000 while Stewart's
Daily Show soared to 2.337 million compared to January's 1.556 million.

During a set visit in January, Lopez told TV critics that he "was not unhappy about the move (to a later hour) or with Conan coming to TBS. I like it . . . This could be a nice partnership that will last a long time. Listen, they don't put in air-conditioning this extravagant for a show that's not going to be around a long time. I want to be the last face people see before they pass out with their televisions on."

Lopez prided himself on the diversity of his guest list and his show's party atmosphere. But now the party's just about over, with O'Brien certain to get part of the blame for displacing Lopez Tonight and no doubt hastening its demise.

Lopez's scheduled guests Thursday are Raven-Symone, Auggie Smith and Slash. But look for some unannounced drop-ins as the cancellation continues to reverberate.