Amazon Prime's The Romanoffs gives Mad Men creator a license to underwhelm, overspend
10/10/18 02:54 PM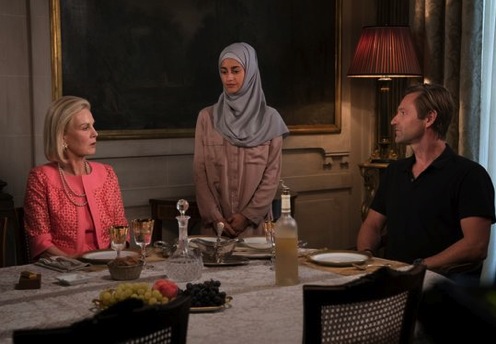 The Romanoffs triangulates in slow-cooked Episode 1. Amazon photo
Premiering:
The first two of eight episodes begin streaming Friday, Oct. 12th on Amazon Prime
Starring:
A cavalcade of known and little-known actors and actresses
Created, directed, written, produced by:
Matthew Weiner
By ED BARK
@unclebarkycom on Twitter
Both lavish and languid, the first three installments of Amazon Prime's
The Romanoffs
are mostly bereft of the snap, pop and sizzle of
Mad Men
.
Their overriding creative force is one and the same -- fastidious Matthew Weiner. Nearly three-and-a-half years after his landmark series ended its AMC run, he's dared to do something quite different although not nearly in the same league. A reported $70 million budget for an eight-episode first season of 90-minute stand-alone stories so far is not paying off handsomely in terms of stories that induce wonderment, surprise or quickened pulses. Instead we get three long hauls that mostly test a viewer's endurance. The performances aren't at fault, but the stories themselves easily could be trimmed to an hour apiece or less. Left free to indulge himself, Weiner gorges too much on empty calories.
The first two tales -- subtitled "The Violet Hour" and "The Royal We," are reminiscent of an old TV chestnut, ABC's
Love, American Style
anthology series. "House of Special Purpose" (for which a full review is "embargoed" until Monday, Oct. 15th), is a cross between
The Shining
and
The Twilight Zone
. Maybe we'll eventually get something in the vein of
Wagon Train
or
The Many Loves of Dobie Gillis
.
Before dealing in more depth with the first two episodes, let's note briefly that former
Mad Men
co-star Christina Hendricks is the principal focus of "House of Special Purpose," with Paul Reiser the other familiar cast member. She plays an actress, he's her agent and otherworldly things start to happen when she journeys to Austria to star in a six-part TV miniseries titled
The Romanovs
. A mercurial French woman director, played by Isabelle Huppert, is calling the shots as only she sees them.
Principal members of the real life aristocratic Romanovs were gunned down en masse by Bolshevik assassins in the summer of 1918. Weiner's
The Romanoffs
consists of very lengthy vignettes about people who believe themselves to be descendants.
Each story begins boldly with an opening montage that shows the royals being gunned down to the tune of the late Tom Petty's "Refugee" Their blood then runs in thin lines through subsequent generations.
"The Violet Hour," set in Paris, starts off with the hospitalization of imperious Madame Anastasia Le Charney (Marthe Keller), also known as "Anushka." She's had a fainting spell, and her nephew, Greg (Aaron Eckhart), is soon by her bedside while his self-absorbed lover, Sophie (Louise Bourgoin), fumes about another possibly canceled vacation.
Taken back to her luxurious city apartment, where she has run off a string of caregivers, Anushka is presented with another one hired by Greg. Her name is Hajar (Ines Melab), a Muslim who wears a head cover.
"I need a caregiver and not a terrorist," Anushka bellows at Greg. "I hope you sleep well when she blows up my apartment."
But Anushka, who's beautiful, is also competent, kindly and seemingly impossible to anger. After this is established, things move along rather predictably -- and also quite slowly. Keller, Bourgoin and Melab are all quite good in their roles while Eckhart's performance is slower to take hold and arguably never quite gets a grip. Paris looks splendid throughout, so there's that, too. But these 90 minutes are hardly all-consuming.
Also streaming on Friday, Oct. 12 is "The Royal We," with the following six episodes to be posted weekly from Oct. 19th through Nov. 23rd.
In this one, Corey Stoll and Kerry Bishe play Michael and Shelly Romanoff. Their marriage has hit a deep rut, and they're first seen in a therapist's office. Michael, who works in a strip mall for a college test-prepping chain called Gold Standard, can't think of anything he'd like to do together with his wife. So he leaves it up to her, and she plans a cruise ship sojourn with a gaudy Romanov theme.
Those plans are waylaid when Michael has jury duty and intentionally sabotages a unanimous verdict in a cut-and-dried murder case after laying eyes on a sexy fellow juror named Michelle (Janet Montgomery). Envisioning a tryst, he encourages Shelly to take the cruise by herself. Which she does, meeting handsome, sensitive Ivan (Noah Wyle) in the process.
The story toggles between these two venues, with Weiner again in no hurry at all to get things moving along. The shipboard scenes are visually grand, though, and Bishe's Shelly flashes the winningest smiles since Mary Lou Retton's Olympian days.
The denouement again is no real surprise, and what a slog it's been getting there.
Mad Men
set one of TV's higher bars in recent years, leaving Weiner with his own nigh impossible act to follow. There are still five more stories to be told in
The Romanoffs
, although expecting them to show vast improvements is not being realistic. What you'll see in the first three is not altogether a waste of time. Still, the operative question remains: Is that all there is? And
how
much money did you say he spent?
GRADE:
C+
Email comments or questions to:
unclebarky@verizon.net