Two and a Half Men welcomes Kutcher, leaves Sheen decidedly dead
09/20/11 08:50 AM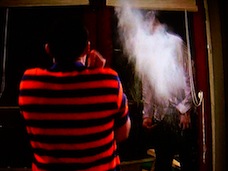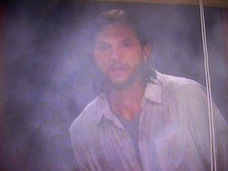 Ashton Kutcher symbolically emerges from a cloud of Charlie Sheen's ashes on the season premiere of CBS' Two and a Half Men.
Photos: Ed Bark
By ED BARK
Dust to dust to Dustbuster.
Few if any TV characters have been dumped more unceremoniously than Charlie Sheen's womanizing Charlie Harper.
Two and a Half Men
and its creator, Chuck Lorre, saw to that Monday on the hit sitcom's ninth season premiere. At the same time Sheen himself was being roasted on Comedy Central by a who's who of who are theys and what have they done lately. What a night.
Two and a Half Men
began with a closed casket funeral service for Charlie Harper, with his trademark shirt and shorts as a backdrop and brother Alan (Jon Cryer) trying to get through a eulogy while various attendees ripped on his late brother.
"Gave me herpes," said one of Charlie's conquests.
"Chlamydia," said another.
And let 's hear it for "vaginal warts."
Charlie's stalker neighbor, Rose (Melanie Lynskey), then described how he died after one of his many ex-girlfriends, played by Jenny McCarthy, carped, "I didn't come all this way to spit on a closed coffin."
But alas, Charlie supposedly slipped on a metro platform and fell in front of a speeding train while he and Rose were in Paris and planning to be married. But he "didn't suffer," she added. "His body just exploded like a balloon full of meat."
So much for sentiment -- and for the funeral service.
Back home at Charlie's Malibu pad, brother Alan fretted about having to sell the place. A few guest stars popped in to look the place over -- Jon Stamos plus Jenna Elfman and Thomas Gibson still in character from
Dharma & Greg
. Then an urn of Charlie's ashes arrived.
Alan prepared to sprinkle them on the beach before a figure appeared at the sliding glass door. A startled Alan flung Charlie's ashes into the air. And as the cloud settled, viewers got their first glimpse of Ashton Kutcher as a broken-hearted internet billionaire named Walden Schmidt. The studio audience reception was tumultuous. And Alan later got around to vacuuming up Charlie's remains with a Dustbuster.
Sheen lately is apologizing to all concerned in hopes of getting a network to pick up his planned new comedy based on the movie
Anger Management
. But it's hard to fault Lorre for sticking it to him while also making Sheen's character symbolically disappear from the show before the air cleared and his replacement stood front and center.
Whatever his state of mind, Sheen viciously tore Lorre apart during his only recently ceased "bitchin' rock star from Mars" daze. Now Lorre is having his say, writing Charlie Harper off in no uncertain terms before having Kutcher's new character tell his brother, "I'm sorry I made you spill him."
Whether this new dynamic will work is still an open question. Kutcher's character was fresh from trying to drown himself after his wife, Bridget, dumped him. But the ocean water proved to be too cold, leading him to the Harper pad.
Kutcher initially played Walden as a teetotaling manchild with lots of money. But Alan took him out to a bar and got him loaded on appletinis before they returned with two women in hand. Both ended up sleeping with Walden, who was pretty proud of himself the next morning while walking naked around the house. He's "hung like an elephant," Alan noticed. And by the way, Walden also will be buying Charlie's Malibu digs, setting up a new
Two and a Half Men
with the same old premise. An on-the-rebound Walden gets the girls, and no doubt will enjoy this new lifestyle. Alan again is left at the altar.
Kutcher's performance was OK for starters. He took the edge off by redeploying elements of his old doofus Michael Kelso character from
That '70s Show
. So he likely won't be as cynical as Sheen's Charlie. And off-camera, Kutcher also likely will show up for work in reasonable working order.
It's hoped that Sheen's latest rehab effort will be long-term. He seemingly hasn't killed his career just yet. But in case there were any lingering doubts, his time on
Two and a Half Men
is emphatically over. Lorre literally exploded Charlie Harper, ridiculed him at his funeral and then left his ashes fit for a Dustbuster.
It doesn't get much more final than that.