A&E's Bates Motel driven by Farmiga's driven mother
03/13/13 10:53 AM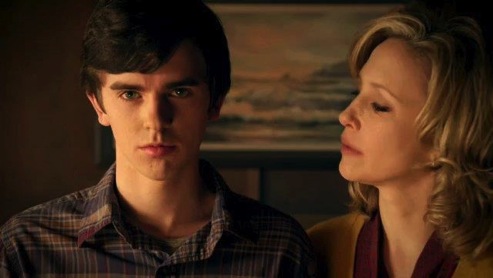 Weird and weirder: Norma and Norman Bates. A&E photo
Premiering:
Monday, March 18th at 9 p.m. (central) on A&E
Starring:
Vera Farmiga, Freddie Highmore, Max Thieriot, Olivia Cooke, Nicola Peltz, Nestor Carbonell, Mike Vogel
Produced by:
Carlton Cuse, Kerry Ehrin
By ED BARK
@unclebarkycom
Fifty-three years after first alarming an unsuspecting public,
Alfred Hitchcock's Psycho
still stirs the blood, quickens the pulse and generates sequels, remakes and now, a "contemporary prequel."
A&E's
Bates Motel
, premiering Monday, March 18th, is both mesmerizing and sometimes absurd in its rewind to Norman Bates (Freddie Highmore) as a repressed 17-year-old. In the early minutes of Monday's premiere, he's further scarred by the discovery of his father's suddenly dead body.
It seems fairly obvious whodunit. But Norma Bates (delicious, Emmy caliber work by Vera Farmiga) certainly isn't telling. And Norman seems none the wiser as son and mother relocate "Six Months Later" from Arizona to the rundown "Seafairer Motel" (whose proprietor was a lousy businessman who apparently couldn't spell either).
The place is located in present-day White Pine Bay, a picturesque, out-of-the way coastal berg that -- all together now -- "isn't quite what it seems." And here's where
Bates Motel
could go really wrong while also seeming to get a lot of things quite right in its depiction of the off-center Norma/Norman dynamic.
Through the first three episodes available for review, executive producers Carlton Cuse (of
Lost
fame) and Kerry Ehrin (
Friday Night Lights
) fill
Bates Motel
to the brim with other strange goings-on. No big spoilers here, but Twin Peaks has nothing on White Pine Bay in terms of attendant crookedness.
So Norman becomes a reluctant amateur detective at times in league with high school classmate Emma Decody (Olivia Cooke), whose multiple sclerosis requires her to be hooked to a portable oxygen tank at all times. She's an appealing character, though, breathing life into their scenes together. In Episode 2, plucky Emma scores by telling Norman, "You know what's peculiar? A 17-year-old boy using the word 'peculiar.' " He does know how to use a smart phone, though.
Bates Motel
creates another new character in Norman's surly, older half-brother Dylan (Max Thieriot), who arrives unannounced in a penniless state. There's also a hunky deputy sheriff named Zach Shelby (Mike Vogel), a not entirely above-board guy whose boss is the very stern Sheriff Alex Romero (
Lost
emigre Nestor Carbonell).
Norma's plans for a fresh, clean start -- "It's all gonna be good. You'll see" -- are quickly waylaid by an extremely bitter brute whose family owned the Seafairer and its attendant famous house on a hill before the bank foreclosed.
"He's just some pathetic drunk, loser slob, honey," Norma tells Norman. He's soon also a dead body, with mother and son frantically hiding his corpse and cleaning up the joint before the cops arrive the next day to question them. Get ready for another bathtub/shower scene, this one rather ingeniously pulled off.
Highmore is effectively twitchy, vulnerable and naive as Norman, at times resembling a young Dana Carvey in the role. "Holy hell, mother, we're totally screwed!" he wails convincingly.
But it's Farmiga who carries the ball as a possessive, obsessive and sometimes flirty Norma. Nominated for an Oscar opposite George Clooney in the terrific film
Up In The Air
, Farmiga never slips into a Mommie Dearest caricature. She's a joy to watch throughout, whether being willful, devious, protective or alluring.
Bates Motel
otherwise risks having way too much else going on. There's no Smoke Monster yet, but Cuse is still in
Lost
mode when it comes to attendant mysteries and rather preposterous occurrences. This hasn't yet unduly spoiled anything, but has the potential to do so.
On the other hand, every Farmiga sighting so far serves to right this ship. She's so very, very good as Norma. To the point where
Bates Motel
could easily be subtitled,
I Want My Mommy
.
GRADE:
B+
unclebarky@verizon.net