FALL TV PREVIEW: New series -- Cane (CBS)
09/25/07 09:08 AM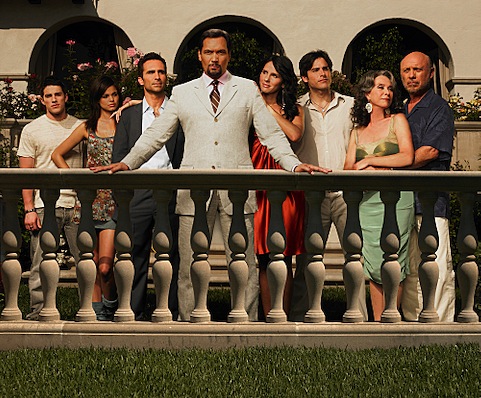 Jimmy Smits is front and center in the new serial drama Cane.
Premiering:
Tuesday, Sept. 25 at 9 p.m. (central) on CBS
Starring:
Jimmy Smits, Nestor Carbonell, Hector Elizondo, Paola Turbay, Rita Morena, Polly Walker, Michael Trevino, Alona Tal, Samuel Carman, Lina Esco, Eddie Matos, Ken Howard
Created by:
Cynthia Cidre
By ED BARK
Hispanics haven't been known to watch Hispanics speaking English in prime-time.
Instead they continue to mostly favor Univision's Spanish language telenovelas, according to the weekly Nielsen ratings.
The new serial drama
Cane
makes an obvious effort to recruit more Hispanics by having its Cuban-American characters occasionally speak Spanish with English subtitles. But will this turn off a segment of the so-called mainstream CBS audience? Or could
Cane
be the first English language network series to lure a large slice of the ever-growing Latino audience?
Credit CBS with a landmark effort to shift this balance of viewing power.
Cane
easily has the largest Hispanic cast in the history of conventional network television.
Numero uno
is time-tested Jimmy Smits, who already has
L.A. Law, NYPD Blue
and
The West Wing
under his belt. This time he's imposing Alex Vega, newly named president and CEO of the South Florida-based Duque rum and sugar company. The premiere episode's signature line -- "Sugar is the new oil" -- of course belongs to him.
Is Smits' presumed drawing power enough, though?
Cane
is a very busy series in its first hour, with variously motivated characters swarming the small-screen in large numbers. There's no at-home score card available, though, so you'll have to be a good sorter outer.
Alex is the adopted son of ailing patriarch Pancho Duque (Hector Elizondo), whose beauteous daughter, Isabel (Paola Turbay), is Alex's wife. The Vegas have three children, two of them rebellious. And Pancho has a pair of blood offspring, including embittered Frank Duque (Nestor Carbonell from
Lost
). He deeply resents Alex's rise to prominence, and as payback is in consort with the sinister Samuels family and in bed with tarty Ellis Samuels (Polly Walker of
Rome
).
There's also Pancho's devoted wife, Amalia, played by the near-legendary Rita Moreno. She has little presence in the opener, largely because the camera keeps its eye on Smits, who festers a lot. Unlike J.R. Ewing, he doesn't seem to have time to sleep around. But Alex does hold the power, and he won't pussyfoot around with it.
Tuesday's heavily promoted premiere also has a big, Latin-themed Fourth of July party with music, fireworks and side dishes of intrigue. Amid all this, the now 52-year-old Smits can still carry the ball. He'll be getting ample support, though, from younger cast members with firmer flesh and a willingness to flash it in pools and sex-capading South Beach clubs.
Cane
will have to be able to stitch this all together both plausibly and compellingly in a challenging time slot opposite NBC's
Law & Order: SVU
and ABC's
Boston Legal
. Both of those veteran series have their season premieres Tuesday night. So calling all Hispanics. You could be the difference-makers if you're willing.
Grade:
B