The Conners gets a greenlight from ABC after it put a stop to Roseanne
06/22/18 09:19 AM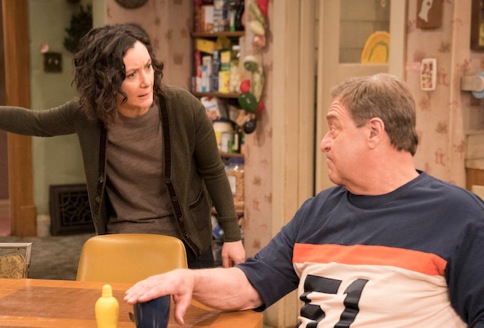 Returnees Sara Gilbert, John Goodman will keep the Conners afloat.
ABC photo
By ED BARK
@unclebarkycom on Twitter
Roseanne Barr remains unemployed, but her former cast mates and crew are on ABC's payroll anew.
In another stunner, the network announced Thursday night that a spinoff tentatively titled
The Conners
will return in the fall with an order of 10 episodes.
From the ashes of
Roseanne's racist tweet
in late May, core cast members John Goodman, Laurie Metcalf, Sara Gilbert, Lacy Goranson and Michael Fishman will all be reprising their characters. ABC's spinoff became official a little over three weeks after the network quickly axed its ratings-rich
Roseanne
reboot in reaction to the star's characterization of former Obama administration senior advisor Valerie Jarrett as part "ape."
ABC stressed that Barr "will have no financial or creative involvement in the new series." But she will retain a producer's credit and it is unknown how much the network may or may not have paid Barr to walk away.
"I regret the circumstances that have caused me to be removed from
Roseanne
," Barr said in a separate statement. "I agreed to the settlement in order that 200 jobs of beloved cast and crew could be saved, and I wish the best for everyone involved."
The aforementioned quintet of returning cast members issued their own statement in ABC's release.
"We have received a tremendous amount of support from fans of our show," they said, "and it's clear that these characters not only have a place in our hearts, but in the hearts and homes of our audience. We all came back last season because we wanted to tell stories about the challenges facing a working-class family today. We are so happy to have the opportunity to return with the cast and crew to continue to share these stories through love and laughter."
The Conners
is slated for the
Roseanne
reboot's old time slot, Tuesdays at 7 p.m. (central). ABC says that "after a sudden turn of events, the Conners are forced to face the daily struggles of life in Lanford in a way they never have before."
The spinoff "grapples with parenthood, dating, an unexpected pregnancy, financial pressures, aging and in-laws in working-class America," ABC adds. "Through it all, the fights, the coupon cutting, the hand-me-downs, the breakdowns -- with love, humor and perseverance, the family prevails."
Much has been made about saving jobs with the spinoff, although in truth there's no lack of incomes for those who stand to profit the most. Goodman long has worked regularly in feature films, Metcalf received an Oscar nomination for the 2017 movie
Lady Bird
and Gilbert co-hosts
The Talk
for CBS.
The Hollywood Reporter
says this trio will be paid $300,000 each per episode for
The Conners
while Goranson and Fishman (who actually could use the money) will receive considerably less.
Additionally, co-executive producers Tom Werner and Bruce Helford long have been among Hollywood's richest behind-the-camera forces while most crew members are accustomed to both the realities of cancellation and the constant need to move on to other shows. It's not as though none of them would have ever worked again.
Disney-owned ABC already had been contractually obligated to pay the principal cast member's salaries with or without a
Roseanne
spinoff. And shortly before the cancellation came, the network made
Roseanne
the focal point of its pitch to ad buyers during the mid-May "upfront" presentations in New York City. So it made considerable financial sense for ABC to keep the show afloat in some form after Barr torpedoed it.
There's precedent for a star being fired from a family sitcom -- and the show going on.
In 1987, Lorimar Productions sacked Valerie Harper, star of NBC's
Valerie
, over a contract dispute and allegations of "erratic behavior" on the set. The show then returned as
Valerie's Family
before morphing into
The Hogan Family
. Harper's character was said to have died in a car accident, with Sandy Duncan moving into the Hogan home as Valerie's husband's divorced sister -- and surrogate mother to the Hogan brood, which included a then teenaged Jason Bateman.
Harper sued Lorimar and indirectly NBC for wrongful termination, eventually winning the case but never returning to the show that originally bore her name.
More recently, Charlie Sheen got dumped from
Two and a Half Men
for repeated bad behavior, and was replaced by Ashton Kutcher as a billionaire named Walden Schmidt. Sheen's character, whose surname likewise was Harper, died off camera, and the show held a funeral for him during the ninth season premiere. A lawsuit by Sheen was settled out of court, with the actor initially pocketing $25 million.
Given Barr's volatility, a future lawsuit can't be ruled out. But for now, ABC has
The Conners
and she's publicly OK with that.
Email comments or questions to:
unclebarky@verizon.net