Fox's Touch can be tough to grasp
01/23/12 04:18 PM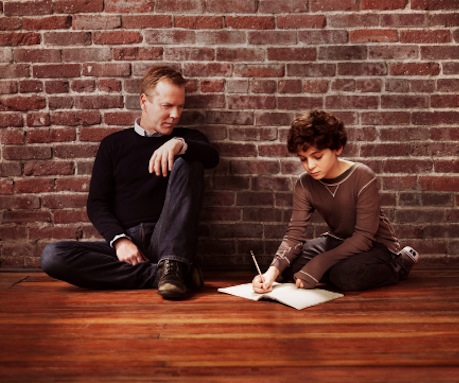 More quiet time: Kiefer Sutherland, David Mazouz of Touch. Fox photo
Premiering:
Wednesday, Jan. 25th at 8 p.m. (central) on Fox
Starring:
Kiefer Sutherland, David Mazouz, Gugu Mbatha-Raw
Produced by:
Tim Kring, Francis Lawrence, Peter Chernin, Katherine Pope, Suzan Bymel, Carol Barbee, Kiefer Sutherland
By ED BARK
The numbers, the premise, the interconnectivity and Keifer Sutherland as a beaten-down airport baggage handler. None of these quite add up in Fox's
Touch
.
Not that all involved aren't wholly well-intended in this far-flung aspirational new series from the creator and executive producer of NBC's
Heroes
. Fox is launching it via a special preview episode following the Wednesday, Jan. 25th edition of
American Idol
. The official series premiere isn't until March 19th, when
Touch
is slated to follow
House
.
An opening voice-over from the otherwise mute 11-year-old Jake Bohm (David Mazouz) tries to explain what he and the series are all about. Jake has made it his life's work to mix and match numbers whose "patterns never lie." He's thereby able to "make the connections for those who need to find each other. The ones whose lives need to touch." Ergo, the kid's over over-sized notebooks are jam-packed with long strings of numbers.
All of this makes his poor dad's head hurt. Martin Bohm (Sutherland) is a widower whose well-to-do stockbroker wife, Sarah, perished in the World Trade Center during the Sept. 11th terrorist attacks. She's left him with a nice three-bedroom loft in a desirable Manhattan neighborhood.
But Martin's penance is Jake, who has never spoken a word and freaks out when touched. It's put dad on a downward spiral. Once a "highly paid reporter at the
Herald
" in the expository words of social worker Clea Hopkins (Gugu Mbatha-Raw), Martin in recent years has been a doorman, a cab driver, a construction worker and now a JFK Airport baggage handler. He hasn't quite hit rock-bottom yet. Otherwise he'd be a blogger.
Young Jake enjoys the lost-and-found cell phones that his brother brings him from work. Offering him a fresh batch is a way to talk him down from the towers he tends to climb during school hours. Another such excursion leads to an intervention by Clea, who thinks that Jake might do better in foster care.
Touch
otherwise capsulizes Jake's world view via the opening episode's oft-subtitled jaunts abroad.
A teenager in Baghdad aspires to be the next Chris Rock, but his parents face destitution after their in-home bakery oven burns out. Asian call girls hope to make a struggling Australian singer's video go viral. A London businessman is apoplectic about losing his cell phone because it has the last images of his recently deceased daughter. And closer to home, a firefighter keeps playing the same numbers in the lottery while also having two altercations with Sutherland's Martin.
There's also professor Arthur Teller (guest star Danny Glover), who all too conveniently and unconvincingly unlocks the key to Jake's extraordinary abilities to see the past, present and future -- often all at once. Thus informed, Martin quickly gets with the program, enlisting Clea as his helpmate after she, too, sees the light.
Sutherland's role is a notable departure from
24
's Jack Bauer, although he still tends to speak in breathless intonations when under pressure. In both dramas, cell phones are indispensable supporting characters.
It's all a lot to digest, let alone swallow whole. Tim Kring, the
Heroes
maestro who's also behind
Touch
, told TV critics during a January "press tour" session that he's a champion of "social benefit storytelling, the idea of trying to use archetypal narrative to create and promote a positive energy in the world."
That's a noble-sounding aim. And
Touch
certainly is a change of pace from corpse-choked police procedurals or buddy/buddy/buddy sitcoms.
Whether it will grab you, though, is another matter entirely. Wednesday's opener is a whirlwind of activity and sometimes a breath of fresh air. Still, it's hard to imagine
Touch
pulling all of this off for any length of time. Especially when the first episode leaves so very many p(l)otholes on those multiple roads to nirvana-ville. Its spirit is willing, but the construction has foundation problems.
GRADE:
C+