Another attempt to wake up CBS's sound asleep morning ratings
11/15/11 06:16 PM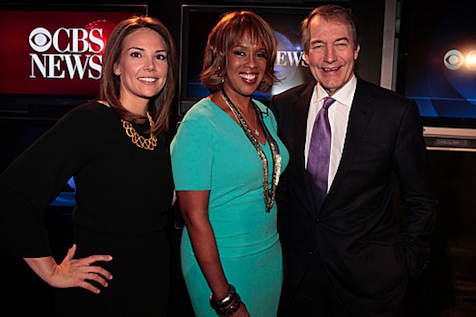 From left: Erica Hill, Gayle King and Charlie Rose CBS photo
By ED BARK
CBS will be trying trying trying trying trying trying trying trying trying trying trying trying (etc.) again to somehow awaken its moribund morning show ratings.
The latest effort, clearly a move to replicate MSNBC's newsier
Morning Joe
, is teaming Charlie Rose, Gayle King and Erica Hill as anchors of what the network proclaimed Tuesday as a "more thoughtful, substantive and insightful source of news and information, delivered by a team of experienced journalists."
It doesn't have a name yet, and it won't start until Jan. 9th. But CBS clearly is intent on positioning itself as nourishing whole wheat toast in comparison to the pastries often served up on NBC's
Today
and ABC's
Good Morning America
, particularly during their 8 to 9 a.m. segments.
"This program represents a new direction for morning television at CBS," news chairman and
60 Minutes
executive producer Jeff Fager said in a publicity release. "We will produce a broadcast that is interesting and compelling and on top of the big stories of the day. It will be lively and engaging and worth your while."
That almost sounds like a plea. But in a perfect world, perhaps morning audiences will respond to a program that at least on paper promises to be issue-oriented and higher-minded.
Rose, who in the early 1980s hosted a locally produced morning talk show on Fort Worth-based KXAS-TV, will also remain with his long-running
Charlie Rose
interview program on PBS.
King, perhaps best known as Oprah Winfrey's best friend, has been hosting
The Gayle King Show
on OWN. Hill, the only personality to survive the latest makeover, has co-anchored CBS'
The Early Show
since January of this year.
Local stations such as D-FW's CBS11 have been in ratings death valleys for decades, with their crack-of-dawn morning shows leading in to a 7 to 9 a.m. network program that hardly anyone watches compared to
Today
or
GMA
.
In Monday's local ratings,
Early Show
drew just 30,485 D-FW viewers in its 7 to 7:30 a.m. segment while
GMA
had 96,870 and
Today
, 92,466. Fox4's locally produced
Good Day
led all programs in this half-hour segment with 120,918 viewers.