Project runway? Miss America again walks the plank
04/02/07 11:01 AM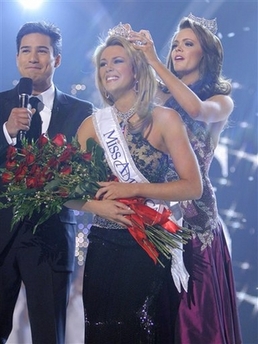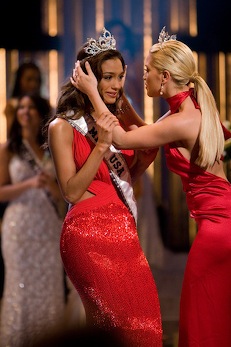 Crown me: Lauren Nelson and Rachel Renee Smith respectively are the new Miss America and Miss USA. The latter pageant has a new three-year deal with NBC. Meanwhile, Miss America is looking again.
By ED BARK
There it goes, Miss America.
The venerable but vulnerable pageant is homeless for the second time in three years after even the CMT cable network cut it loose. It's kind of like that old country song title: "She got the ring and I got the finger."
At the same time, NBC has cut a new three-year deal with the Donald J. Trump-owned Miss USA and Miss Universe pageants. The network's entertainment president, Kevin Reilly, might have been under heavy sedation when he issued this statement last week: "NBC is proud to maintain this unique American cultural tradition as a viable series of competitive programming specials that continue to be a popular source of family entertainment."
Cultural tradition? Probably not. The Miss USA and Miss Universe contests aren't about appreciating the fine arts, unless you're of a mind to nominate besotted 2006 winner Tara Conner for a Nobel Prize. The contests represent Trump's vision of young womanhood. Which is another way of saying, "Show off them boobs, baby, 'cause it ain't about what ya got upstairs."
Frankly, the world easily could survive the loss of any and all beauty pageants. But there's something wrong with a picture that has Miss America panhandling again while Trump crows, "With each passing year our ratings continue to get better because of the beautiful and intelligent women who participate in our competitions."
Not that the Miss USA 2007 telecast was a blockbuster. The March 23rd telecast drew 7.4 million viewers, which is slightly less than this season's average audience for Trump's little-watched sixth edition of
The Apprentice
.
In 2004, its last year on ABC, the Miss America pageant drew 9.8 million viewers on a Saturday night, otherwise known as the networks' night of the living dead. And in its last year on NBC -- 1996 -- Miss America lured 19.4 million viewers.
It's true that the numbers steadily declined over the years. But what hasn't in times when the average American home now has 104.2 channels to choose from, according to Nielsen Media Research? OK, other than
American Idol
.
Miss America officials tried to pump up the audience volume by downsizing the televised talent segments, allowing two-piece swimsuits and letting viewers look in on the judges' scoring. None of this worked like a charm. Still, if you want to talk audience erosion, look at the free-falling numbers for Trump's
The Apprentice
. The only person who still thinks it's a hit is Trump himself.
Those old enough to have lived through Watergate know what a big deal the Miss America pageant once was. Phyllis George, the 1971 winner, is still involved with the pageant because she sees it as "the springboard to everything I've done in my life."
"I don't want to hear from Donald Trump, because he's a friend and I like him, and he can get vicious when he's mad," George says in the March issue of
Texas Monthly
. "But Miss USA contestants are Donald Trump's idea of what young women should be today. They don't stress scholarship. They don't stress talent. They're all about beauty . . . We're about beauty, but we're about the whole package."
The broadcast networks aren't likely to bite anymore, although even a relatively measly audience of 7 million viewers would be good enough to carry the day on Saturday nights. In its second and last telecast on CMT, the pageant had 2.4 million viewers, down from 3.1 million the year before.
OK, so what are the possibilities? We'll begin with the ridiculous and end with the realistic.
Ridiculous
Spike TV -- The Final Four would engage in "ultimate fighting" elimination bouts refereed by Andy Dick.
Comedy Central -- A winner would be chosen in the first half-hour before immediately submitting to a Celebrity Roast emceed by Chevy Chase.
The Food Network -- The combined appeal of hosts Emeril Lagasse and Rachael Ray might be enough to kick the ratings up a notch. A cook-off determines the winner.
Realistic
The Disney Channel -- Live from the Magic Kingdom, with judges dressing as characters ranging from Snow White to Jack Sparrow.
WE: Women's Entertainment -- Even one million viewers would be a Super Bowl-sized haul for this still fledgling network.
The Hallmark Channel -- The pageant would fit like a long white glove on a network that still dares to hire actors over 50.