New series review: Masters of Science Fiction (ABC)
08/03/07 12:11 PM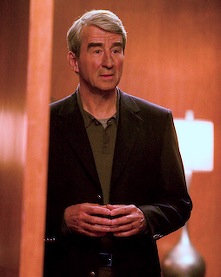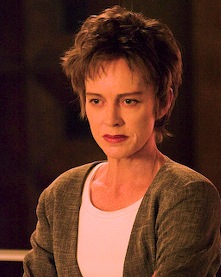 Venerables Sam Waterston and Judith Davis joust Saturday night.
Premiering:
Saturday, Aug. 4 at 9 p.m. (central) on ABC
Starring:
Judy Davis and Sam Waterston in the premiere episode
Directed by:
Mark Rydell
By ED BARK
Shocking but true.
The new four-part
Masters of Science Fiction
is a scripted drama series premiering in the summer season on a non-cable network. And its home base is Saturday nights, otherwise a season-round dumping ground for reruns and reprises of feature films.
This is another way of saying that ABC doesn't expect much of a crowd for these "thought-provoking tales of present and future Earth." Like its competitors, the Alphabet Network so far has been stocking June, July and August with cost-effective, unscripted escapism such as
The Next Best Thing, American Inventor, Ex-Wives Club, Family Secrets
and
Shaq's Big Challenge
.
Masters of Suspense
is almost prehistoric in its approach, harkening to the days when
The Twilight Zone
and
Alfred Hitchcock Presents
kept viewers spellbound with a conveyor belt of cautionary spine-tinglers starring a passing parade of capable actors.
Saturday's first episode, subtitled "A Clean Escape," is basically a two-person play propelled by Judy Davis and Sam Waterston. It's based on a short story by John Kessel and directed by the very seasoned and accomplished Mark Rydell (
On Golden Pond, The Rose
). In a climate where "skewing old" is almost a capital crime, this is akin to bringing back
Matlock
or
Gunsmoke
.
Davis, who won an Emmy for her bravura portrayal of Judy Garland, is cast as terminally ill psychiatrist Deanna Evans. Her recurring patient, Robert Havelman (Waterston), has repressed some very deep psychic wounds. He still views himself as a 41-year-old captain of technology living happily and prosperously in 2007. Evans is obsessed with making him "accountable" for previous actions that he's repressed by blacking out the last 24 years of his life.
Saying any more would ruin this nicely constructed, semi-cerebral story, which takes up the entire hour. Waterston, so very familiar to viewers as assistant D.A. Jack McCoy on
Law & Order
, manages to effectively submerge himself in this decidedly different role. And Davis is solid -- and color-drained -- as usual.
Future episodes of
Masters of Suspense
will feature the likes of Malcolm McDowell, Anne Heche, Terry O'Quinn, Brian Dennehy, Elizabeth Rohm, James Denton and John Hurt. This is a very worthy effort on the part of ABC, which would be truly stunned if robust Nielsen ratings forced it to make more than the allotted four episodes.
Viewers, of course, always have the power to stun. Or in this case, to perform a miracle.
Grade:
B+