Emmys anyone? Read all about 'em
08/22/14 12:02 PM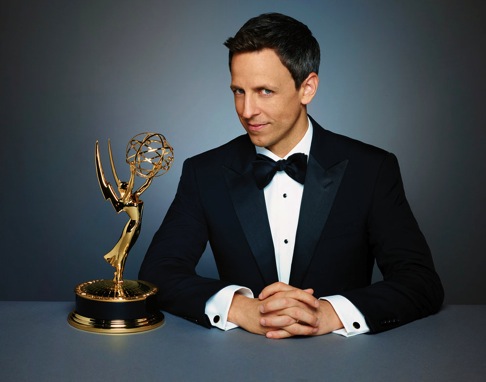 Seth Meyers hosts The 66th Primetime Emmy Awards. NBC photo
By ED BARK
@unclebarkycom on Twitter
The Emmys are coming, and you're certainly entitled to yawn if you'd like.
Taking its turn in the four-network rotation, NBC will be carrying what they still like to call "Television's Biggest Night." It's still too small, though, to dislodge the Peacock network's contractual commitment to
Sunday Night Football
. So the Emmys are being sent to
Monday, Aug. 25th (7 to 10 p.m. central)
in deference to that bigger pre-season game Sunday night between the Cincinnati Bengals and Arizona Cardinals. Double yawn.
Seth Meyers is hosting, which promises to be both fun and relatively safe compared to the likes of Ricky Gervais or Seth MacFarlane. Answering a question from unclebarky.com at last month's TV Critics Association "press tour," Meyers says he'll try to stay within the boundaries of an old rule of thumb from Lorne Michaels (his boss at
Saturday Night Live
and now at NBC's
Late Night
).
"He always stresses to try not to tell a joke about somebody that you then would want to leave the cocktail party if they showed up," Meyers says. "Even if it's maybe a little negative, as long as it seems fair you can get away with it . . . You want to have a couple of jokes that you walk out not knowing exactly how they're going to play. That makes it fun, sort of walking on the tightrope. So I think we'll have some of that. But it's more playful than certainly cutting or biting."
The Emmys, now in their 66th year, have never generated office pools or watch parties like a certain other awards ceremony dedicated to recognizing excellence on the big screen. Far more people watch television than go to movie theaters. And the TV bar is set higher than ever, with quality drama and comedy series being launched here, there and almost everywhere. Still, the Oscars are King Tut while the Emmys remain the forever-in-waiting equivalent of Prince Charles. Someday their cachet will come. But probably not during many of our life times.
Emmy's categories also are a particular mess this time around, with networks and shows pretending to be something they're not in order to enhance their chances of at least being nominated. Netflix's
Orange Is the New Black
is a comedy series nominee. Hah!
Treme
got a nomination as a miniseries, even though it ended its run in December after four seasons on HBO. In this view, anything airing in successive seasons under the same title is a series -- not a miniseries.
There are other instances of category malfeasance. But absent a groundswell of opposition -- and there's certainly nothing close to that -- let's deal with the hands that will be dealt Monday night. Here are the nominees in some of the major categories, with your friendly content provider in each case offering a brief closing commentary.
OUTSTANDING DRAMA SERIES
Breaking Bad (AMC)
Downton Abbey (PBS)
Game of Thrones (HBO)
House of Cards (Netflix)
Mad Men (AMC)
True Detective (HBO)
Comment:
Breaking Bad
is the defending champ and could break through again for its final season. But I'm going with an upset win by
Game of Thrones
, an international phenomenon that led all Emmy nominees this time with 19.
True Detective
is a contender, too.
OUTSTANDING COMEDY SERIES
The Big Bang Theory (CBS)
Louie (FX)
Modern Family (ABC)
Orange is the New Black (Netflix)
Silicon Valley (HBO)
Veep (HBO)
Comment:
Modern Family
has won four of these in a row. I think that streak will be ended by
Veep
. There's also likely to be solid support for
Orange is the New Black
. But it's far more a drama than a comedy series, and there's a chance it might not have even been nominated in that category. I hope that more than a few Emmy voters take that into account and reward a rightful comedy, not a pretender.
OUTSTANDING MINISERIES
American Horror Story: Coven (FX)
Bonnie and Clyde (A&E/Lifetime/History)
Fargo (FX)
Treme (HBO)
The White Queen (Starz)
Comment:
Fargo
should be a lock. And in this case I liked it way too much to quibble over whether it's more of a series than a miniseries.
American Horror Story: Coven
is the only other conceivable winner in this category. That would be a big upset, though.
OUTSTANDING TELEVISION MOVIE
Killing Kennedy (National Geographic Channel)
Muhammad Ali's Greatest Fight (HBO)
The Normal Heart (HBO)
Sherlock: His Last Vow (PBS)
The Trip to Bountiful (Lifetime)
Comment:
The Normal Heart
is a certain winner here.
LEAD ACTOR IN A DRAMA SERIES
Bryan Cranston (Breaking Bad)
Jeff Daniels (The Newsroom/HBO)
Jon Hamm (Mad Men)
Woody Harrelson (True Detective)
Matthew McConaughey (True Detective)
Kevin Spacey (House of Cards)
Comment:
Daniels was last year's upset winner, but that won't happen again. McConaughey hasn't lost yet in any awards competition, and he's the very likely winner. Some might see a possible vote-split between McConaughey and co-star Harrelson. But Michael Douglas kept on winning in 2013 while co-star Matt Damon kept losing for his work in HBO's
Behind the Candelabra
. Hamm almost assuredly will walk away empty-handed again, which is unfortunate. Cranston is very much liked in Hollywood. So if McConaughey somehow is denied, look for Cranston to be the one hoisting the Emmy.
LEAD ACTOR IN A DRAMA SERIES
Lizzy Caplan (Masters of Sex/Showtime)
Claire Danes (Homeland/Showtime)
Michelle Dockery (Downton Abbey)
Julianna Margulies (The Good Wife/CBS)
Kerry Washington (Scandal/ABC)
Robin Wright (House of Cards)
Comment:
Although her series isn't of Emmy caliber, Washington is my pick to win. As an Emmy voter, though, I'd go with Caplan, the
Masters of Sex
co-star who's also the sexiest woman in series TV. That's just a personal opinion, though. Danes won last year. And the year before that.
LEAD ACTRESS IN A COMEDY SERIES
Lena Dunham (Girls/HBO)
Edie Falco (Nurse Jackie/Showtime)
Julia Louis-Dreyfus (Veep)
Melissa McCarthy (Mike & Molly/CBS)
Amy Poehler (Parks and Recreation/NBC)
Taylor Schilling (Orange is the New Black)
Comment:
I think Louis-Dreyfus will defend her title in this category. Even Falco has said she doesn't think
Nurse Jackie
is a comedy, which was easier for her to say after she earlier won in the title role. In contrast, Poehler has never won an Emmy but has a Peabody and a Golden Globe. If she finally breaks through, that'd be nice.
LEAD ACTOR IN A COMEDY SERIES
Louis C.K. (Louie)
Don Cheadle (House of Lies/Showtime)
Ricky Gervais (Derek/Netflix)
Matt LeBlanc (Episodes/Showtime)
William H. Macy (Shameless/Showtime)
Jim Parsons (The Big Bang Theory)
Comment:
The last I looked,
Shameless
is not and never has been a comedy. Nor does this category generate much interest on my part. They might well give it to Parsons again, which would be OK. But I'd rather see Louis C.K. or LeBlanc win, even though the latter is playing a heightened version of himself. Neither has ever won an acting Emmy.
LEAD ACTOR IN A MINISERIES OR MOVIE
Benedict Cumberbatch (Sherlock: His Last Vow)
Chiwetel Ejiofor (Dancing on the Edge/Starz)
Idris Elba (Luther/BBC America)
Martin Freeman (Fargo)
Mark Ruffalo (The Normal Heart)
Billy Bob Thornton (Fargo)
Comment:
Billy Bob almost certainly will win this one. But Freeman was tremendous, too. If they somehow divide the vote, Ruffalo could emerge triumphant in the sort of "cause" movie that Hollywood keeps loving.
LEAD ACTRESS IN A MINISERIES OR MOVIE
Helena Bonham Carter (Burton and Taylor/BBC America)
Minnie Driver (Return to Zero/Lifetime)
Jessica Lange (American Horror Story: Coven)
Sarah Paulson (American Horror Story: Coven)
Cicely Tyson (The Trip to Bountiful)
Kristen Wiig (Spoils of Babylon/IFC)
Comment:
Bonham Carter was very good in
Burton and Taylor
, but Tyson has sentiment and a long, distinguished history on her side. She may well win, and it could be quite a moment if she does.
One last thing:
I'm not including the supporting categories, but my night with the Emmys would be complete if Allison Tolman prevails as the "Best Supporting Actress in a Miniseries or Movie." The Baylor University grad and former Dallas resident was a true out-of-nowhere success story as dedicated deputy Molly Solverson in
Fargo
. She's up against a quintet of name brands -- Kathy Bates, Ellen Burstyn, Julia Roberts, Angela Bassett and Frances Conroy. But c'mon, let's make the correct choice here. And without a doubt that would be Tolman, the heart and soul of
Fargo
in her first role of any import.
Email comments or questions to:
unclebarky@verizon.net