Reviewing Netflix's Making a Murderer after viewing all 10 episodes
01/04/16 10:02 AM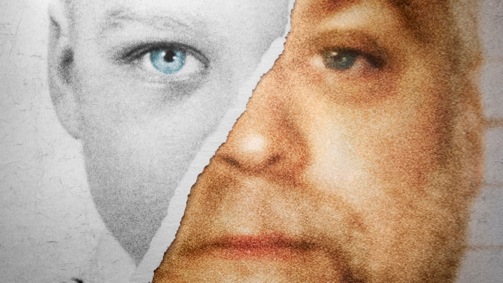 Steven Avery is the centerpiece of Making a Murderer. Netflix photo
By ED BARK
@unclebarkycom on Twitter
HBO's recent
The Jinx
and Neflix's current
Making a Murderer
are both kindred spirits and polar opposites in the non-fiction, "true crime" genre.
In serial form, they meticulously and spellbindingly revisit sensational murder cases via new interviews with many of the principles, archival footage and courtroom denouements. But
The Jinx
depicted the justice system's basic ineptness in terms of putting wealthy Robert Durst behind bars.
Making a Murderer
details the relative ease in which auto salvage yard dealer Steven Avery was imprisoned -- not once, but twice. The collateral damage included Avery's monotonic teenage nephew, Brendan Dassey, who seems comatose even when fully conscious.
As a Wisconsin native, I was completely unfamiliar with this story, which takes place in and around Manitowoc, WI. So it's assumed that a great majority of viewers will likewise be pulled along without a clue as to how it all ends. It's best then to keep spoilers to a minimum after spending a good part of the weekend devouring the 10 hour-long episodes of
Making a Murderer
.
Filmmakers Laura Ricciardi and Moira Demos spent 10 years on
Making a Murderer
, whose title certainly implies that both Avery and Dassey weren't guilty as charged. At least the first time around, Avery wasn't. In that sense, this series resembles Sundance TV's fictional drama series,
Rectify
, whose central character, Daniel Holden (Aden Young), spent 19 years in prison for the rape and murder of a 16-year-old girl. Contrary DNA evidence finally reprieved him, sending Daniel back to his small town to face further hostility. Local officials led the way, determined to incarcerate him anew.
At age 23, Avery was convicted of rape and did 18 years of jail time before DNA evidence fingered another man. He returned home in 2003 and became a poster boy for the Wisconsin Innocence Project and a cause celebre for various politicians. His $36 million lawsuit for restitution was well underway, with several depositions taken, when 25-year-old photographer Teresa Halbach came up missing on Halloween night, 2005. Avery and his nephew were charged with murdering and mutilating her under circumstances that
Making a Murderer
meticulously dissects from Episode 2 until its conclusion.
"All I can think is they're trying to railroad me again," said Avery, who has always maintained his innocence.
The far-fetched fiction of
True Detective
's Season 2 turns out to be no match for these real life events. Avery's new attorneys, Dean Strang and Jerry Buting, fully cooperated with the filmmakers and become eloquent and compelling star players during the course of this tale. Principal prosecutor Ken Kratz, who declined to be interviewed for
Making a Murderer
, is nevertheless shown in copious courtroom footage and press conferences. He's now complaining of unfair treatment and a one-sided depiction of the case. But Kratz later became immersed in his own tawdry scandal, which the filmmakers of course duly note.
This also is a story of a media feeding frenzy, and of ramshackle common people who aren't' much to look at and sometimes have problems expressing themselves. But Steven's parents, animated Allan Avery and sad-faced Dolores, grow in stature as the film moves on. Dolores in particular doggedly keeps the faith in her son, constantly wondering how "they" can get away with allegedly framing him a second time.
Evidence-planting is the core of the defense team's case. And the circumstances indeed often seem suspicious. Then again, Steven Avery is no choir boy. He admits to burning a cat alive as a young man after getting drunk with some of his friends. He also has a temper that previously has gotten him in trouble.
While Avery's lawyers defend him to the hilt, Brendan Dassey's initial attorney, Len Kachinsky, comes off as a milquetoast who could have been perfectly played by William H. Macy during his
Fargo
days. Kachinsky is shown to be working hand in hand with prosecutors, who are building a case against Avery via his easily manipulated nephew. Kachinsky is
Jerry Lundegaard
personified, with Manitowoc's frequently shown snowy landscapes further adding to the overall
Fargo
-ness.
The local and state media lap it all up, eagerly televising, broadcasting and printing every damning accusation aimed at Avery and Dassey. But the most telling media moment is at the national level, when a
Dateline
producer says in Episode 4 that "murder is hot" and "this is the perfect
Dateline
story" in the NBC news magazine's never-ending battles with ABC's
20/20
and CBS'
48 Hours
.
In Episode 7, though, a local crew in matching red and black TV station parkas comes off as a wolf pack in hot pursuit of Avery's mother after another long day in court. Barking out questions, they trail Dolores to her car during a light nighttime snow. She wants nothing more than to get away from her pursuers in a scene that speaks volumes about being caught in a hellish, swirling vortex.
The Jinx
ended with a surprise "gotcha." Don't expect that from
Making a Murderer
. But do expect an absorbing tale of justice rendered but not necessarily justice served. Its star players have no formal acting training. But for better or worse, they all look born to play their real-life roles in another true crime drama that knocks fiction for a loop.
GRADE:
A-minus
Email comments or questions to:
unclebarky@verizon.net