Dexter keeps up the carnage, spices it with spirituality
09/29/11 02:48 PM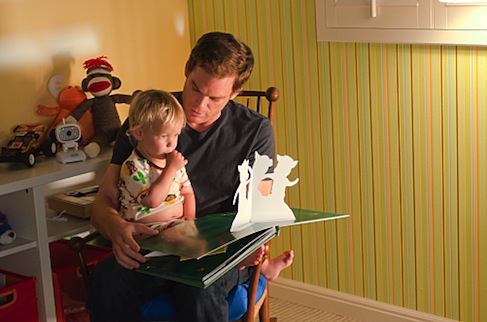 In the name of the father and the son and . . . Showtime photo
By ED BARK
Showtime's latest publicity artwork for
Dexter
bills him as an "Avenging Angel" while picturing him in both a crucifixion pose and with bloody wings.
So there's an overriding religious motif at work as Dexter Morgan (Michael C. Hall) again cuts to the chase while also eluding capture in Season 6 of the pay cable network's longest-running and most successful drama series.
What's the meaning of his life? Will Dexter ever bow to a higher power, other than his still materializing deceased father? Can he get his two-year-old son, Harrison, into the very exclusive Our Lady of the Gulf pre-school after telling its Catholic head nun he's a non-believer?
There also are two religious zealots at large, and they do really awful things to their victims in the name of some very twisted form of holy retribution. Add a supposedly reformed ex-convict named Brother Sam, whose blessed-is-the-Lord body shop gives fellow felons second chances. But is he for real? And if so, can Dexter learn something from Brother Sam's latter day relationship with God?
In this context, it's perhaps hard to believe that Sunday's season opener (
8 p.m central preceding the new and very much recommended Homeland
) comes off as a little sitcom-y at times before later hitting its stride. Episode 2 is the strongest of the three sent for review, mainly because it introduces the complex Brother Sam. He's played with striking effectiveness by Mos, who used to be Mos Def and was born Dante Terrell Smith.
He'll have a season-long arc, as will Edward James Olmos and Colin Hanks (rebooting from Fox's made-in-Dallas
The Good Guys
). They're respectively cast as creepy Prof. James Gellar and his pliant disciple, Travis Marshall. What they do to a fruit stand vendor -- all of it off-camera -- makes Dexter's methods of execution seem like time off for good behavior. The remains are left for Miami homicide to pore over.
The sitcom-y reference is to Dexter's 20-year high school reunion, which he attends in hopes of obtaining evidence on a self-absorbed jock whom he suspects of murdering the classmate he married. Largely dismissed as a nebbish during his teen years, Dexter's "prestigious" job as a blood spatter analyst -- plus the grisly loss of his own wife at the end of Season 4 -- combine to make him both a sympathetic figure and latter day hunk to many of his former female classmates.
That's a pretty big stretch. And the episode spends too much time in this rather carnival-like setting before involving the athletically inept Dexter in a comedy-laced flag football game in which he's participating only to obtain a blood sample.
Dexter
eventually gets back to basics, but can't resist another dose of religious symbolism. The killer classmate, who has a big Jesus tattoo on his chest, pleads for mercy by falling back on his "faith." That's not going to go very far with an atheist.
Episode 2 is appreciably better and the third hour includes a sterling guest shot by the redoubtable Ronny Cox, who plays an embittered retirement home coot with a sordid past and a dead-end future.
Dexter otherwise takes comfort in a nightly bedtime ritual with his son. First a little bubble bath, followed by some play activities and, initially, little Harrison's favorite "monster" story.
All of the cop shop principals, including Jennifer Carpenter as the title character's sister, Debra, are re-assembled and given new obstacles to overcome. There's no lack of one-on-one scenes with Dexter and Debra, even though in real-life Hall and Carpenter filed for divorce late last year after meeting on the set of the show and marrying in 2008. Their on-screen chemistry seems to still be in good working order.
Dexter
likewise remains in solid shape, with new characters generating some additional heat while its namesake keeps plying his trade. It's always been a series unlike any other. And for those who swear by it,
Dexter
is still ably postponing its inevitable end-game with story lines that just won't let it quit.
GRADE:
A-minus