Having a little funster with I'm Dickens . . . He's Fenster
02/07/13 01:41 PM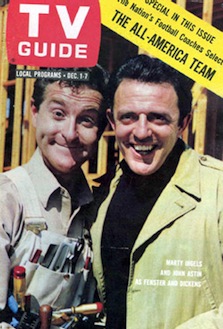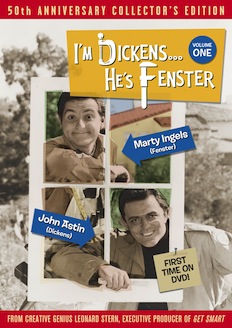 By ED BARK
@unclebarkycom
on twitter
The title has always made me grin, and I've regularly used it as a throwaway punchline.
I'm Dickens . . . He's Fenster
. Right up there with other short-lived sitcoms such as
Holmes and Yo-Yo
and
Camp Runamuck
.
Now it turns out that the first 16 episodes of
Dickens/Fenster
's only season are newly available in Volume One of a "50th Anniversary Collector's Edition."
Who knew? And the only reason I know is because the show was referenced in one of my recent tweets. And responded to by Jim Benson, congenial proprietor of
tvtimemachine.com
. It's the company behind the "First Time On DVD!" release of
Dickens/Fenster
, a three-disc set with the requisite "Bonus Features." Upon request, he sent a copy for review.
The series made ABC's fall 1962 prime-time lineup in a pretty tough Friday night slot opposite the second halves of CBS'
Route 66
and NBC's
Sing Along with Mitch
. The latter unfortunately became a staple in our home. So as a kid I had about as much a shot of seeing
Dickens/Fenster
as I did
Have Gun, Will Travel
, which aired opposite
The Lawrence Welk Show
on Saturday nights. These were primitive times, with one TV set in the house and no video recorders. And my live-in grandma, let alone my parents, weren't going to miss Mitch or Lawrence to placate their oldest boy. Bless 'em. They meant well.
The accompanying liner notes for
Dickens/Fenster
praise it as a before-its-time classic that rallied in the ratings too late to get beyond its 32-episode Season 1. That's right -- 32 episodes compared to today's typical broadcast network order of 22 to 24 per season. And each of those episodes lasted about five minutes longer because of fewer and briefer commercial interruptions.
Dickens/Fenster
starred
John Astin
as the married Harry Dickens and Marty Ingels as his construction worker pal and best friend Arch Dickens. Astin, now 82, went on to star in ABC's
The Addams Family
.
Ingels
, 76, went on to marry Shirley Jones of
The Partridge Family
fame. They're still together after 36 years.
Ingels oddly played both the elastic-faced comedy instigator and the ladies' man in
Dickens/Fenster
. Astin, appreciably better looking, was cast as both a worry wart and a homebody with wife Kate (the late Emmaline Henry). But that didn't stop Harry from ogling virtually every woman Arch brought to their house. In the four episodes I watched -- including one with guest star Ellen Burstyn -- Kate comes off as way too understanding of her husband's constant flirting. Harry often got knocked down on the job in a comedy replete with sight gags. His wife should have decked him, too. At least once.
The show's creator, Leonard Stern, wrote for
The Honeymooners, The Phil Silvers Show
and
The Jackie Gleason Show
before becoming a show-runner in his own right. His biggest hits were
Get Smart
and
McMillan & Wife
. His flops included the aforementioned
Holmes and Yo-Yo
.
Filmed entirely in black-and-white,
Dickens/Fenster
can still be amusing in spots. The "Harry the Father Image" episode includes some funny stuff with high-powered kitchen magnets. "The icebox cometh," Arch cracks after it advances on him.
Astin in particular tends to shout out his dialogue as though he's emoting in a 5,000 seat theater without any microphones. In the "Father Image" episode, he loudly tries to juggle Arch's other arriving girlfriends while his stewardess fiancee, Joan (Burstyn), is in a very nearby bedroom taking an inordinate amount of time to put on some of Harry's wife's cologne. How could she not hear him?
A later episode, "The Acting Game," includes guest star Harvey Korman as the representative of a tool company that wants to cast real-life workers in its commercials.
A clenched-up Harry just can't seem to say "Banner Hammer," instead spouting "Banana Banner." He also can't stand the thought of Arch getting the bigger part, but continues to blow his lines. "Hello, I'm Harry Work. I'm proud of my Dickens," he says climactically before fainting. Very broad and a fairly risque line for its time.
The "Bonus Features" disc includes Astin talking about some of the unintentionally painful falls he took during filming. "For many weeks I had the imprint of a hammer on my butt," he remembers.
Ingels' commentary on the first episode includes a warm remembrance of co-star Emmaline Henry, who died of brain cancer at age 50. "She was a big talent," he says of an actress whose major TV credit was a co-starring role on
I Dream of Jeannie
as the wife of Air Force base psychiatrist Alfred Bellows.
Ingels also marvels at his bouncy initial entrance on
Dickens/Fenster
while noting how crazed he was in real life.
"See that energy," he says. "That's anxiety bipolar hyperkinetic sickness."
I'm Dickens . . . He's Fenster
never got that deep. Nor was it a classic. But it's still good for some laughs as a prime-time TV artifact that arguably deserved a longer life.
For my selfish purposes, the title alone is still the gift that keeps on giving. And the super-goofy opening theme song is also a big help. Have a listen and a look.
unclebarky@verizon.net