"Press tour" tales: How do you like your comedy?
08/13/14 01:33 PM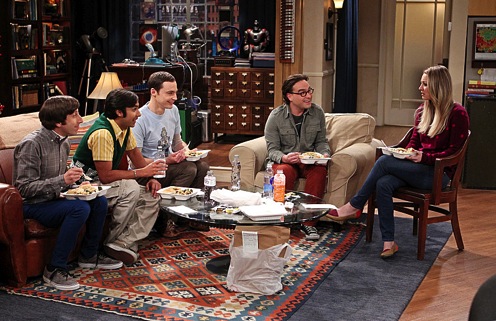 The Big Bang Theory reigns as TV's "multi-cam" king. CBS photo
By ED BARK
@unclebarkycom on Twitter
BEVERLY HILLS, CA -- Single-cam vs. multi-cam.
The look and feel of a prime-time sitcom greatly depends on these two basic delivery systems.
Multi-cam: filmed or taped in a single night before a live studio audience, with laugh track "sweeteners" deployed when deemed necessary. The humor tends to be broader. Which isn't to say it's automatically more sophomoric.
Single-cam: filmed in separate stages out of sight of a studio audience. Laugh tracks are very seldom included. The humor tends to be lower-key and perhaps more "natural." Not that belly laughs aren't welcome.
One network continues to thrive with the old school, multi-cam form dating all the way back to
I Love Lucy
. So it's no coincidence that this is still how CBS rolls.
NBC in part has tried to emulate CBS in hopes of generating more "mainstream" hit comedy classics such as the Peacock's studio audience-fueled
Seinfeld, Cheers, Frasier, Friends
and
The Cosby Show
. But that's been a bust of late. So NBC's new fall lineup has gone back to the single-cam play list with
Marry Me, A to Z
and
Bad Judge
after striking out in recent seasons with multi-cam sitcoms such as
Sean Saves the World, Whitney
and the Jimmy Fallon-produced
Guys with Kids
.
During network executive sessions at the recent Television Critics Association "press tour," unclebarky.com quizzed the entertainment bosses at CBS and NBC on why they do the things they do on the comedy series front.
CBS entertainment chairman Nina Tassler strayed onto the single-cam path last season with
The Crazy Ones
, which ended up being a high-profile cancellation starring the now tragically late Robin Williams and Sarah Michelle Gellar. But the network succeeded with two multi-cam sitcoms,
The Millers
and
Mom
. They'll be back for second seasons this fall along with prime-time's most popular comedy,
The Big Bang Theory
. It's also a multi-cam, as are CBS returnees
Two and a Half Men, 2 Broke Girls
and
Mike & Molly
.
"They're definitely harder to do," Tassler contends. "But for us, the emphasis on being able to craft and score with hard jokes -- we are particularly good at it. I think we have a very keen ability to identify those talents who can really deliver that kind of comedy."
CBS' lone new sitcom this fall,
The McCarthys
, began as a single-cam comedy before the network in a sense came to its senses.
"A lot of people are very seduced by the romance of a single-camera comedy," Tassler says. "But when we looked at the rhythms of
The McCarthys
(centered on a boisterous Boston family), it was much better served in a multi-camera format. Ultimately, for our network and for our audience, they resonate."
Is that because the still generally older CBS audience remains conditioned to reject sitcoms without a laugh track? Not really, Tassler says, citing the long-running success of
How I Met Your Mother
as "more of a hybrid comedy" that was filmed before a studio audience but "had its own rhythm."
Still, "our audience does appreciate the level of humor that multi-cams deliver," she says.
There's one other major factor -- producer Chuck Lorre. He's always worked in the multi-cam format, and he runs
Big Bang
as well as
Two and a Half Men, Mike & Molly
and
Mom
. You want to keep a guy like that happy.
"A lot of the work that's done in single-camera is post-filming, a lot in the edit room," Tassler says. "A multi-cam really cuts its teeth on its feet, on the stage. And that's why I think we're really successful with it."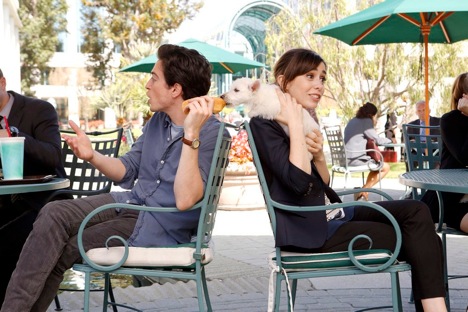 Ben Feldman & Cristin Milloti star in "single-cam" A to Z. NBC photo
CBS won't have any single-cam comedies on its schedule in the coming season. NBC will be without any multi-cams this fall.
"We talk about this all the time," says Bob Greenblatt, NBC's entertainment chairman. "We keep going back to the fact that some of the best shows on television (and also the biggest hits) were multi-cam comedies with live studio audiences. Yet, there's been a generation of shows that have moved away from that, from (NBC's)
The Office
to even (ABC's)
Modern Family
, which easily could have been a show with a studio audience in the way it was shot. But they chose not to do that."
Modern Family
has been the biggest mass audience single-cam hit of the modern era.
The Office
also endured, but as more of a "demographic" darling with particular appeal among advertiser-prized 18-to-49-year-olds. NBC otherwise has struggled to find anything close to big audiences for critically praised single-cam comedies such as
30 Rock, Community
and
Parks and Recreation
. That's principally why Greenblatt admittedly yearned to crack the multi-cam code and live large the way CBS has with top 10 hits such as
Big Bang, Two and a Half Men
and, before that,
Everybody Loves Raymond
.
But "there's a generation of writers and producers who have gone away from the multi-cam," Greenblatt says. "Nine times out of 10, they come in wanting to write a single-cam . . . There was such a cachet with
The Office
and
30 Rock
. And there was a whole rash of (single-cam) shows that were Emmy-nominated or awarded. It kept being reinforced that single-cameras are the better form. And I really hope we can balance the scales a little bit."
Greenblatt notes that NBC plans to take another multi-cam shot at midseason with
One Big Happy
, a comedy whose executive producers include Ellen DeGeneres. And perhaps by next summer or fall 2015, a previously announced "multi-generational" multi-cam sitcom starring Bill Cosby will be ready to roll.
"That's an important show for us," says NBC entertainment president Jennifer Salke. "We're very committed to multis, but again it's who really wants to write one."
For the record, ABC has one freshman multi-cam sitcom,
Cristela
, for the fall, and two new single-cams (
Black-ish
and
Selfie
). Fox will take another shot at the multi-cam form with the new comedy
Mulaney
while returning three of its "Animation Domination" series and a trio of live action, single-cam comedies.
Email comments or questions to:
unclebarky@verizon.net