FX's American Horror Story: Hotel doesn't check out
10/07/15 09:32 AM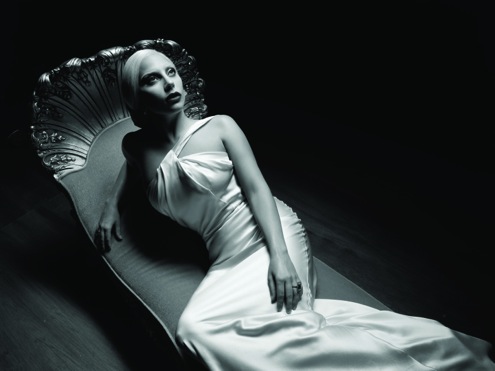 A ghastly Gaga in American Horror Story: Hotel. FX photo
Premiering:
Wednesday, Oct. 7th at 9 p.m. (central) on FX
Starring:
Lady Gaga, Kathy Bates, Sarah Paulson, Wes Bentley, Chloe Sevigny, Cheyenne Jackson, Angela Bassett, Denis O'Hare, Mare Winningham, Finn Wittrock, Matt Bomer, Lennon Henry, Shree Grace Crooks
Produced by:
Ryan Murphy, Brad Falchuk, Tim Minear, Jennifer Salt, James Wong, Bradley Buecker, Alexis Martin Woodall
By ED BARK
@unclebarkycom on Twitter
There comes a point where depravity and perversion overwhelm any visual artistry.
Awash in torture porn, with a blood-lusty Lady Gaga very actively participating,
American Horror Story: Hotel
marks the fifth reinvention of one of FX's most popular franchises. Its predecessor,
AHS: Freak Show
, could be touching and even humorous at times amid all the macabre goings-on.
Hotel
in contrast, is all gore, with the Bates Motel a fuzzy wuzzy play land compared to this place. Creator and head executive producer Ryan Murphy, who's also killing co-eds on Fox's
Scream Queens
this season, can be a very twisted dude when he wants to be. And boy, does he want to be in the first
AHS
without multiple Emmy winner Jessica Lange in the ensemble cast.
The big hoo-hah addition is Gaga, whose character, "The Countess," eventually gets around to orchestrating what has to be the most gruesomely revealing and off-putting sex scene ever staged for an advertiser-supported network. The accompanying soundtrack has this recurring lyric: "As I whisper in your ear, I wanna tear you apart." It's a bit of a departure from singing standards with Tony Bennett.
Her domain is Los Angeles' ornate Cortez Hotel, where two unassuming young Swedish blondes have booked residence until noticing that the place is really spooky and seemingly empty.
"For us the hotel is not right. You will please give us back our deposit," one of them tells a desk clerk named Iris (returnee Kathy Bates). Sorry, no refunds. Besides, "this place'll grow on ya."
An assortment of other creeps also inhabit the Cortez. Maid Miss Evers (Mare Winningham) is first seen trying to clean a blood-soaked sheet. Liz Taylor (alum Denis O'Hare) is a bald cross-dresser with a threatening attitude and Sally (alum Sarah Paulson) is driven by horridly insatiable desires that are grotesquely acted out in Episode 1.
"I'm going to give this place a very bad review on Yelp," one of the Swedish girls says in the premiere episode's lone stab at humor.
The carnage otherwise keeps on coming, with the Cortez's Room 64 serving as home base but not the only base. A super-ghoulish murder scene outside the walls of the Cortez is investigated by detective John Lowe (Wes Bentley), an upstanding guy who makes an initially strong impression. Lowe and his wife, Alex (alum Chloe Sevigny), also have a darling pre-teen daughter, Scarlett (Shree Grace Crooks), and a son . . . well, you'll see, although it's not much of a surprise.
AHS: Hotel
tends to telegraph its supposedly shocking reveals.
FX, the last network whose mailed-out press kits are bonafide works of art, uncommonly has sent just one episode for review. And it arrived just a few days before the series' premiere. Murphy is a very busy guy at the moment, what with
Scream Queens, AHS: Hotel
and an upcoming
American Crime Story
series for FX that will devote its first season to the arrest and trial of O.J. Simpson.
From this perspective, one hour of
AHS: Hotel
was more than enough. Its graphic and constant violence, including some very bad treatment of those two Swedish girls, is gratuitous, upsetting and prurient. No one expects a series with this title to be tame, cute or mayhem-free. Still, its immediate predecessor had elements of style and substance plus another bravura turn by Lange.
AHS: Hotel
has the subtlety and texture of Gaga's ill-considered meat dress. But it sure is a butcher shop.
GRADE:
C-minus
Email comments or questions to:
unclebarky@verizon.net