Talkin' junk: Cuban leads with mouth before stepping out
09/24/07 08:48 PM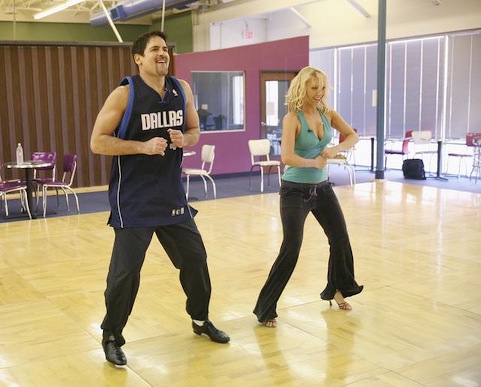 Cuban tunes up with partner Kym Johnson at Dallas dance studio.
ABC photo
By ED BARK
His fox trot won't be flooring it until Tuesday night's
Dancing with the Stars
. Meanwhile, Dallas Mavericks owner Mark Cuban gave ABC what it wanted by lipping off on Monday's live season premiere.
Host Tom Bergeron approached the six male celebrity competitors after they watched a like number of women perform for the show's often blunt-spoken judges. Might Cuban fire back at them, as he's been known to do with the NBA's zebras?
"Absolutely, positively," said Cuban, wolfing down the bait. "Because I am a lean, mean dancin' machine. And you better know it."
On an earlier taped segment, he twitted "all the pretty boys" he'll be up against, although Wayne Newton doesn't seem to fit that description.
"No one will have more fun" than him, Cuban guaranteed. "When I step on the floor, be afraid. Be very afraid."
Trash talk is cheap, and too much of it won't wear well with this show's older-skewing audience. Better to have the grace, likability and international following of Jane Seymour, the hit show's oldest woman competitor ever at age 56.
She scored a 24 with her smooth, no-frills fox trot Monday, tying for second place with former "Scary Spice" Melanie "Mel B" Brown. Tops with judges was Disney Cheetah Girl Sabrina Bryan, whose hyperactive cha cha cha got a 26.
However he fares Tuesday night, Cubes should be able to outlast model Josie Maran, who scraped bottom with a 16 score and likely is little known to the masses. But he'd be better off lowering the volume in the early going at least. Foot in mouth isn't what this show's all about. Gotta charm 'em first.
OK, Uncle Barky, retire your sequined shirt for the night and shut your own yapper.