NBC's Awake has vital signs amid a veering premise
02/28/12 03:05 PM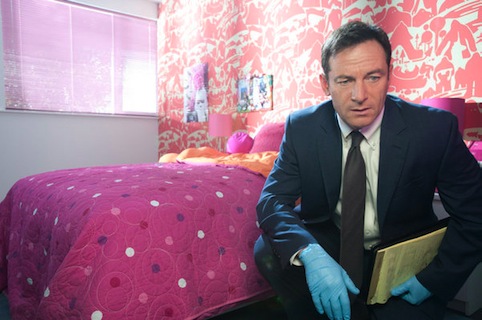 Cop in a quandary: Jason Isaacs stars in Awake. NBC photo
Premiering:
Thursday, March 1st at 9 p.m. (central) on NBC
Starring:
Jason Isaacs, Laura Allen, Dylan Minnette, Steve Harris, Wilmer Valderrama, Cherry Jones, BD Wong
Produced by:
Kyle Killen, Howard Gordon, Jeffrey Reiner
By ED BARK
At some point the bleeding has to stop on a night and time that once housed NBC long distance runners such as
L.A. Law
and
ER
But in yet another of the Peacock's seasons to forget,
Awake
will be the third new drama series to get a Thursday 9 p.m. (central) launch.
Prime Suspect
already has been canceled while
The Firm
got a quick yank and now is wasting away on witness protection program Saturdays.
NBC also used
Grimm
for a few Thursdays as putty before making way for a new series from Austin-based writer Kyle Killen. He previously wrote
The Beaver
(Mel Gibson communicates via a hand puppet in a little-seen feature film directed by Jodie Foster) and the almost instantly canceled Fox series
Lone Star
(handsome Texan becomes a clandestine bigamist).
Awake
likewise charts a dual life. Premiering March 1st, it stars Jeremy Isaacs (Showtime's
The Brotherhood
) as a traumatized, haunted detective named Michael Britten. He emerges from a car accident with his mind set on keeping both his wife, Hanna (Laura Allen), and their teenage son, Rex (Dylan Minnette), among the living.
But which, if any, of his worlds is real? Therapists pull him in opposite directions. Dr. Evans (Cherry Jones of
24
) encourages him to keep dreaming while also accepting her reality that Rex has survived and Hanna is dead.
Dr. Lee (BD Wong from
Law & Order: Special Victims Unit
) tells Britten that "this situation eventually will become unsustainable." In Lee's take it or leave it real world, Rex is dead and Hannah's alive.
In case you're not thoroughly confused yet, there's more. Britten remains with his old veteran partner, Isaiah "Bird Freeman (Steve Harris/
The Practice
), in one of his worlds. In the other, he has a new up-and-coming sidekick named Efrem Vega (Wilmer Valderrama segueing from
That '70s Show
to a straight dramatic role). Each existence has a separate crime of the week, but Britten uses clues from both worlds to help solve them.
Got it? Good. Let's add another layer. Laura Innes, whose character was pivotal in NBC's far-flung
The Event
, plays the recurring character of Britten's cop shop boss. She first shows up in Episode 2. And by the end of it, it's clear that she knows a lot that Britten doesn't about the hows and whys of his mysterious car crash.
Prospective viewers can be completely forgiven for hurriedly backing away. Number one, this sounds way too complicated. Number two, it'll get canceled in short order anyway by a network that has more moving parts than a bicycle built for two.
You should know, though, that Isaacs is very good in the lead role. And that by the end of Thursday's premiere, there's a galvanizing oomph to Britten's declaration -- to therapist Lee -- that going nuts "is a price I will happily pay. When it comes letting one of them go, I have no desire to
ever
make progress."
In other words, both wife Hannah and son Rex are wanted dead
and
alive by a shaken but stirred detective who decides he can't handle the truth. His visions may not be 20/20 but his resolve is relatable.
Awake
might well end up as yet another NBC series passing in the night. It packs some punch, though. And Isaacs certainly doesn't sleepwalker through a decidedly distinctive role.
GRADE:
B