Connick's the tonic as Idol tries to make it a lucky Season 13
01/14/14 01:59 PM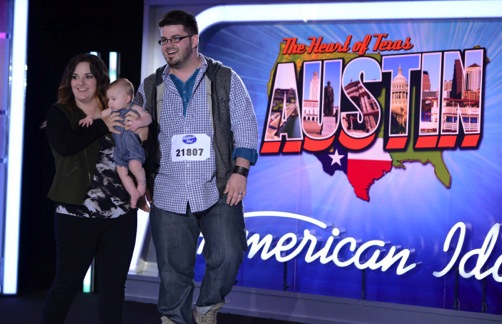 "Worship Pastor" Jordan Grizzard, 27, of Dallas and his family during the Austin segment of Wednesday's two-hour audition show. Fox photo
By ED BARK
@unclebarkycom on Twitter
No weekly TV show has meant more to its network -- both ratings-wise and profit-wise -- than Fox's
American Idol
.
That said, this may well be a make or break season after last year's mostly disastrous pairing of fractious judges Mariah Carey and Nicki Minaj. Their palpable dislike for one another bled into America's living rooms. Season 12 of
Idol
still averaged a highly respectable 15 million viewers for its performance shows and 14.6 million viewers for its results shows. But diminishing returns sunk the May 16th finale to an all-time low of 14.3 million viewers compared to 21.5 million the year before.
Idol
has been on a steady ratings downtrend for the past six years. But last season's flagging Nielsen numbers, after the premiere episode drew 17.9 million viewers, amounted to a five-alarm fire in the view of Fox programmers. So they largely cleaned house by dropping Minaj, Carey and Randy Jackson as judges while also bringing in a new set of executive producers. Jackson belatedly was returned as the show's in-house "mentor" for Season 13 while Ryan Seacrest is back as host.
The all-important judges panel is made up of holdover Keith Urban, Jennifer Lopez (back after a one-year absence) and newcomer Harry Connick Jr. His addition may well prove to be the wind beneath
Idol
's wings judging from Fox's review DVD of the two-hour Wednesday, Jan. 15th season premiere (
7 to 9 p.m. central
)
Connick, previously a guest mentor on
Idol
, brings both sass and self-deprecation to a season in which the judges are bent on making nice to contestants in a manner that might make Simon Cowell deathly ill. Virtually missing in action are those assembly lines of horrid, bogus hopefuls from seasons past. They mostly were used as cannon fodder for Cowell during the pre-Hollywood rounds.
On Wednesday night's auditions from Boston and later Austin, only one aggravatingly cocky, talent-challenged poser is trotted out -- and not until the waning stages of the Boston tryouts. Sam Atherton, 23, is one of the very few unanimous rejectees. He responds by dismissing the judges as collective nobodies, particularly "Tony" Connick.
Some of those who come up short of a golden "Ticket to Hollywood" are reduced to fits of weeping. But it's not because any of the judges savage them. Connick initially talks a good game, telling the camera, "I have to be honest. To send somebody out of the room crying is a terrible feeling. But if it's the right thing to say, I think you have to say it."
Connick in fact is pretty much a koala bear, even if he's also usually the naysayer on the 2-1 majority votes that are still good enough to push an auditioner through. But these are mostly unanimous verdicts -- one after the other. By my count, 29 Boston/Austin hopefuls who performed at least fleetingly on camera were sent running, jumping and/or squealing their way to Hollywood. Even a guy who grossly over-performed "Over the Rainbow" got his ticket to ride. But you can see him early on and judge for yourself.
The Boston auditions take up about two-thirds of Wednesday's show, with part two of the Austin round set for Thursday before
Idol
journeys to San Francisco for the rest of the night.
One of the Austin performers is "worship pastor" Jordan Grizzard, 27, of Dallas, who arrives with his wife and their baby daughter. He performs "Ain't No Sunshine" in a strong, full voice. Not to spoil anything, but both Lopez and Urban stand and applaud.
Seacrest is still around to occasionally chat with hopefuls and also stumble over a folding chair while pretending to be a football running back. "This is your story, America. This is your show," he says hopefully.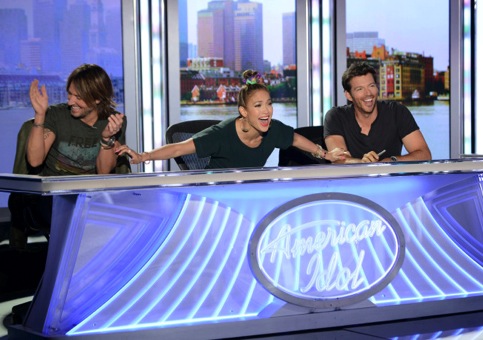 Are we having fun yet? On the road with Idol's new judges.
One
Idol
contestant, 17-year-old Mario Sellers of Detroit, is given a considerable boost Wednesday night during a self-standing open in which Seacrest introduces viewers to a new wrinkle, "The Chamber."
It's basically an elevator with seeing-eye cameras, the better to record a hopeful's last second prep before he or she enters the judges' arena.
Sellers, who sings Bruno Mars' "Grenade" while accompanying herself on acoustic guitar, gets a collective rave and a 3-0 vote to the next round.
"You are going to be a nightmare for the other competitors in this competition," Connick proclaims, automatically making Sellers a betting favorite. She's then coaxed into saying, "My name is Mario Sellers and I plan on being the next
American Idol
."
Whatever happens, Connick is the tonic. Perhaps you've already seen the
Idol
promo in which he lifts and cradles a singing contestant. At the end of Wednesday's two hours, viewers see that he's thrilled about someone actually recognizing him after various hopefuls express their undying admiration for "role model" J Lo.
Connick pulls this off effortlessly. J Lo is still great to look at, even if her frequently deployed laughs at her own remarks remain very much an acquired taste. Urban is agreeable and cute without being a complete stiff. But in reality, Connick is the guy who's riding to the rescue of a show that Fox remains very heavily invested in. The network hopes to at least stop the ratings bleeding while re-establishing
Idol
as prime-time television's only bonafide star maker.
NBC's
The Voice
may have banged some dents in
Idol
during the course of becoming its network's top non-football attraction. But none of its singers -- winners or otherwise -- has gone on to become anything but quickly forgotten.
Idol
still has the power of its past, with Kelly Clarkson, Carrie Underwood, Jennifer Hudson, Clay Aiken, Chris Daughtry, Phillip Phillips, Adam Lambert and even Kelly Pickler among the former contestants who still have either gainful or superstar careers.
In that context, Season 13 shouldn't be written off just yet. Wednesday's opener is teeming with energy, chemistry and the usual great expectations pronounced by Seacrest. "The best panel we've ever assembled," he says. For the first time in a while, that sounds about right.
GRADE:
B+
Email comments or questions to:
unclebarky@verizon.net