USA's Dig an "event series" that mostly congeals and confuses
03/05/15 02:12 PM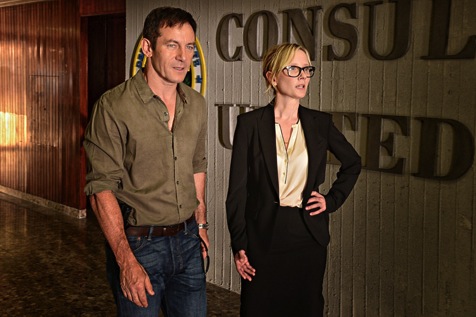 Jason Isaacs, Anne Heche wade through the muck of Dig. USA photo
Premiering:
Thursday, March 5th at 9 p.m. (central) on USA network
Starring:
Jeremy Isaacs, Anne Heche, Alison Sudol, David Constabile, Lauren Ambrose, Regina Taylor, Richard E. Grant, Omar Metwally, Ori Pfeffer
Produced by:
Tim Kring, Gideon Raff
By ED BARK
@unclebarkycom on Twitter
It's an increasingly crowded TV universe, with almost too many high-caliber drama series in play at the moment.
So it's essential to make an arresting impression in the early going rather than inflicting a ponderous, murky 90-minute pilot episode on a restive viewing public with numerous other places to go and things to see.
USA network's
Dig
, a 10-episode, so-called "event series" largely set in Jerusalem, seems determined to be a sedative instead of a pulse-quickener. It's the latest would-be mind bender from Tom Kring, who seems to have lost his fastball in the years since his brilliant early episodes of NBC's
Heroes
.
Describing exactly what's going on in
Dig
may be a tougher challenge than staying awake throughout Thursday's all-important place-setter. There's no joy in saying that, as Dan Rather is still wont to say. But man, life's too short to be dawdled away like this.
The principal stars are Jason Isaacs as emotionally wounded FBI agent Peter Connelly and Anne Heche as his boss and sometime bedmate, Lynn Monahan. They're based in Jerusalem, where Peter is transferred in hopes of shedding his "personal demons." Principal among them is the apparent mysterious death of his daughter. Or maybe she's just missing. It's not readily apparent, although I may have blacked out and missed a sequence or two while trying to get through this big head-deadening muddle.
Dig
also journeys to Oppland, Norway, where a "red heifer without defect" is slaughtered in compliance with "Numbers XIX." And in a very isolated New Mexico compound, a little boy is being groomed to meet his "destiny," which is now. Prototypical religious nut Tad Billingham (David Costabile) is at the controls while a dutiful but kindly acolyte named Debbie (Lauren Ambrose from
Six Feet Under
) tries to keep the boy halfway entertained during his incubation.
Back in Jerusalem, Connelly is pursuing a fugitive when he's stopped in his tracks by a redheaded young woman. She vanishes but later returns to his line of sight and introduces herself as Emma Wilson (Alison Sudol), a Pennsylvania college student who's participating in an archaeological dig. But Emma also escorts Connelly to a deep underground lair where the Ark of the Covenant just might be hidden. They're soon skinny-dipping in a pool of holy water after she convinces him to jump right in. A kiss is exchanged, with Emma the instigator, before a gaggle of chanting robe-wearers arrives. So they make their escape seemingly undetected. By the way, Emma otherwise reminds Connelly of his daughter.
All of this unfolds at an artery-hardening, cranium-numbing pace. Near the end of the first episode, things begin happening a bit faster while the overall confusion remains firmly in place. Did we mention "the high priest's breastplate" that in the right hands enables its possessor to talk to God? "And in the wrong hands . . .?" That question is left dangling amid all the other frayed loose ends.
Isaacs seems to be trying hard in the service of whatever's going on here. Heche is called on to be mostly prickly and "official" following their highly unauthorized sack time together. They're not exactly a dynamic duo.
Besides the aforementioned "Numbers XIX" red heifer stuff,
Dig
's printed prelude quotes the wisdom of R.E.M. Namely, "It's the end of the world as we know it."
Maybe so. But this thing appears to be going nowhere fast. And it's already taking way too long to get there.
GRADE:
D
Email comments or questions to:
unclebarky@verizon.net