The Detour is another road less traveled on formerly formulaic TBS
04/07/16 04:35 PM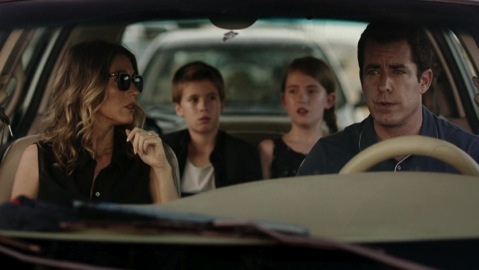 Natalie Zea and Jason Jones play the nominal adults in The Detour.
TBS photo
Premiering:
Monday, April 11th at 8 p.m. (central) with back-to-back episodes on TBS
Starring:
Jason Jones, Natalie Zea, Ashley Gerasimovich, Liam Carroll, Daniella Pinieda
Produced by:
Jason Jones, Samantha Bee, Brennan Shroff, Tony Hernandez
By ED BARK
@unclebarkycom on Twitter
Comparisons to the
National Lampoon's Vacation
movies no doubt are expected and not entirely unwelcome.
It's a pre-sold title, after all, and
The Detour
can only hope to do as well with its winding, mind-bending road trip from Syracuse to a would-be beach vacay in Fort Lauderdale.
Actually, this crazily quilted and frequently laugh-out-loud comedy has already done pretty well for itself. Before its official Monday, April 11th premiere (after several post-NCAA basketball game sneak-previews), it's already been renewed for a Season 2.
This further underscores what's been a great 2016 for the husband-and-wife team of Jason Jones and Samantha Bee, who previously worked together on
The Daily Show with Jon Stewart
. Her weekly
Full Frontal with Samantha Bee
, which launched in February on TBS, has just been picked up for a full year. Bee and Jones are the creators of
The Detour
, with Jones also co-starring as short-tempered, recurringly befuddled husband and father Nate Parker.
The premise is both basic and complex -- and also completely absurd as
The Detour
swerves to and fro during the seven of 10 Season One episodes made available for review. Against her will, Nate's wife, Robin (Harris County, TX native Natalie Zea branching out from her very serious roles in
Justified
and
The Following
), agrees to travel by car rather than plane from Syracuse to Fort Lauderdale. That's 1,400 miles with an estimated driving time of 20 hours. If only.
Along for the ride are fraternal 12-year-old twins Jared and Delilah Parker (Liam Carroll, Ashley Gerasimovich), both of whom are lippy and demanding but not unlikeable. To put it mildly, misadventures ensue, starting with a stop at the Banana Creamery for ice cream. Except that's not what the Banana Creamery is all about. Jared is more than happy to get an eyeful, though, while Delilah is less than happy about her new circumstance.
Finally back on the road, the kids decide it would be fun to scrawl out a "Help Us. We've Been Kidnapped" sign to display in the back passenger window. No good can come of this. But a very good joke does. "Call 911, Jared," mom commands. "Uh, what's the number?" he asks.
Episode 2 is fortified by a riotous birds-and-the-bees talk with the kids before a less than comfy night in the hellish Swift Stay Suites. It's overall the funniest episode of the bunch, with Jones and Zea both very much on top of the material.
Dad's ulterior motive for hitting the road begins to come clear in Episode 3 via
The Detour's
repeated use of flashbacks. Episode 4 explores new vistas in projectile vomiting and defecating after the Parkers dine at the very politically incorrect Conquistadors restaurant. There's a more prolonged stop in Episodes 5 and 6 before a really big "shit show" breaks loose in the flashback-dominant Episode 7.
The Detour
isn't always in full command of its absurdities, but the killer lines keep coming. As when a voluptuous Russian temptress plying Nate with vodka tells Robin to "go get your beauty sleep. And try to sleep extra long."
Added to all of this is something of a
True Detective
-- Season One device in which a full-bearded Nate is grilled by cops determined to get to the bottom of whatever he's allegedly done wrong. Also injected on occasion is Robin's drugged out, drunken half-sister Vanessa (Daniella Pineda), who becomes a key ingredient in Nate's overall plotting and scheming.
The Detour
in time may prove to be both too long of a road and too big of a stretch. But as with
Angie Tribeca
, which premiered in January, it's further evidence that TBS has abandoned its broadly drawn "traditional" sitcom game plan and replaced it with smarter and more absurdist humor shorn of canned ha-ha's. As when Episode 3 introduces a "Four Years Ago" flashback segment with the printed description "Shitty Female Music Festival." That's some comedy gold right there.
GRADE:
B+
Email comments or questions to:
unclebarky@verizon.net