New series review: Cashmere Mafia (ABC)
01/04/08 11:23 AM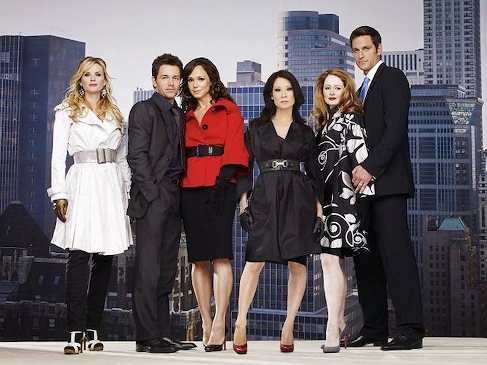 Premiering:
Sunday, Jan. 6 at 9 p.m. (central) on ABC. Then moves to regular 9 p.m. Wednesday slot
Starring:
Lucy Liu, Frances O'Connor, Bonnie Somerville, Miranda Otto, Peter Hermann, Julian Ovenden
Produced by:
Darren Star, Kevin Wade, Michael Pressman, Gail Katz, Jeff Rake
By ED BARK
ABC's
Big Shots
, no longer in its longterm plans, presented a quartet of nakedly ambitious male Manhattan CEOs who conspired and drank a lot together in very expensive locales and wardrobes.
The network's
Cashmere Mafia
simply switches genders while leaving the same open question: Who's going to relate to these people?
Among the show's string-pullers is Darren Star, whose best-known credit is
Sex and the City
. And even without an over-sexed Samantha, it's hard to see how he's doing much more than repeating himself with this scratch-and-claw soaper centered on four "fabulous, high-powered women."
We begin with a marriage proposal that of course won't make it through even the first episode. A jaunty guy named Jack (guest star Tom Everett Scott) wants willowy Mia (Lucy Liu) to be his lawful wedded wife. She accepts before they're immediately plunged into a winner-take-all battle to become head publisher of a New York-based magazine group. No good can come of this, which you'll see a mile away.
Meanwhile, Caitlin (Bonnie Somerville) finds herself unexpectedly warming to a full-on-the-mouth kiss from office-mate Alicia (Lourdes Benedicto). Something good could come of this.
Career-minded Zoe (Frances O'Connor) still aspires to have it all, but never seems to find enough time for her husband or their two young children.
Rounding out the fab four is Juliet (Miranda Otto), who decides to play hardball with husband Davis (Peter Hermann) after catching him in a too-close-to-home affair. She's withstood previous infidelities because "I hate the alternative more. I don't want to be a single mother, a blind date, a third wheel."
This time, though, Juliet plots to bed a man known to both of them after first telling hubby that her infidelity will be the price of reconciliation. Mia, Zoe and Caitlin couldn't be happier about this strategy. Yay!
Cashmere Mafia
is very pretty to look at, and briskly paced, too. But it's hard to see it taking the country by storm, mainly because hardly anyone lives the way Zoe, Caitlin, Mia and Juliet do. Escapism is one thing, but empathy is another. And in that respect, even the perfumed, pampered women of
Dynasty
still have an edge.
Alexis and Krystle were good for a little high-camp mud-wrestling on occasion. And
Sex and the City
at least was presented as a comedy.
Not so
Cashmere Mafia
, whose hard-bargaining, high-living women mostly deserve the kindred spirits of
Big Shots
. Those guys aren't going to be around, though, after this month's burn-off of unaired episodes. Otherwise they've been canceled -- on grounds of incompatibility.
Grade:
C+